As a Malaysian citizen, you can apply online for a Ukraine visa if you ever plan to go there. Nonetheless, if you have ever visited the regions of Crimea and/or Sevastopol, you will not be eligible for an e-visa for Ukraine
Do you want to learn more about the entire process to get this e-Visa? then we invite you to keep reading this article.

Frequently Asked Questions (FAQs)
Will I need to have a Visa to visit Ukraine?
Based on the Visa policy of Ukraine, you need a Visa.
What kind of Ukraine eVisas do you process for Malaysians?
We offer the following: Tourist eVisa and a Business eVisa.
Do I need to send you any document to obtain this eVisa?
Yes, but fortunately, the list is not very long, and you should have an easy time achieving everything on it. Here is what you will need:
Valid passport – all applicants who want a Ukraine e-visa must hold a passport that remains valid for at least another 6 months from the date of arrival. You also need to scan the document's information page.

Digital passport photo – the picture has to be taken as recently as possible and meet all the other guidelines for a passport photo.

Means of sustenance – you need to prove that you can support yourself during your trip to Ukraine.

Overseas health insurance – the insurance must cover at least 30.000 Euros or its equivalent in your country's currency.

Proof of purpose in Ukraine – you need to prove what you travel to Ukraine for tourism/business purposes, but we can help you with that document.

E-mail address – iVisa.com sends you your Ukraine visa via e-mail in PDF format. While it is linked to your passport electronically, you need to print out a physical copy. You will be asked to show it at the Ukrainian border.

Means of payment – the payment must be made online as well. iVisa.com accepts credit or debit cards, but you can also use PayPal, Alipay, or WeChat.
Can you tell how many days I can stay in Ukraine with this eVisa?
Sure, you will be allowed to stay 30 days Per Entry.
How much is the price of this e-Visa?
It will depend on how soon you need this visa. iVisa.com has three options for you, that we will show you below:
Standard processing – The cost you will pay on this level is

USD 55.00

and we'll deliver your eVisa in

19 Business Days

.
Rush processing – Here we'll process your application in

17 Business Days

and you'll pay

USD 80.00

for the eVisa.
Super Rush processing – OK, now we are talking. On our maximum speed, your order will be processed in

15 Business Days

. Regarding the cost, it'll be

USD 105.00

.
How many minutes will I spend filling this form?
Just 10 minutes! That's enough to submit your application.
What must I do to apply online with my Malaysian passport?
As soon as you put together all the items listed above, you are ready to fill in the application. This form is short and quite straightforward, but if you need some help, iVisa.com provides customer support. The service is available 24/7 and free of charge.
You will see that the form you need to complete has three steps.
Step number one wants you to fill in the blanks with your personal information, but passport info and travel details are necessary as well. You need to also select a processing time for your application.

Moving on to step number two, you need to insert the payment details for it to go through, but you also need to review your form so that it does not contain any mistakes.

The last step focuses on supporting documents. You need to upload them as per iVisa.com's instructions. After you do that, you can submit your form, and iVisa.com will deliver the visa in the timeframe of your choosing.
Can I use this document more than once?
You can enter only once, since it only grants a Single Entry.
Do you have a sample of the Ukraine Tourist eVisa?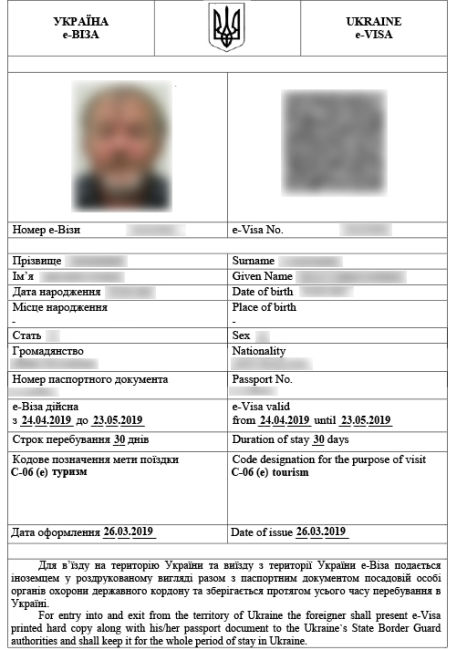 Does this document guarantee I'm fit to enter Ukraine?
Remember that an electronic visa only grants the right to enter Ukraine. However, they will be the officers at the point of entry who'll decide if you are fit to enter the country.
Where can I check if my eVisa has been granted?
You can do it by entering into your iVisa.com account. Nonetheless, once we have the approval, we will send your eVisa by e-mail.
Can I put my trust in you to process my eVisa?
We assure you we won't fail you. Help travelers to obtain their Visas in the shortest period of time is our goal. Not only that, our forms are really simple to fill as well. You can check our customer's testimonials here for further assurance.
I have further queries, can I contact you?
Please do. It's simple, just start a chat here or send us an e-mail to help@ivisa.com