As a Malaysian citizen, you can apply online for a Ukraine visa if you ever plan to go there.
However, keep in mind that you are not eligible for an e-visa for Ukraine if you have ever visited the regions of Crimea and/or Sevastopol.
Do you want to learn more about the entire process to get this e-Visa? then we invite you to keep reading this article.
Frequently Asked Questions (FAQs)
I'm from Malaysia, do I need a visa to enter Ukraine?
Yes, if you're from Malaysia you have to get a visa before entering Ukraine.
How many types of Ukraine visas are there for Malaysian Citizens?
There are two types: a tourist visa and a business visa.
What are the requirements for the Citizens of Malaysia?
To obtain a Ukraine visa, you need to first make sure that you meet all the requirements. Fortunately, the list is not very long, and you should have an easy time achieving everything on it. Here is what you will need:
Valid passport – all applicants who want a Ukraine e-visa must hold a passport that remains valid for at least another 6 months from the date of arrival. You also need to scan the document's information page.

Digital passport photo – the picture has to be taken as recently as possible and meet all the other guidelines for a passport photo.

Means of sustenance – you need to prove that you can support yourself during your trip to Ukraine.

Overseas health insurance – the insurance must cover at least 30.000 Euros or its equivalent in your country's currency.

Proof of purpose in Ukraine – you need to prove what you travel to Ukraine for tourism/business purposes, but we can help you with that document.

E-mail address – iVisa sends you your Ukraine visa via e-mail in PDF format. While it is linked to your passport electronically, you need to print out a physical copy. You will be asked to show it at the Ukrainian border.

Means of payment – the payment must be made online as well. iVisa accepts credit or debit cards, but you can also use PayPal, Alipay, or WeChat.
How long is this e-Visa valid for?
If you decide to apply for this e-Visa, keep in mind then that you're able to stay in Ukraine for 30 days Per Entry, and you can use your e-Visa only for 30 days after arrival.
How much is the price of this e-Visa?
It will depend on how soon you need this visa. iVisa has three options for you, that we will show you below:
Standard processing – this is the most extensive processing option you have at hand, but it is the cheapest. It costs

USD 128.00

, and you must wait

19 business days

for your visa.
Rush processing – this time, your application is processed within

17 business days

, and you are charged

USD 153.00

.
Super Rush processing – the fastest and the most expensive option will have your Ukraine e-visa ready in

15 business days

, and you must pay

USD 178.00

for it.
The fees and the processing time options are exactly the same for a Ukraine Business visa.
How long does it take to apply for a Ukraine e-Visa?
You just need less than 20 minutes to apply for this e-Visa.
How do I apply online with my Malaysian passport?
As soon as you put together all the items listed above, you are ready to fill in the application. This form is short and quite straightforward, but if you need some help, iVisa provides customer support. The service is available 24/7 and free of charge.
You will see that the form you need to complete has three steps.
Step number one wants you to fill in the blanks with your personal information, but passport info and travel details are necessary as well. You need to also select a processing time for your application.

Moving on to step number two, you need to insert the payment details for it to go through, but you also need to review your form so that it does not contain any mistakes.

The last step focuses on supporting documents. You need to upload them as per iVisa's instructions. After you do that, you can submit your form, and iVisa will deliver the visa in the timeframe of your choosing.
The bottom line is that getting a Ukraine Visa for the citizens of Malaysia with iVisa is an easy task.
How many times can I enter Ukraine with my Malaysian passport?
You can enter only once, since your e-Visa allows you to have Single Entry.
How does this e-Visa look like?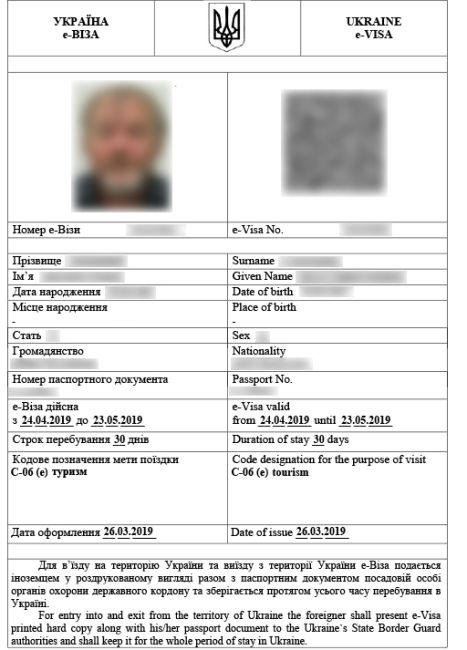 Do I have guaranteed my entry into Ukraine with this e-Visa?
Remember that an electronic visa only grants you permission to enter the country through certain points of entry, and in this case is the airport. The last decision of allowing you to enter is given by the Immigration Officer at the point of entry.
How do I know if my Ukrainian e-Visa is already approved?
After you finish submitting your application, we will inform you once is already approved via e-mail in PDF, so be sure to provide us a proper e-mail.
Is this online process safe?
Keep in mind that the security of online applications always varies from company to company, but one of the strongest points of iVisa's services is their commitment to security.
in iVisa, we assure that all users' information is as secure and confidential as possible, and we can prove you this up with incredible user reviews here. However, we really advise you that you play it smart when creating an account by not choosing an easy-to-guess password.
Is there a place where I can read more?
If you still have certain questions to be answered, you can talk immediately with one of our customer representatives here or simply read more info about Ukraine and its visa or even its tourism here.
For a fast, secure and simple way to apply for a Ukrainian electronic visa, check out iVisa.com. Their application process is fast, completely online, and requires almost no effort from you.