Nationals of 52 countries are eligible for an electronic visa whenever they wish to travel to Ukraine, and Mexicans are one of them.
As a result, you can apply for your Ukraine visa online, and iVisa.com will be with you every step of the way. However, we should probably tell you that previous visitors of Crimea and/or Sevastopol's regions do not qualify for the online application process.
Do you want to learn more about it? Then keep reading.

Frequently Asked Questions (FAQs)
I'm from Mexico, can I enter Ukraine without a Visa?
Citizens from Mexico require a valid Visa to enter this country.
What's this eVisa precisely?
It's an special travel document which allows you to enter to Ukraine legally.
Is there more that one type of Ukraine eVisa?
Yes, to be precise, there are two types:
Tourist eVisa
Business eVisa
How many days can I remain in the country?
Mexican passport holders can stay up to 30 days Per Entry.
Do you need any document to process this eVisa
As you can imagine, getting a Ukraine visarequires you to put together some documents and information so that iVisa.com can have everything it needs to process your request. With that being said, you will need the following:
Passport Personal Details Scan

Proof of Travel Medical Insurance

Airline Confirmation

Proof of Accommodation

Applicant Photo

Cover Letter (if applicable)

Bank Statement (if applicable)

Invitation Letter (if applicable)

Selfie holding the physical credit card used for the transaction is needed to verify payment. Only the last 4 digits of the credit card must be visible in the picture. Only one image is needed per order. (if applicable)
Also, consider the following for each required document:
Valid passport – all applicants who want a Ukraine e-visa must hold a passport that remains valid for at least another 6 months from the arrival date. You also need to scan the document's information page.
Digital passport photo – the picture has to be taken as recently as possible and meet all the other guidelines for a passport photo.
Means of sustenance – you need to prove that you can support yourself during your trip to Ukraine.
Overseas health insurance – the insurance must cover at least 30.000 Euros or its equivalent in your country's currency.
Proof of purpose in Ukraine – you need to prove what you travel to Ukraine for tourism/business purposes, but we can help you with that document.
Proof of funds – for that you can get one of the following:

A document confirming hotel reservations or payment for accommodations in Ukraine.
Agreement for tourist services (voucher); and/or
A letter of guarantee from the inviting party, stating that it undertakes the commitments on payment of all costs relating to the foreigner's stay in Ukraine.
How long do I need to wait to get my Ukraine eVisa and how much will I pay for it?
According to the chosen processing speed, both will change as explained below:
Standard processing – Our regular speed that costs

USD 55.00

and takes

19 Business Days

to process.
Rush processing – This speed is little bit faster since here your eVisa will be ready in

17 Business Days

and costs

USD 80.00

.
Super Rush processing – This is our prime service that only takes

15 Business Days

. Even though it costs

USD 105.00

, it worth it.
How long does it take to complete all the application form?
Since it is a simple process, you won't need more than 5-10 minutes, especially if you apply online with iVisa.com for a Ukraine e-Visa.
How is the application form to get my Ukraine e-Visa?
After you take care of the requirements, all that is left for you to do is to fill in the application. The form is short and straightforward, but just in case you need some help, iVisa.com provides customer support non-stop. The service is free of charge.
You will notice that the form you need to complete has three steps:
Step number one focuses mainly on general information about you, the applicant, but you also need to choose a processing time for your application.

When you go to step two, you need to pay attention because you must insert the payment details and review your form. It is crucial that all the information is accurate.

And step three requires you to upload the supporting documents of your application. After that, you hit the submit button, and you are done.
Do I have multiple entries to Ukraine with this document?
With your Ukrainian Tourist e-Visa, you have Single Entry visa, so you can only enter just once.
Do I have to present any document upon my arrival in Ukraine?
As a matter of fact, yes. But they are not hard to obtain, you can check them in the list below:
Your valid passport.
Your printed e-Visa.
The proof of sufficient funds to cover the costs of your stay.
The proof of insurance.
Any accommodation information.
All documents that demonstrate your business purpose in Ukraine.
How are you going to keep me informed during the whole process?
Here at iVisa.com we always inform our customers by e-mail about their applications' result.
I need to change some information in my application, what should I do?
Simple, just communicate with us and we'll do it for you.
Are you a reliable company?
For sure! Our specialty consists in processing travel documents for our customers while keeping their information safe.But we believe that the best answer for this question is our customers' reviews. You can check them here.
How will I know if the document I'll receive is correct?
Here you have a picture of a valid Ukraine eVisa, you will receive the same document: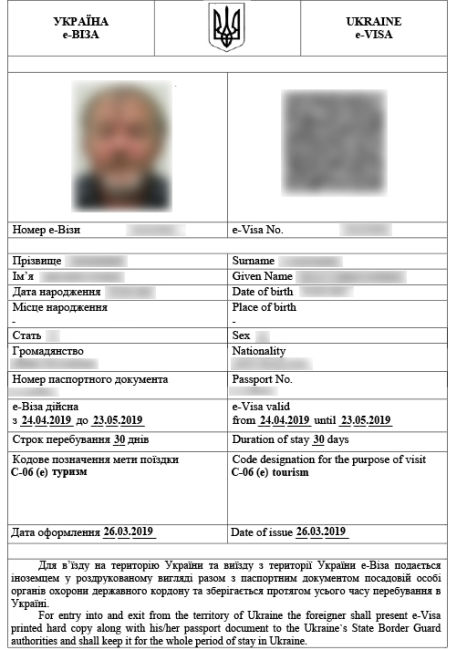 Can I contact you if I have some difficulties filling my application?
That's a brilliant idea! That way we can make sure we have everything we need to process your order. So please, contact us here and we'll gladly assist you.