Traveling to Ukraine shouldn't be a challenge for Myanmar citizens anymore since they have the chance to apply for a Ukrainian eVisa. In other words, if you're from Myanmar, you don't need to go to the embassy to get a visa to enter Ukraine. However, you should know that persons who have visited Crimea or/and Sevastopol's regions, cannot apply online for the Ukraine Tourist eVisa.
If you want to learn how to apply for this document, then keep reading the information below.

Frequently Asked Questions (FAQs)
How can I know if I need a Visa to visit Ukraine?
Well, based on your nationality, you do need a Visa to travel to this country.
Is there only one type of eVisa to Ukraine?
Actually, they are two: Tourist eVisa and Business eVisa.
What documents do I need to apply for this Ukraine Tourist eVisa?
You must ensure that you have everything required for a successful application process. Fortunately, the list is not very long, and everything on it should be easy enough to achieve:
Passport Personal Details Scan

Proof of Travel Medical Insurance

Airline Confirmation

Proof of Accommodation

Applicant Photo

Cover Letter (if applicable)

Bank Statement (if applicable)

Invitation Letter (if applicable)

Selfie holding the physical credit card used for the transaction is needed to verify payment. Only the last 4 digits of the credit card must be visible in the picture. Only one image is needed per order. (if applicable)
eVisas are sent via e-mail, which is why you also need to offer a valid e-mail address. You'll also be asked to make the payment during the application process. You can use a credit or a debit card, but iVisa.com accepts PayPal as well.
How much time can I stay in this country?
The document allows you to stay 30 days Per Entry. Also, do not forget that the eVisa is valid only for 30 days after arrival.
What are the prices and processing times?
The price you pay for this eVisa wil depend on how soon you need it. iVisa.com has three options for you:
Standard processing – This is the least expensive processing option you have at hand, but it is the slowest as well. The fee here is

USD 55.00

and it takes

19 Business Days

to deliver.
Rush processing – Your application is processed within

17 Business Days

and it'll cost

USD 80.00

.
Super Rush processing – The faster one. You will have your Ukraine eVisa in just

15 Business Days

. The fee for this speed will be

USD 105.00

.
Will it take me too much time to submit my application
Not at all, you can have it ready in just 10 minutes.
Where do I go to apply?
Start filling your application here. In case you need some help with it, iVisa.com provides customer support non-stop with no cost.
You will notice that the form you have to complete has three steps:
The first one requires you to provide some personal information, passport info, and a couple of details about your trip to Ukraine. At this point, you must also select a processing time.

The second step of the form consists in reviewing your application and proceed with the payment.

The last step requires you to upload the required documents for your eVisa request.
Does this Ukraine Tourist eVisa permit multiple entries?
It only allows a Single Entry to the country.
Can I see a picture of how this eVisa looks?
Sure, this is how the document you'll receive looks.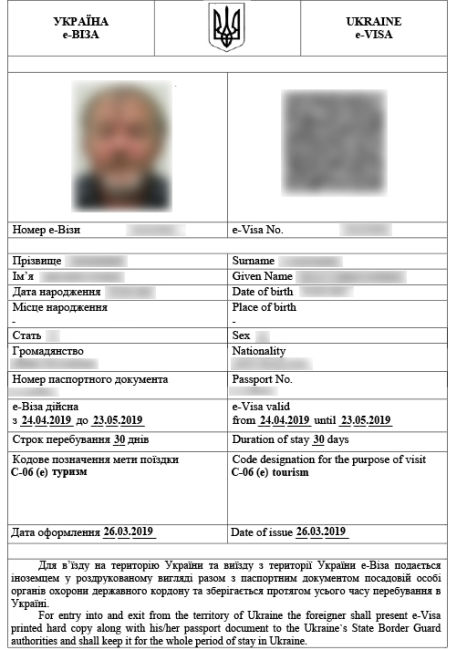 Is this eVisa sufficient to enter Ukraine without trouble?
Getting a Ukrainian eVisa allows you to travel to the country and facilitate the entry, but it doesn't give you an automated entry. The last decision of allowing you to enter is given by the Immigration Officer at the point of entry.
When are you going to send me my eVisa?
When they send us the approval, we will send your eVisa to the e-mail address you registered in our website.
Is it secure to apply through your website?
We know it's difficult to provide your personal information online, but rest assured since we are a reliable company that has been processing travel documents since our foundation in 2012.
Is there a place where I can read more?
If you want to know more about this eVisa, just contact us through our live chat or by phone call to +1 (786) 460-2707 (8am-8pm EST).