Since 2018, the citizens of New Zealand have access to get an Ukraine e-visa, which means that you can apply for a visa online. iVisa.com can help you with the application process so that you can get the document in just a few days. However, you do not qualify for an e-visa if you have ever visited the regions of Crimea or/Sevastopol.
To learn more about the requirements and all the things needed to get this visa, keep reading this post.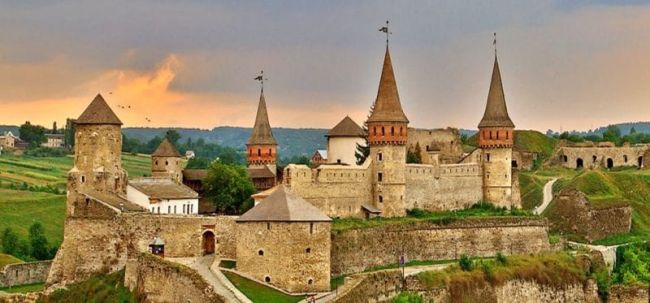 Frequently Asked Questions
I'm a New Zealand citizen, do I need any kind of visa to enter Ukraine?
Yes, New Zealand passport holders need a visa to enter Ukraine, but it can easily be an e-Visa.
What is an Ukraine e-Visa?
This is an authorized document linked to your passport that gives you the permission to enter Ukraine.
How many types of Ukrainian e-Visas are there for New Zealands?
There are only two types of e-Visas:
Tourist e-Visa
Business e-Visa
How long can citizens from New Zealand stay in Ukraine?
If you're a New Zealand citizen then you can remain in Ukraine for 30 days Per Entry.
What are the requirements to apply online?
Before you proceed to fill in the application form, we suggest that you make sure that you have everything required for a successful application process. iVisa.com will need the following:
Passport – to apply for a Ukraine visa, you need to be a passport holder. The document needs to remain valid for at least another 6 months from the date of arrival in Ukraine. A scan of the information page is also required.
Digital passport photo – you need to make sure that the picture follows all the guidelines for a passport photo. For example, it needs to be as recent as possible.
Means of sustenance – you must provide proof that you can support yourself while in Ukraine.
Overseas insurance – the amount cannot be under 30.000 Euros (or the equivalent in the currency of your country of origin).
Purpose of your visit – you must prove that your trip to Ukraine is for business or tourism purposes. We can help you draft the document that attests that.
E-mail address – electronic visas are sent via e-mail, which is why we need a valid address. The e-visa is linked electronically to your passport, but you still need to have a physical copy on you when you cross the Ukrainian border.
Means of payment – you will be asked to make the payment during the application process. You can use a credit or a debit card, but iVisa.com accepts PayPal as well.
How long is this e-Visa valid for?
You can use it for 30 days after arrival.
What are the prices to get the Ukraine e-Visa?
This will depend on your needs. In other words, how soon you need your visa. Just keep in mind that your choice determines the price of your Ukraine visa. iVisa.com came up with three excellent options:
Standard processing – this is the longest processing option you have at hand, but it is the least expensive as well. It costs

USD 55.00

, and you have to wait

19 Business Days

for your visa.
Rush processing – with this option, your application is processed within

17 Business Days

and you have to pay

USD 80.00

.
Super Rush processing – this is the fastest and the most expensive option. You'll get your Ukraine visa ready in

15 Business Days

, and you must pay

USD 105.00

for it.
The Ukraine Business visa is processed within the same amount of time, and the fees are no different.
How much time do I need to apply online?
You won't need more than 20 minutes to complete the application form.
How can I apply for this e-Visa?
The moment you have everything that is required for the process, you are ready to fill in the application form. It should not take you more than 20 minutes to complete it, but if you have questions, iVisa.com's customer support service is at your disposal 24/7 at no charge.
This form created by iVisa.com consists of three easy steps that we will explain to you:
During the first one, you need to provide your personal information such as name, address, passport info, date of birth, and so on. Some details about your trip are required as well. Also, this is the moment when you need to select a processing time according to the ones we showed you before.
The second step is about payment and also revision. It is quite important that you pay attention to this part, since you can't correct any mistake after the e-Visa is issued.
The third step asks you to give other documents that can support your application. You must upload them in this part. When you are done, you can submit your form, and iVisa.com will process it in the timeframe you preferred.
Needless to say, getting a Ukraine Visa for the citizens of New Zealand is incredibly accessible as you can see.
How many times can I enter Ukraine with my New Zealand passport?
If you have your Ukrainian Tourist e-Visa, then you get a Single Entry visa.
What documents do I need to show once I arrive there?
Consider that these are different from the documents asked to apply. However, some of them stay the same. This is what you have to show once you arrive in Ukraine:
Your valid passport.
Your printed e-Visa.
A proof of sufficient funds to cover the costs of your stay.
Also a proof of insurance.
Accommodation information.
All documents that can demonstrate your business purpose in Ukraine (if necessary).
How will I realize if my Ukraine e-Visa is approved and ready to use?
We always keep you updated about the process, so we will inform you via email as soon as the Ukraine Government approves your e-Visa.
What can I do if I make any mistake in my application form?
If you realized you made a mistake while entering your information online, then please contact as soon as possible our customer service, they're ready to help you.
Is it totally safe to use iVisa.com if I want to get my Ukraine e-Visa?
We can guarantee you that it is. We count with a professional team that has been issuing official e-Visas for more than 6 years. We know that there's a fear of giving personal information online, especially when there's a well-known belief that's something "dangerous", but that's totally not true with our services.
We always provide maximum safety for your personal data, and we invest a lot in the security of our database. And we can prove it by showing you what thousands of happy customers say about us here.
How does this Ukrainian e-Visa look like?
This is a sample: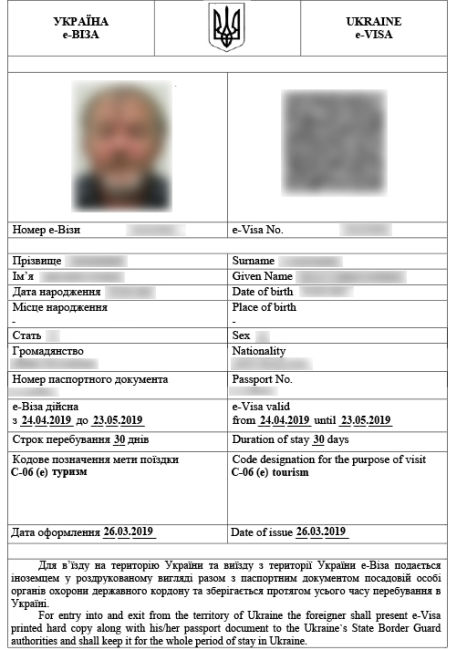 I've got some other questions, where can I find more information?
If you still have some questions that need to be solved, then you can chat with one of our customer service workers here. And you can also read more information about Ukraine visas in this link.