Many people who want to travel to Dubai live under the impression that they need a Dubai visa, especially if they're from the US. However, that's not the case because Dubai is only a part of the United Arab Emirates. In other words, if you're a US national who wants to visit Dubai, then you're looking for a UAE Embassy Registration, not a Paper Visa. Luckily for you, the United States is one of the countries whose citizens can apply online for the embassy registration, and iVisa can help you go through a smooth process.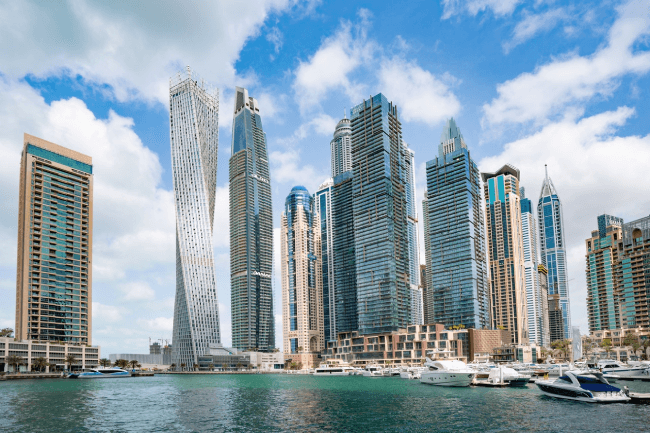 Frequently Asked Questions
Do I need a visa to visit Dubai if I'm from the US?
No, you don't need a visa to enter Dubai if you're a US citizen. You're eligible to receive a visa at the arrival airport, but you can save time by simply applying for the Embassy Registration with iVisa, which works as a useful document to enter the country without any issues.
What is an Embassy Registration?
The Embassy Registration is a service provided by the UAE government that allows you to enter the country by offering your record information about your trip. The Department of State receives this information so it can be used to assist you in case of an emergency.
How long can I stay in the UAE?
If you're a US Citizen and you apply for the Embassy Registration, then you can stay in the United Arab Emirates for 30 days in Total. This document has a single entry.
What documents do I need to apply?
Before looking for the application form, you must have everything required to start the process. Keep in mind that you don't need much, just some items that are easy to obtain. Please find here the details of each one:
Passport – from the day you arrive in the UAE, your passport must have a minimum of 6-month validity. If your passport expires soon, renew it or extend the expiration date so that you can travel.
A passport scan – with a JPEG format.
Passport photo – A selfie wouldn't work for this type of document. The standards that your photo must meet are a little more specific. You can get a professional help for that using iVisa's passport photo.
Valid email address – in the online application, you'll need to place a reference email. This email must be written correctly on the form, because that is where we will send you your visa.
Methods of payment – For applications you make online, a payment method will always be required. Luckily, we offer several options for you to pay: credit card, debit card, or Paypal.
If you travel with children, each of them needs a visa too, which is why you must send us a copy of the passport, photo, and the birth certificate.
What are the processing times and options with iVisa?
You should know that regardless of the type of document you select with iVisa, you can choose one of the following processing options:
Standard processing – which is the least expensive processing option, so you enjoy the least expensive price.
Rush processing – which is a faster option, so it has a higher price.
Super Rush processing – Recommended for emergency cases at the airport because it's the fastest and also the most expensive.
Nevertheless, if you're looking for the UAE Embassy Registration, then remember that it has a standard fee of USD 12.95.
How is the application form with iVisa?
If you want to apply for your UAE Embassy Registration with iVisa, then just follow these steps.:
First, fill in your general information in the online form. You also need to choose the processing time from the options we mentioned above.
Second, revise the information written in the online form (the same you gave in step one) and make the payment.
Third, you need to upload the passport scan and the other documents required. Once you're ready with that, you complete the process.
You can click here to start the application for the UAE Embassy Registration. Once you finish it, you submit the form and wait for your Embassy Registration to arrive. If you need help, remember that iVisa has a fantastic support service that you can call any time.
What should I do if I make a mistake?
It depends on the moment you realize you make the mistake. If we already submitted the application form, then you won't be able to make any changes and you'll have to apply for the UAE Embassy Registration again. But, if you realize the mistake while applying, please contact immediately one of our customer service agents to assist you.
Is it safe to apply with iVisa?
iVisa has a modern security system that safeguards for your personal data, and we also invest a lot in the security of the database, so you can feel safe when using our application form. If you're looking for testimonials, then click here, you'll read thousands of positive reviews about the service we offer.
Where can I find more information?
If you want a faster resolution, click here. This way, you'll be able to chat with one of our customer service representatives asap. Also, you can get more info and FAQs on this link.
You don't have to keep looking for another option to apply for the UAE Embassy Registration. With iVisa, you're just one click away from your trip to Dubai.
Remember that you don't need a paper visa, which can be a relief while planning the rest of your travel.