If your UK passport is about to expire, it's time to renew it. The Passport Renewal UK citizens has become so much easier now that iVisa.com can help you with a simple service. All you need is to have your passport in your possession and provide passport photos online via our easy application form. Don't worry! The iVisa.com team will help you with all the documentation.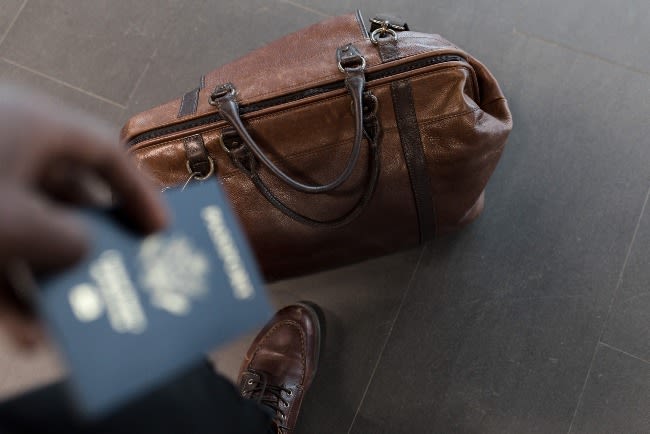 Check all you need to know about the UK Passport Renewal documents below. We have all the answers about renewing your UK passport in the UK.
Frequently Asked Questions
What is the eligibility criteria?
If you want to renew your UK passport, you should comply with these guidelines:
You must be a UK citizen.
Your passport should be with you.
Your passport shouldn't show any damage, and it should be expired or about to expire soon.
Keep learning about the UK Passport Renewal documents with us.
Why should I use iVisa.com for my Passport Renewal service?
iVisa.com offers a one-stop service. Forget about acquiring your documents from different sources because we will have all you need in one place.
On top of that, the process can be done online. We will provide you with an application form at iVisa.com and a kit that we will send by email. The kit includes a shipping label and instructions to complete the process from home. All you need is to print the shipping label we send you (at home or PO) - for free and buy an envelope to mail your current passport to the UK government. The shipping label is already covered in our fee but iVisa.com will not pay for the envelope.
Continue reading more about the UK Passport Renewal documents.
How does iVisa.com's service work?
It's easy! Check the four steps included:
Step 1. Complete our online form: To be expertly processed by our team. Our optimized platform is designed to be easy to use.
Step 2. Receive your renewal kit: Via email. It includes your paid shipping label and instructions to mail your current passport.
Step 3. Send your current Passport: Directly to the UK government using Royal Mail.
Step 4. Receive your new Passport: At home, from 6 to 11 weeks after sending your current passport.
We can help you with the UK Passport Renewal documents.
What are the fees for this service?
The Government Fee for the UK Passport Renewal is £75.50. This covers the standard 34-page passport and iVisa.com will be charging you a £25 Service Fee to help you with the process.
What are the requirements?
Before you start, you should have the following:
Passport: Your passport must be expired or have a minimum time left on it.
Passport photo: We will provide the photo guidelines.
Email address: We will send you emails for any inquiries.
Method of payment: Pay with a credit or debit card.
Let us inform you about the UK Passport Renewal documents.
Can I trust iVisa.com?
Absolutely! We have been in the market for years, and we have acquired the expertise to help you with the UK Passport Renewal documents.
Go to the user reviews section for more information about our services.
Where can I find more information?
Connect with our customer service team, who can solve your doubts 24/7.
iVisa.com Recommends
Once you have your new passport, we recommend visiting Spain. Go to Madrid, the capital, where you will find the spectacular Prado Museum, the Reina Sofia National Art Museum, the Thyssen-Bornemisza Museum and the CaixaForum. The concentration of so much art will make you want to spend hours and hours exploring these museums. The Prado Museum holds the largest collection of Spanish art in the world. You can find pieces from the medieval period dating back to the 12th century up to the early 20th century. Paintings by El Greco, Velázquez, and Goya are the most recognized by visitors. Also, the museum offers medieval murals, paintings of European artists, especially some pieces of Italian art or Botticelli, Raphael, and Correggio. At the Reina Sofia museum, you will find over 20,000 artworks by Miró, Dalí, Serra, among others. The highlight is the Guernica of Picasso.
Visit San Lorenzo de El Escorial, located on the northwest side of Madrid. The building used to be the summer home of Spain's king. The complex offers a monastery, royal palace, library, and museum. The construction is a monument to Philip II.