Before you start planning your next trip, you should confirm if your passport will expire soon. In case you need to renew it, iVisa.com has the service just for you. We can tell you all about the UK Passport Renewal guidelines. The procedure is simple, and you can start it right now from the comfort of your home.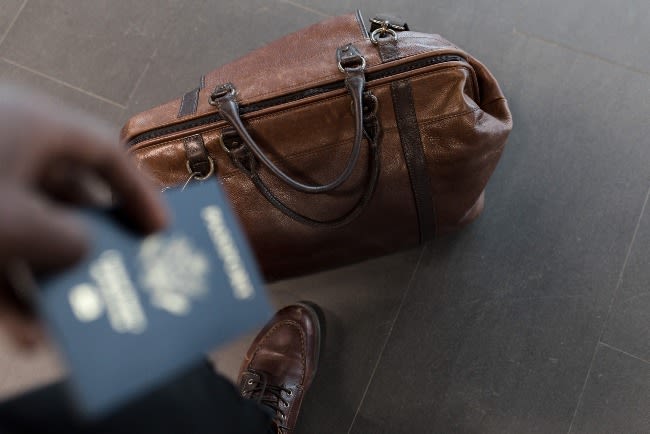 The Passport Renewal UK citizens is possible with our safe procedure. Don't wait any longer, and check more below about the UK Passport Renewal guidelines.
Frequently Asked Questions
Who is this service for?
Make sure to comply with these requirements:
You should be a UK citizen.
You should have your passport with you.
Your passport must be expired, have a minimum time left on it or have no blank pages left.
Your passport shouldn't be damaged.
Keep checking more about the UK Passport Renewal guidelines below.
Why should I use iVisa.com for my Passport Renewal service?
At iVisa.com you will find everything in a single place. There is no need to visit other web pages for all the requirements.
You can complete the whole process from the comfort of your home. We will provide you with an application form at iVisa.com and a digital kit that we will send by email. The kit includes a shipping label and instructions to complete the process from home.
All you need to do is print the shipping label we send you (at home or PO) and get an envelope to mail your current passport to the UK government. The shipping label is already covered in our fee but iVisa.com will not pay for the envelope.
Learn more about the UK Passport Renewal guidelines with us.
How does iVisa.com's service work?
It's simple! Make sure to follow these four steps:
Step 1. Complete our online form: For our team of experts to start processing your application. Our optimized platform is designed to be easy to use.
Step 2. Receive your renewal kit: Via email, including your paid shipping label and instructions on how to mail your current passport.
Step 3. Send your current Passport: Directly to the UK government using Royal Mail.
Step 4. Receive your new Passport: To your desired address, from 6 to 11 weeks after sending your current passport.
We can discuss the UK Passport Renewal guidelines. Trust us.
What are the fees for this service?
The Government Fee for the UK Passport Renewal is £75.50. This fee covers the standard 34-page passport. For our assistance, iVisa.com will be charging you a £25 Service Fee.
What are the requirements?
Before you start, you need to have these items:
Passport: Your passport should have passed the expiration date or is about to expire.
Passport photo: We will provide the photo guidelines.
Email address: Expect our electronic communications.
Method of payment: Pay for the service with a credit or debit card.
We have all the details about the UK Passport Renewal guidelines.
Can I rely on iVisa.com?
100%! We have helped countless travelers with all types of travel requirements. We can manage the UK Passport Renewal guidelines.
Check the user reviews section for more details about our successful services. iVisa.com is all you need to renew your UK passport.
Where can I find more information?
Communicate with our customer service team, who is available all day long. We can support you with your inquiries.
iVisa.com can help you with the UK Passport Renewal.
iVisa.com Recommends
Start your trip around to Spain with the Cathedral of Santiago de Compostela. Since the Middle Ages, the cathedral has been a famous pilgrimage site. It's the final destination of the Camino de Santiago. The cathedral was built between 1060 and 1211 with Early Romanesque architecture. Inside, you will find the Pórtico de la Gloria, a triple doorway and a magnificent example of a Romanesque sculpture. Also, you can't miss the Capilla Mayor, located over the Apostle's tomb. The high altar displays jasper, alabaster, and silver. Also, you can see a wooden figurine of the Apostle with rich ornaments.
Visit the Plaza Mayor in Madrid and learn more about Spain's history. The Plaza was designed by Juan de Herrera at the request of Philip II. Nowadays, it's a center of ceremonial events, such as the canonization of saints or the proclamation of a new king. Tourists and locals enjoy spending time at the cafes and restaurants located on the pedestrian-only stone pavement. We invite you to try some local cuisine on these sites. You can try croquetas or cured ham. It's delicious.