Prepare yourself to enjoy a UK passport renewal timeline that won't affect your travel arrangements! With iVisa.com, you can now get your passport renewed at home, so you can forget about taking a trip to a post office or consulate.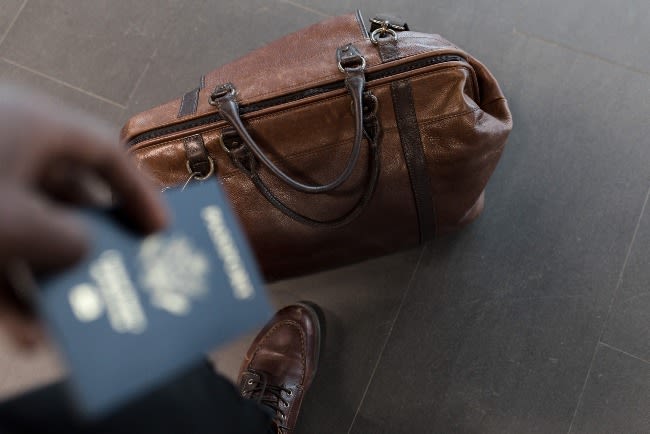 This passport renewal process is available for UK citizens living in the UK or other eligible countries (Ireland, New Zealand, Canada, Australia, and the US). Get more information about this process by reading the following questions.
Who is this service available for?
Before reading the most important info about the UK passport renewal timeline, take into account that this particular service is available only for UK citizens living in the UK. We also offer another service for Brits living in the following countries: Canada, Australia, the US, New Zealand, or Ireland.
UK applicants must meet the following criteria:
They must have their current passport in their possession.
The current passport must not be damaged.
The passport must be about to expire (or already expired).
Why should I use iVisa.com's passport renewal service?
Because iVisa.com gives you the best online alternative to renew your passport easily. Our service is based on helping you avoid the bureaucratic part of the passport renewal and make the process hassle free.
You only need to complete the application online. After that, we will send you a digital kit via email. The kit includes a shipping label and instructions to complete the process from home.
All you need to do is print the digital shipping label (at home or PO) and get an envelope to mail your current passport and other requirements to the UK government. The shipping label is already covered in our fee but iVisa.com won't pay for the envelope.
Learn more about the UK passport renewal timeline below.
How does the Passport Renewal Service with iVisa.com work?
Very efficiently for sure! Applicants only have to go through these easy steps to start the passport renewal service:
Step 1: Fill in our online application form directly in our easy-to-use platform. Our team of experts will start processing your application.
Step 2: Get your application kit via email, including your paid shipping label and instructions on how to mail your current passport.
Step 3: Send your current passport directly to the UK government using Royal Mail.
Step 4: Receive your new passport at home, from 6 to 11 weeks after sending your current passport.
What are the processing times and costs?
As for the UK passport renewal timeline, you should consider the processing time. The entire passport renewal process usually takes about 11 weeks, but it can take more if you do the entire process by yourself.
The Government Fee for the UK Passport Renewal is £75.50. This fee covers the standard 34-page passport. For our assistance, iVisa.com will be charging you a £25 Service Fee.
Can I trust iVisa.com?
Yes, for sure! We provide a reliable passport renewal service that won't put any piece of information in danger. If you have questions about this and the UK passport renewal timeline, check out our comment section.
Where can I get more info about the UK passport renewal timeline?
Get more useful information about the UK passport renewal timeline by contacting our agents.
iVisa.com recommends
You probably already know that Spain is one of the top countries for Britons. Not only because of how near it is to the UK, but also because it offers a plethora of travel opportunities for any curious traveler.
If you start your visit to Madrid (the capital city), then you should head up to the Prado and Paseo del Artes. The Prado alone is listed as one of the world's top art museums due to its impressive collection. However, if you add the Reina Sofia National Art Museum, the Thyssen-Bornemisza Museum, and the CaixaForum, you definitely will have a fantastic tourist spot that should be on your top list of things to do here.
Barcelona's Sagrada Familia and Gaudi Sites should also be part of your travel itinerary in Spain. The Sagrada Familia church, officially known as the Temple Expiatori de la Sagrada Familia, is one of Europe's most unconventional temples. Thanks to Antoni Gaudi's creativity, it is not for less when its Art Nouveau style goes extravagant.
These are only a few examples of all the things you can do in Spain!