Whether it's an official trip or a personal vacation, you need a passport for both. At iVisa.com we can help you renew this important document if you're from the US thanks to our automated and error-free service. This way, you'll be able to get your document ready by simply spending a few minutes completing an online form from home.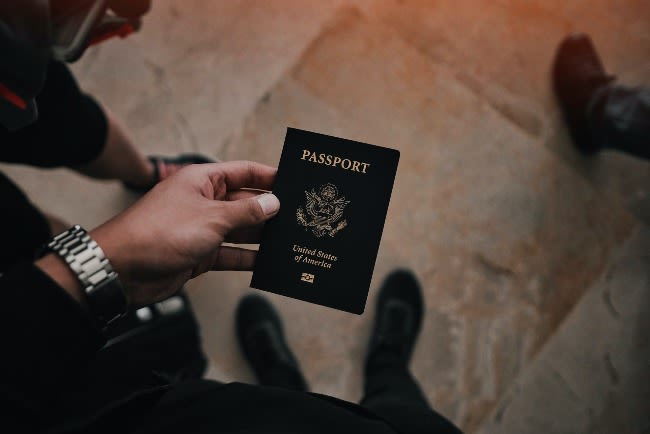 Learn all about passport renewal and address change in the following list of questions.
How does the Process Work?
We've designed a process that won't take you much time, just follow the steps below:
Answer the questions you see in the online form and add your passport photo. Continue with the payment for the US Government fee and our service.
Obtain a professional kit with everything necessary for the new passport, including a bank cheque with the US Government fee. Sign the form and carry the documentation to your mailbox.
Our agents will check carefully all the details to make sure everything's alright before sending the information to the government.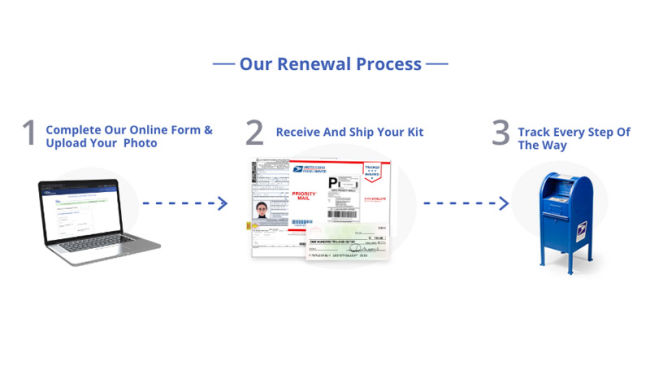 Am I Eligible for Passport Renewal with iVisa.com Services?
Only certain countries are eligible for this service, including the US. You can check that information here. To renew your passport, you'll only need:
A signed DS-82 Form.
A printed and stapled professional passport photo.
A bank cheque with the US government fee (you must pay for it while completing the online form).
A USPS envelope.
If you're planning a trip for less than 6 weeks, we cannot give you our service as your passport won't arrive on time. The standard process takes at least 10 weeks.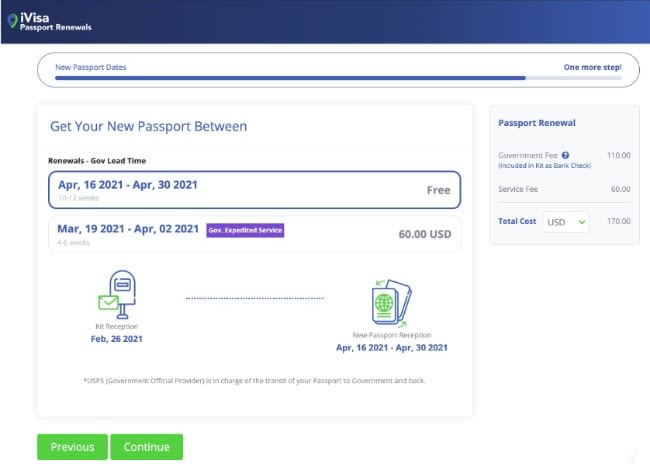 Keep reading below to see all about passport renewal and address change.
Frequently Asked Questions
Who is this service for?
By now, we can only offer this service for US Citizens with a US passport. In case you have your US passport ready to renew, make sure that you meet the following criteria:
You must have your current passport in possession.
Your passport must not be damaged.
You must be at least 16 years of age.
The current passport issue date must be within the last 15 years.
Your passport must be issued with your current name.
Obtain your passport renewal here.
You can learn all about passport renewal and address change on this link.
Why should I be ok sharing the SSN with iVisa.com?
The information you offer to iVisa.com is completely compliant with the General Data Protection ("GDPR") and the California Consumer Privacy Act ("CCPA"). At iVisa.com we know and believe that data ownership is a fundamental human right, which is why we do not license or sell any of your private details to third parties.
The SSN you share with us will be used only for the mandatory completion of your DS-82 Form, as it is a government requirement to include it in the Passport Renewal request.
How will I know when my new passport is on its way?
Our team of experts will always notify you as the government is processing your passport renewal request. You can wait for the renewal up to 8 - 10 weeks with standard service and 4 - 6 weeks with the rush service from the date they receive your application.
Renew your passport on this link.
What should I do if my passport gets rejected?
It's quite difficult to get a passport renewal rejected, but if that's the case, we'll offer you a 100% refund of our iVisa.com fee.
Get to know all about passport renewal and address change here.
You can start the process here.
What should I do if I make a mistake during the process?
Our customer service team is ready to help you with any issue or doubt you have with the process. They're available 24/7, plus, they'll make sure that all the information you offer is correct, so you shouldn't worry about it.
How long does it take to get my new Passport?
As for the waiting, it'll depend on the processing time you prefer. Keep in mind that our prices include the Government fee of USD 130. These are your options:
Select Kit Shipping Time: Same Day Free Shipping (cut-off 2pm EST) for $72.
Select Kit Shipping Time: 2 Day Free Shipping for $60.
Select Kit Shipping Time: 4 Day Free Shipping for $40.
Once you send the kit, wait 10 weeks for your renewed passport. If you pay USD 60, you can get it in 4 to 6 weeks.
Obtain your renewed passport here.
iVisa.com recommends
Traveling is something pleasant for anyone, whether nationally or internationally. It is always mandatory to have an updated and renewed passport to enjoy a trip abroad, so we're ready to help you with that.
Keep in mind that with your renewed passport you'll be able to visit many popular tourist spots in near and far countries. Do you want to clear your mind in the crystal clear waters of the Caribbean? There's no problem with your renewed passport. Would you rather relax walking through the romantic streets of Paris? Or maybe you want to explore the Swiss Alps? All of this is possible when you have the budget for it and your updated passport.
Keep in mind that in some countries they recommend having a minimum validity of 6 months. In other words, at the time of travel, your passport shouldn't expire until at least 6 months. Don't worry about an expired or expiring passport, and renew it with us.
Don't forget to check all about passport renewal and address change on this link.