If there's something that many U.S. citizens enjoy, it's traveling. Perhaps it is one of your favorite hobbies, and that's why you're always paying attention to a good plan when you decide to visit a new country. Getting a passport renewal in Michigan is one of the things that's usually needed at some point when making those travel plans, and that's why in this article you can read a good help for that task.
You can have your passport renewal at a government office, but that can be a troublesome task. On the other hand, applying online is a less complicated and time-saving option.
By reading the FAQs below, you'll get more information about the online process to get your passport renewal.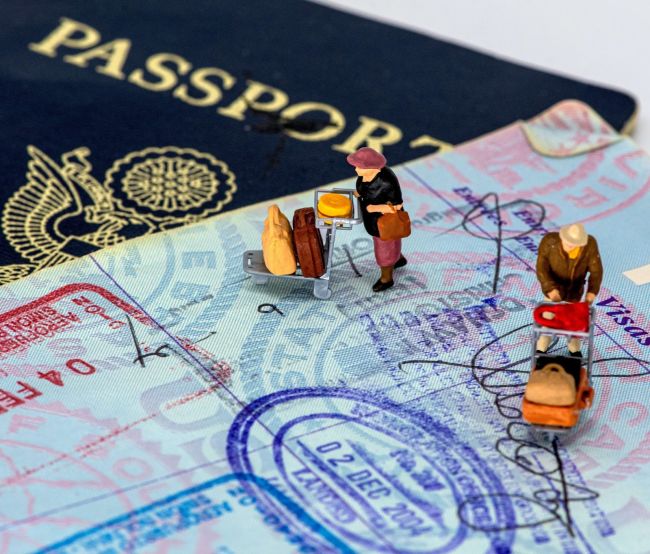 Frequently Asked Questions (FAQs)
What is a passport renewal and why is it so important?
Passport renewal is a necessary process to keep this document up to date. This task is important because from time to time your passport expires, and that makes it useless when stepping on foreign land.
There are two types of passport renewal process: in-person and online. You can do either of these by yourself as long as you follow the requirements set by the U.S. government. As you can guess, these requirements can be stressful and they need a lot of time to be achieved.
If you apply with iVisa, you won't have to worry about wasting time in vain or stressing with the strict requirements set by the government.
What should I know before doing my passport renewal in Michigan?
Before you renew your passport you must ensure that you have the following conditions. These are even more important if you do it on the official U.S. Government website.
You must have your passport in your possession.

Your passport must be undamaged (no torn pages or scratches).

You issued your passport when you were 16 years old or older.

Your passport was issued in the last 15 years.

Your passport was issued in your current name or you can prove your name change.
What documents do I need to renew my passport online?
iVisa designed an easier process that allows you to renew your passport online by having the following documents:
A scanned copy of your passport – iVisa will ask you to upload a digital copy of your passport while you fill in the form. Do the scan beforehand for your convenience.

A professional passport-sized photograph. You can use My Passport Photos to get it done easily.

A valid e-mail address where you'll receive your passport renewal.

A valid payment method. iVisa accepts both credit and debit cards, but if you have a Paypal account you can use that as another payment method too.
What are the processing times with iVisa's service?
If you apply online using iVisa's service, you'll be able to choose any of the following according to how soon you need to have your passport renewal:
Standard: you'll wait 5 Business Days

Rush: you'll wait 3 Business Days

Super Rush: you'll wait 2 Business Days

What are the prices to renew my passport with iVisa?
This will vary according to the processing time you choose. Keep in mind that the sooner you want your passport renewal, the higher the price. Here's the list of prices:
Standard: The least expensive price is USD 76.00

Rush: You'll pay USD 106.00 with this option.

Super Rush: This is the most expensive, so you'll pay USD 141.00
How can I send my passport renewal application form online?
Obtaining your passport renewal can be very simple, but also tedious if you decide to do it through the official website of the United States government. With this method, you have to follow a lot of steps.
The first step is to download your form filler and then filling it out with the information required. The next step is to submit your most recent passport and also the Name Change Documents if necessary. After that, you must upload the passport-size photo and then calculate your fees carefully. Only after you finish all of this, is when you can send your application form and wait for your passport renewal. You'll be informed through a tracking number via email.
How can I apply for my passport renewal with iVisa?
The application form made by iVisa is a lot easier than you think. This method only has 3 steps to follow. If you find something difficult to comprehend, you can call iVisa's support service 24/7.
These are the steps:
1.First, fill in the initial form and choose the processing time you prefer.
2.Second, make a quick revision of step one. You must also make the payment at this point, using one of the methods mentioned above.
3.Third, answer a personal questionnaire, and upload the digital copy of your passport and photo.
Once you're ready, just hit the submit button and wait for your passport renewal. You'll be informed via e-mail, so be sure to offer a valid e-mail address.
When should I apply for my passport renewal in Miami?
The best advice is to apply for one week in advance, but this is a general recommendation. With iVisa you can have your passport in less than 5 business days, but it's better to take the week in advance to avoid any trouble while planning your trip.
Can I apply for passport renewals online during the COVID-19 Pandemic?
In a big city like Michigan, it's essential to prevent the spread of COVID-19. That's why you'll probably find a reduction in passport operations. There are even some temporarily suspended expedited passport processing. You can read the travel information offered by the U.S. Department of State on this website to avoid any inconvenience in your upcoming travel plans.
Remember that you can also get more information by reading the last articles on our website.
Where can I get more information about passport renewals online?
Don't worry if you still have questions about the passport renewal process. In that case, you can contact us online or you can find more tips on our website. What you should know now is that with iVisa you have an excellent option to simplify a tiresome process. You can always apply online with this safe service to get closer to your next adventure.