If you're asking yourself "Can I change my name on passport?" then there's good news for you! Changing your name in your current passport is possible and now there's an easy way! If you're asking for a name change more than one year after your passport has been issued, then you have to follow some single steps. To this day, the most important thing you need is an official document that shows your name change. It can be a marriage certificate or a court order.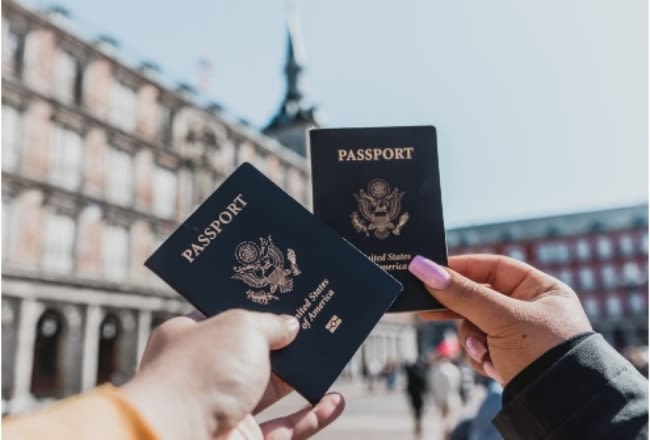 iVisa.com simplifies this process by giving you an effortless three-step Passport Renewal service. In the information below, we'll explain everything you have to know to get your passport updated with your name change, including the valid format.
This service is available only for US citizens with valid US passports, and only if they live in the United States.
Still asking "Can I change my name on passport?" Read below to learn more.
How can I change my name on my passport?
If your passport was issued more than one year ago, then you'll just have to follow the three steps of the iVisa Passport Renewal service. Don't forget to include the document that certifies your name change!
These are the steps to follow:
Step 1: Fill out the online application form, upload your photo, , and pay for the service.
Step 2: Obtain your kit with all the things you need to renew your passport and drop it off along with your name change document at your nearest mailbox or post office.
Step 3: Track every step of the way and get your passport in 4-6 weeks or 10 weeks. Please notice that for a faster process, you'll have to pay a bit more.
To guarantee a smooth traveling experience, we can only provide our services when your next trip is at least 6 weeks after your passport renewal. The usual process can take up to 10 weeks from start to finish.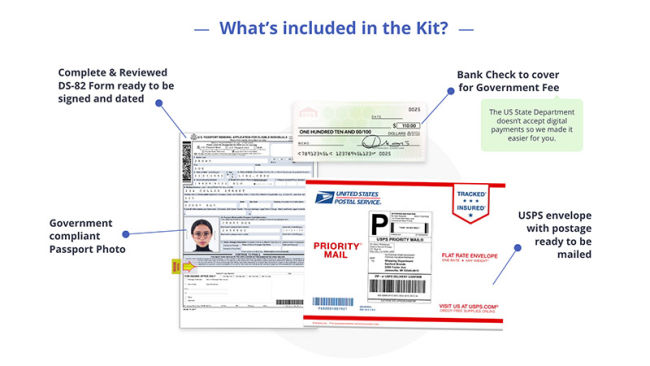 Frequently Asked Questions
What are the documents required for a passport name change?
This process varies depending on which of the following two situations applies to you:
Case 1: If your passport was issued over a year ago, the requirements are:
A DS-82 form.
Your current passport
Passport photo
Name change document.
Depending on your age, you will need to include an adult or child fee.
Case 2: If your passport has been issued in less than one year, you need the following items:
A DS-5504 form.
A passport-sized photo
Your current passport
A travel document that states your name change.
Please, take into account that the US Government could ask for more documents. You don't have to stress about that! Regardless of your situation, we'll ensure you get the proper documents so your passport renewal name change goes smoothly. At iVisa.com, we're always ready to help! You'll learn Can I change my name on passport?
Who is eligible to apply for Passport Renewal with iVisa.com?
This service is available only for people living in the US with a valid US passport. Additionally, you have to meet these criteria:
You must have your current passport in your possession.
Your current passport is in a good state.
You must be older than 16 years old.
The issue date in your passport should be within the last 15 years.
Your current name must appear on your current passport.
You got your current passport after or at 16 years old.
If you want to get a name change on your passport, you will also need to have a document that shows your name change. For example, a marriage certificate, a divorce decree, or a court order. When you choose to renew your passport with us, you can be sure we'll make sure your passport name change format is correct.
Do I have to send my current passport to iVisa.com?
That's not necessary as we'll send you the passport kit with all the items required. This kit includes:
A DS-82 Form ready to be signed
A printed and stapled passport photo.
A bank check with the US government fee.
A USPS envelope ready to be shipped.
You also have to sign the form and take it to the post office with your complete iVisa.com kit, proof of name change and your current passport.
How long does it take to obtain my new passport?
There are two services you can take advantage of. Firstly, there's the standard process that takes 10 weeks, and secondly, the expedited process, which takes 4 to 6 weeks. Nevertheless, you will have to pay an extra fee of USD 60 for the last one. It's simple now you know the answer to 'Can I change my name on passport?'
How much does it cost to renew my passport?
The government fee is USD 130. Additionally, iVisa.com charges a small fee depending on how fast you want to get your passport renewal kit in the mail:
Select Kit Shipping Time: Same Day Free Shipping (cut-off 2pm EST) for $72
Select Kit Shipping Time: 2 Day Free Shipping for $60
Select Kit Shipping Time: 4 Day Free Shipping for $40
Remember that it will take 10 weeks to get your new passport unless you are willing to pay USD 60 for the expedited service. This service takes 4 to 6 weeks. We have all the tools to help you with the passport name change format.
iVisa.com Recommends
It is time for you to enjoy your holidays on the Riviera Maya or the French Riviera! You can now relax on beautiful beaches that offer extraordinary views of crystal-clear waters and white sand. You can also visit beaches like Playa del Carmen and taste the delicious tacos in the restaurants nearby. Also, be ready to explore the ancient Mayan sites of Chichen Itza and Tulum. These are just some examples of the things you can do by traveling to Mexico and getting to know the ancient Mexican cultures that once ruled this side of the world. Plus, remember that Mexico is home to Cancun, one of the best places to enjoy sunny weather. Have the most incredible party with some tequila shots at a local bar. Also, you must try tequila cocktails, like margarita which will leave you feeling refreshed.
Get ready for your visit by renewing your passport with iVisa.com!