If you are in New Jersey, you are in luck. You can get your passport renewal in New Jersey by using iVisa.com's passport renewal service. Our affordable and error-free service is everything you need. Also, you will have a full team checking that you comply with US Government standards.
Our service is available for US citizens with valid US passports living in the United States. Get your passport renewal in New Jersey by following the steps below.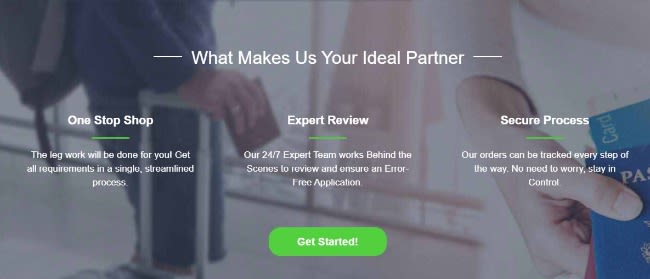 How does the Passport Renewal Service work with iVisa.com?
To get your passport renewal in New Jersey simply follow the instructions below:
Fill out the application form and include your passport photo. Pay for the US Government fee and our service fee.
Expect a kit with the required documentation, including a bank check with the US Government fee.
Put your signature in the form and go to the post office with all these documents.
Check the progress of your service with the details we will share.
If you need to travel in less than 6 weeks, we can't offer you our service. The standard process takes 10 weeks, which means you won't have your passport before your trip.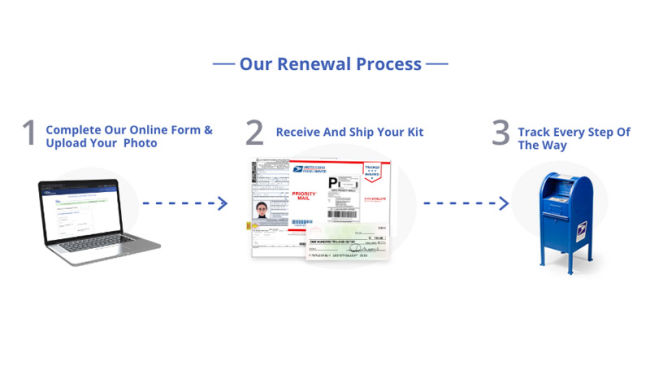 Frequently Asked Questions
Who is eligible to apply for the Passport Renewal with iVisa.com?
US citizens with valid US passports in the United States can obtain our passport renewal service. Also, you should meet these requirements:
Your current passport is in your possession.
Your passport is in a good state.
You are not younger than 16 years old.
The issue date in your passport is within the last 15 years.
Your passport shows your current name.
You obtained your current passport after or at 16 years old.
Get your passport renewal in New Jersey by with our one-stop passport renewal service. Let our team help you!
Do I have to send my current passport to iVisa.com?
No! We don't need your passport during the process. However, we need you to receive a kit with these items:
A DS-82 Form ready for you to sign.
A printed and stapled passport photo.
A bank check with the US government fee that you already paid during the online process.
A USPS envelope ready for shipment.
Use the iVisa.com service to get your passport renewal in New Jersey.
Get your passport renewal in New Jersey by following these steps.
How long does it take to obtain my new passport?
The US Government offers two services:
Standard - 10 weeks
Expedited - 4 to 6 weeks if you pay an additional USD 60.
Obtain your passport renewal in New Jersey with the iVisa.com passport renewal service.
How much does it cost to renew my passport?
The price compromises the US Government fee of USD 130. Also, select one of these options for the iVisa.com fee:
Receive the kit in 3 Business Days for $72.
Receive the kit in 6 Business Days for $60.
Receive the kit in 9 Business Days for $40.
Once you send the kit, wait around 10 weeks for your new passport. If you pay an extra fee of USD 60, the passport renewal process will only take 4 to 6 weeks.
Get your passport renewal in New Jersey by following these steps.
iVisa.com Recommends
After getting your new passport, we are sure you want to travel the world. Visit Spain and enjoy an excellent holiday. Go to Palma de Mallorca and explore the beautiful beaches. The turquoise waters and white sands are perfect for your next getaway. Also, try some delicious food here. Go for paella, a famous seafood dish with plenty of flavors. If you want to party, you must visit Ibiza. This city offers the most spectacular electronic music parties with DJs from all over the world. Expect to spend a few thousands of dollars to have the most incredible party here.
Spain also offers historical cities like Madrid. Explore the capital, where you can find El Prado Museum. The site has an impressive artwork collection with paintings from famous artists, like Velásquez or El Bosco. We invite you to visit the Royal Palace to have a taste of the Spanish Monarchy. Head to El Retiro Park for some nature. Stroll around the trees and have some fresh air. Continue checking other cities in Spain, such as Barcelona, Tarragona, Toledo, among others. Get the passport renewal service now!