We know that family trips are a great experience that strengthens the bonds between each of its members. Having a common memory to talk about, seeing pictures, sharing tales really brings persons together. Of course, we also include children in this conversation, they are often seen as the key members inside a family and we do not disagree. For that reason, it is important they always have their documents updated to be ready for any unexpected travel. That is why we have prepared this blog to let you know about one question parents always ask: How can my child get a passport renewal?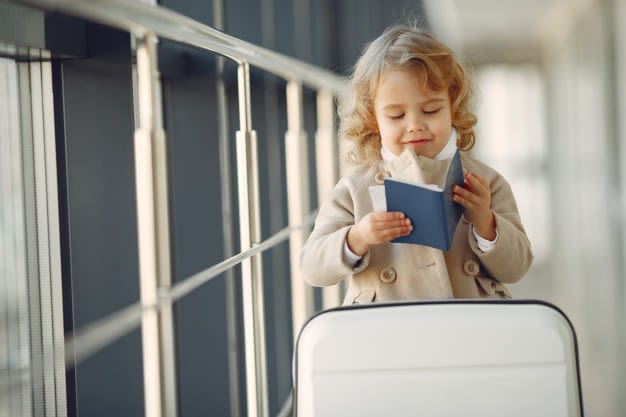 We would like to start by clarifying that children under age 16 are not eligible to apply for a passport renewal nor for an online renewal application. This is because the passports given to them are only valid for 5 years and they need to process a new one when they turn 16. In case they need a new passport before reaching that age, they will need to apply in person at any acceptance facility accompanied by both parents or legal guardians. To get a better idea about this process, check the FAQs we have gathered below:
Frequently Asked Questions (FAQs)
Why is it important to keep my child's passport updated?
The passport is the main document used for travel if it reaches its expiration your child will not be able to travel even though they are traveling with you.
Keeping your passport updated is extremely important if you want to avoid trouble in any Visa request you may apply. This is because some countries have a common requirement which states that the applicant's passport must be valid for at least 6 months from the arrival date. Since we know you like to save time (as do we), here you have the link where you can start submitting your application in a few minutes instead of gathering several documents if you decide to apply directly with the government.
Is my child able to apply online?
Unfortunately, for security reasons, all children under age 16 must request their passport in person. They have to go to an acceptance facility in the company of their parents or legal guardians. There are some requirements your children need to meet in order to guarantee the reception of their applications. Below you will find listed what the government requires:
Form DS-11

Evidence of citizenship (original and copy)

Parental relationship proof

Parents or legal guardian's ID (original and copy)

Parental consent

Applicant's (child) photo. We advise you to get assistance from My Passport Photos service. They will ensure that your child's photo complies with all the requirements.
How about the processing time and how much this costs?
We recommend you to visit the government's website.
How is the renewal application process?
Actually, it is very simple. The application form consists of three steps that are easy to understand in order for you to provide the correct information:
1.First, gather all the documents required.
2.Then, approach to any acceptance facility.
3.Finally, you will be asked to present the required documents you need in order to process your child's new passport.
Once my child's passport has been reissued, will it have a different number?
Yes, it will. Since this will be a different passport from the previous one, the number will be different.
My child has a valid Visa that is still on his previous passport, will it still be valid once the new document has been issued?
Of course, it will! If your child's previous passport is still linked to a valid Visa, that document can still be used for traveling. Just keep in mind that you will need to take both, your child's new and previous passport.
My child's passport has not expired yet, is it necessary to get a new one before traveling?
It is highly recommendable! Do you remember when we explained about the 6 months validity rule in a previous FAQ? Well, imagine this scenario: Your child's passport has 2 months left but your family is going to travel to a country that only accepts 6 months validity passports. In this case, we advise you to have got a new one for your child so you can enjoy your trip without worries.
How long will this process take?
Due to the current pandemic, processing times can take a little bit more than usual. For further information, we advise you to check the government's website.
Why should I trust the information iVisa is providing?
We have tons of experience processing travel documents. Back in 2013, we have helped thousands of travelers to reach their destinations without having to worry about the tedious process of dealing with governments or embassies. We understand your worries about providing personal information online, but we assure you that all your information will be stored in extreme confidence. We do not share it with third companies. For further assurance, you can take a look at our customer's reviews here.
How is iVisa handling the renewal process during the current COVID-19 situation?
Honestly, the emergence of the pandemic has affected our industry deeply. But we are aware that these hard times will not last forever and we are starting to adapt to the current situation. Since more countries are opening their borders with the passing of the months, we know that it is just a matter of time to see persons traveling again.
Hence, more passports will need to be renewed. Do you remember the title of this blog? Well, even though we are not able to help in this process we still want to keep you informed. Hence, we kindly ask you to check iVisa's website frequently to get the latest updates about the new travel regulations.
How can I communicate with you?
Pretty easy! You can start a live chat here with one of our customer service agents or send us an e-mail to help@ivisa.com. Feel free to contact us at any time of your preference. We are available 24/7.
Take the chance now and get your passport renewal with iVisa!