If you're looking to get your passport renewal expedited, iVisa.com offers a secure, simple, and affordable method that can't be beaten by other third-party services. For an additional fee of $60, we offer the US Government Expedited Service to get your passport renewed in 4-6 weeks. With iVisa.com, your application is reviewed by experts, and every detail is taken care of for you, so you can complete the whole process from the comfort of your home.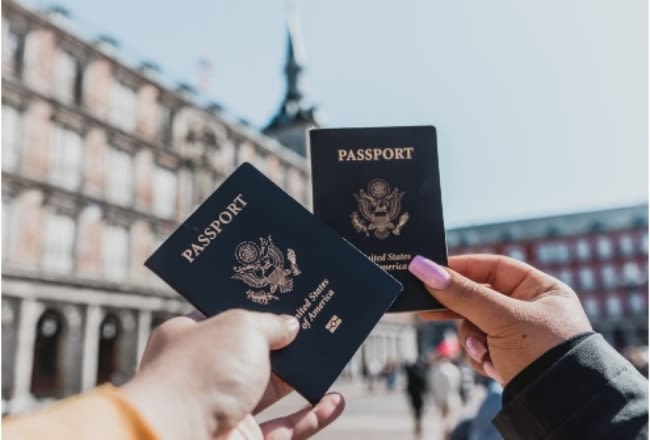 If you are a US citizen, have a US passport, and are currently residing in the United States, you are eligible for our service to get your passport renewal expedited!
How does the Passport Renewal Service with iVisa.com work?
No need to spend endless hours in US government buildings to secure a new passport. Follow these easy three steps:
Fill out an application form and upload your passport photo. Then pay for the government fee and iVisa.com service fee on our website.
Receive a kit with everything you need, including a bank check for the U.S. Government fee, which you pay ahead of time when you complete your application with us. After signing the kit, drop it off at the closest mailbox.
Track your passport renewal process using the details we will share with you.
If you need to travel in less than 6 weeks, we can't help you with your passport renewal service as the travel document won't arrive on time. Read the FAQs below to find more details about your question: How can I get my passport renewal expedited?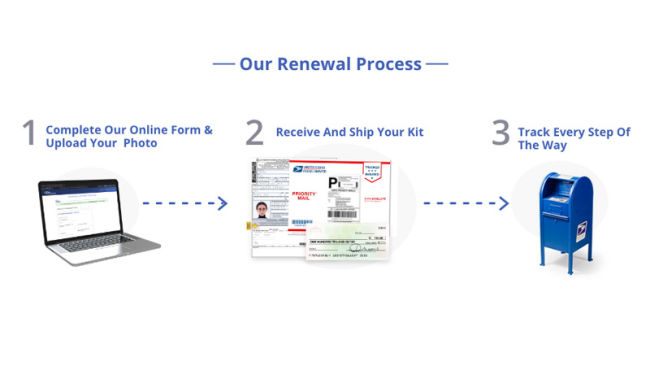 Frequently Asked Questions
Who can get the passport renewal service?
To be eligible for this service, you must be a US citizen with a valid US Passport. Besides, you should meet the following conditions:
You must have your current passport in your possession.
The passport must not show any damage.
You can't be younger than 16 years old.
Your passport issued date should be within the last 15 years.
The current passport must show your current name.
Last passport obtained after or at 16 years old
If you meet these requirements, what are you waiting for? We know we are ready to answer your question: How can I get my passport renewal expedited?
Does iVisa.com need my current passport?
No! Our team doesn't need your passport but remember to have it in good condition for the process. Travelers will receive a kit with the following items:
A DS-82 Form ready for your signature.
A printed and stapled Passport Photo.
A bank check to cover the US government fee, which you pay for when you fill out your application.
A USPS envelope with postage that you will need to ship.
After receiving these documents and signing the papers, gather the kit with your current passport and take it to the nearest mailbox. Simple, right? Trust our service and find out: How can I get my passport renewal expedited?
Why do I need to share my SSN during the application?
We know that sharing personal or legal information may not be easy. We can confirm that our company complies with the General Data Protection ("GDPR") and the California Consumer Privacy Act ("CCPA"). In other words, we will only use your SSN details for the passport renewal service. We don't license or share any details from our applicants with third parties. Countless travelers have trusted our services for years, and they know their information is safe with us.
Renew your passport now, and we can tell you: How can I get my passport renewal expedited?
How will I know when my new Passport is on its way?
Our customer support team will send you frequent updates while the government is processing your passport renewal request.
What if my Passport gets rejected?
In the unlikely case your passport renewal application is rejected by the US Government, we provide you a 100% refund of our iVisa.com fee.
What if I do something wrong during the process?
Our team of experts is available 24/7 to help with any doubts, needs, or concerns you may have along the way. They will review all of your information to ensure an error-free process.
How long does it take to get my new Passport?
The US Government's standard passport renewal application time is 10 weeks. However, they offer an Expedited Service where applicants can renew their passport in 4-6 weeks for an extra fee of $60.
How much does it cost to renew my passport?
The US Government charges a standard fee of USD 130. On top of this, there is an iVIsa.com service fee corresponding to when you want to receive your passport renewal kit:
Select Kit Shipping Time: Same Day Free Shipping (cut-off 2pm EST) for $72.
Select Kit Shipping Time: 2 Day Free Shipping for $60.
Select Kit Shipping Time: 4 Day Free Shipping for $40.
After filling out the kit and dropping it off at the nearest mailbox, you can expect to receive your passport in 10 weeks. If you want it faster, you can pay an extra USD 60 for the passport to arrive in 4 to 6 weeks with government expedited processing.
What should I do if I have an upcoming trip in less than 6 weeks?
If you have an upcoming trip in less than 6 weeks from today, you are not eligible for the iVisa.com passport renewal service as you won't get your passport on time. In this case, we ask you to contact a government-licensed agency or center.
What should I do if I'm not eligible for renewing my passport online?
Unfortunately, if you are not eligible for renewing your passport, this product is not for you. We ask you to please check the US Government website for the corresponding process for your case.
iVisa.com Recommends
Having a new passport opens the door to new destinations all over the world. Start traveling to Mexico and explore a unique country. Visit Guanajuato, where you can see colonial buildings and colorful local homes that make it a perfect cultural landscape. Don't leave without visiting Delgado Market, where the tacos are incredible. Go to Mexico City, and check the Palace of Fine Arts and the Basilica of Our Lady of Guadalupe. Both places represent the culture and religion in Mexico. Continue your trip with Zacatecas, a historic town with remains from the colonial period. Visit the Eden Mine, a 16th-century mine that offers a mineral museum to visitors. Also, check the Pedro Coronel Museum and see some artwork from locals. If you want a spectacular view of the whole city, take a cable car to Cerro de la Bufa Mountain. We promise that you will take the most magnificent snapshots of Mexico. Finish the journey with Oaxaca, the unique town where Mexican culture is all around. It's time to travel to Mexico.