Processing documents with embassies or offices, in general, can be a headache. The traditional processes we used to follow in the past, required you to fill out a form, sign it, gather several documents, come to the office, show the documents, pay for the document you want to receive and then wait, wait and keep waiting until they tell you when your renewed passport would be ready. However, thanks to the new technological advances, many official documents such as visas or passports can now be processed online and iVisa is part of it.
If you want to know how this can be possible and what process should be followed, be sure to read this article which details every point regarding online passport renewal.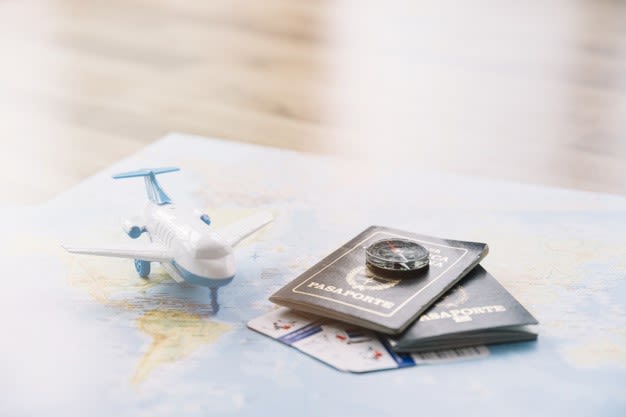 FREQUENTLY ASKED QUESTIONS (FAQs)
What is the importance of renewing a passport?
We have to make it clear that without a passport with a minimum validity of 6 months, you cannot travel abroad. This is just one of the requirements that most governments ask their visitors before they enter their countries.
That is why you should renew your passport in advance and not wait for it to expire.
Especially for cases such as a pandemic, a natural disaster, or any other emergency, applying online with iVisa, is the best and safest option.
How can I renew my passport?
The most common and traditional way to process a passport renewal is to go directly to one of the available offices that issue this type of document. The only thing you have to take into account is that the process you follow there will take a long time to be completed.
Another option you have is to process it online from the comfort of your home. You don't have to spend much time in the process, since iVisa will take care of everything, from start to finish.
How do I know if I am eligible to apply online?
To find out if you can apply online or not, just check the following list to see if your passport meets the requirements:
You must have your passport with you. If it was stolen or lost somewhere, you will have to follow another procedure that you will have to do directly with the office that issues these documents.

The way your passport looks matters too. It has to be in good condition.

You must have issued your passport within the last 15 years. Remember that you can only apply if you are of legal age.

If you are married, divorced, or single, you must prove this information with an official document.

Passport renewal is only intended for those people who issued their passport when they were 16 years old or older.

It must have been issued during the last 15 years.

If you have a different name or surname than the one in your current passport, you will have to show an official document that proves this information.
How does the online passport renewal process work?
We simplify the entire process so that the applicant does not have to worry about his or her passport. Basically, we receive and process your application that you make online, and then send it to the government of the country you want the passport from.
When the Government confirms that your renewed passport is ready, we will contact you by email and detail the instructions you must follow in order to receive your renewed passport.
In the case of the applicant, you only need to fill out an online form and make the respective payment for the document. Then we take care of the rest.
What documents do I need to send to apply online?
If you apply with iVisa, you will only have to send these documents:
Passport Photo, the measurements of the photo must be exact and the background must be white, if you want to get the right photo for this type of document, you can use My Passport Photos

Passport Scan, send us the page of your current passport where your personal information appears.

Valid email address, if you have an account that you use frequently, you can send us that email account so that we can contact you in that way and send you all the details of the process of your application.

Payment Method, in iVisa we accept all credit and debit cards and we also accept payments with Paypal.
How much does it cost to process a passport renewal online?
In iVisa we have segmented the prices in three ways that will depend a lot on the type of processing time you want:
Standard: 5 Business Days ; USD 76.00

Rush: 3 Business Days ; USD 106.00

Super Rush: 2 Business Days ; USD 141.00
If you want to know more details of the prices just mentioned, you can enter here.
What is the process to follow to submit my online application?
Filling out the online form will not take more than 15 minutes of your time. Just follow these 3 steps and submit your application online:
1.Enter your personal data such as name, surname, nationality, date of birth, current passport number, etc. At this point, you must select the type of processing time.
2.Review everything you have placed in the first part and proceed with the corresponding payment.
3.Upload the required documents: photo and passport. Finally, click on submit and you're done! We will review your application and take care of the rest.
Don't wait any longer and process your passport renewal with iVisa now! If you wish to contact us, you can click on the following link.
What happens after I send my renewal application to Visa?
After you have submitted your application, we will send you an email confirming receipt of your online application. Within the processing time you have chosen on the form, our staff will work on your application and send it to the appropriate office.
As soon as we get confirmation that your renewed passport is ready for collection, we will send you an email telling you all the steps you need to follow to receive your passport. If I have children under 16 who want to renew their passports, can they do it online? No, unfortunately only adults can do the renewal online. If you have a child under 16 years of age who needs to renew their passport, they must go with a parent to the respective office that issues this document and process it with them directly.
Is it possible to apply online during the coronavirus pandemic?
At the moment the option to apply online is not yet active. If you have to travel urgently to another country you should contact the respective Embassy or office so that they can help you in your case.
Remember that for now, you can only renew your passport if you have a life-or-death emergency. As soon as the online option is activated, iVisa will help you at every step so that you can process your document online.
I still have questions regarding online passport renewal, how can I get more information?
We can help you with all the questions you have. Contact one of our customer service representatives by clicking here. If you wish to read more about renewing passports from other countries, just click here and check our last articles on the website In these times, it is preferable that you do not leave the house and take care of your health. Avoid exposing your health on the streets and process your documents online. With iVisa you only need to follow a few steps and we will take care of the rest. Don't hesitate and apply with us!