In order to renew a minor's passport, your child will need to do the process in person with both parents or guardians. In this case, it's necessary to fill out Form-DS 11. Our team knows all about how to renew minor passport. If you're also looking to renew an adult passport, don't worry about anything because iVisa.com is here to help you. We have a one-stop service that's error-free.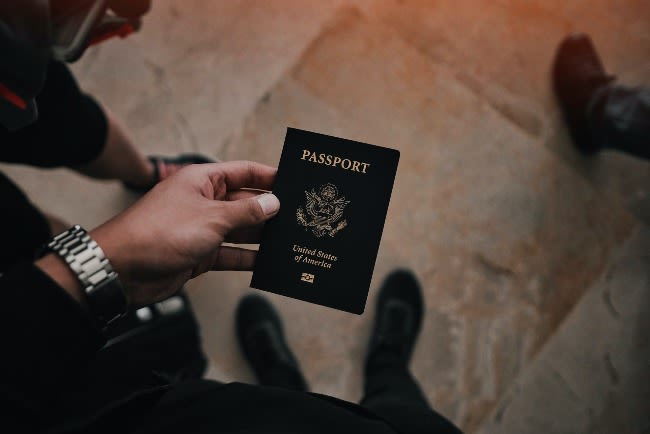 Remember that our service is available only for US citizens in the United States with a valid US passport. We can explain all the information about how to renew minor passport.
How does the process work?
We're ready to tell you all the details about how to renew minor passport. As mentioned, the US embassy requests minors to do the process in person, and the following steps are necessary:
Complete Form-DS 11 with the minor's information. You will need to provide US citizenship evidence, parental relationship documents, ID, and a photo within certain guidelines.
Calculate your fee and bring a check to pay it.
Head to a passport acceptance facility with all the required documents and track your application status.
Did you know that the process for US passport renewal in adults is even easier? First of all, you don't need any government facilities to do it. Fill out a digital application form and attach your photo. Pay for the government and iVisa.com fee. We will send a kit with all the necessary documents and the bank check for the US Government. Sign the documentation and take it to the closest post office. Track your application, and that's it!
In case you need to travel in less than 6 weeks, we can't support you as the procedure will take longer. Continue learning how to renew minor passport with iVisa.com.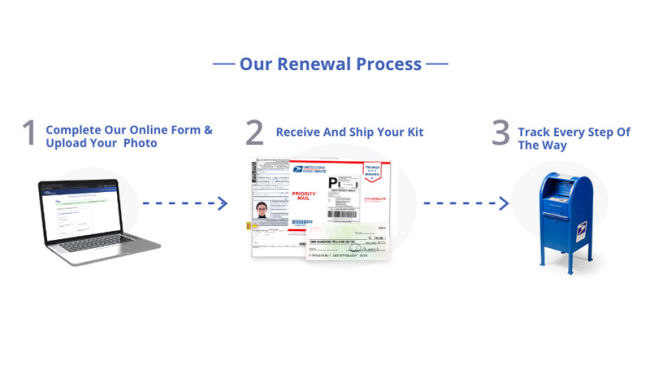 Frequently Asked Questions
Who is this service for?
In order to access the iVisa.com service, you need to be a US citizen and have a valid US passport. Also, you need to meet the following requirements:
Your current passport should be with you.
Your passport must be in good condition.
You can't be a minor. You must be 16 years or older.
Your passport's issued date can't be more than 15 years old.
Your current name must appear on your passport.
Your passport must have been acquired after or at 16 years old.
Renew your passport now with our excellent service. Check more about how to renew minor passport now.
Does iVisa.com need my current passport?
iVisa.com doesn't need any documents from your side. Instead, you will receive a kit with these items:
A DS-82 Form that you need to sign.
A printed and stapled Passport Photo.
A bank check showing the US government fee.
A USPS envelope ready for shipment.
Once you check these documents and sign them, you need to take the whole kit and your passport to the nearest mailbox. Now you only need to wait! Keep reading all about how to renew minor passport.
How much does it cost to get a passport renewed?
First of all, you need to pay USD 130 for the US Government fee. Depending on how fast you want your kit, you can have the following prices:
Select Kit Shipping Time: Same Day Free Shipping (cut-off 2pm EST) for $72
Select Kit Shipping Time: 2 Day Free Shipping for $60
Select Kit Shipping Time: 4 Day Free Shipping for $40
It takes around 10 weeks to have your new passport. You can pay an extra fee of USD 60 to get it in 4 to 6 weeks.
Read more details about how to renew minor passport. Apply now with iVisa.com.
iVisa.com Recommends
Now that you will renew your passport and your children's passports, you have endless opportunities to travel. Visit Italy, the birthplace of the Roman Empire, and check the most beautiful art pieces from the Renaissance. You will find so many monuments rich in culture that one trip won't be enough to visit them all. Aside from all the cultural heritage, like the Colosseum or Pompei, you can see marvelous architecture, like the Duomo in Florence. Besides, you can't miss nature. We invite you to explore Lake Como, where the mountains and landscapes will make you want to stay forever. Remember that Italy is the land of pizza and pasta. Make sure to make your way to Napoli to try the original pizza. Also, enjoy pasta in all shapes and taste it with all the sauces you could imagine. Italy also offers a magnificent coastline, where you can enjoy an incredible summer. Visit the Amalfi Coast and Cinque Terre for an unforgettable stay. On the other hand, as Vatican City is so close to Rome, you shouldn't miss the opportunity to check out the Sistine Chapel and the Vatican Museum.