Getting your passport card renewed is simple. You only need to complete Form DS-82, make a bank check with the fee provided by the US Government, ship the documentation and wait for your new passport card.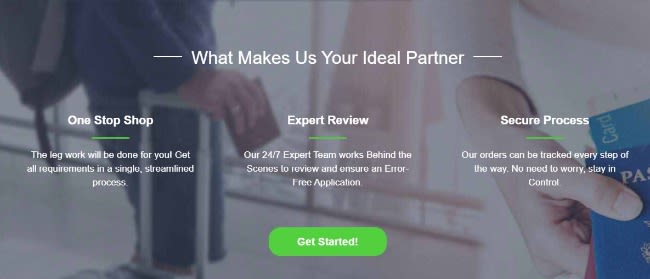 iVisa.com can help you with the passport renewal service. You will find all you need in one place within our platform. Try our affordable and error-free service. If you're a US citizen living in the United States with a valid US passport, you can access our service at any time.
We can tell you how to renew your passport card.
How does the process work?
If you want to know how to renew your passport card, here we have the answer:
Fill out Form DS-82 with personal details. Confirm how much you need to pay and make a check payable to the US Government.
Mail the documentation alongside the check and your current passport card.
You have the possibility to track the status of your application.
We offer a passport renewal service. All you need to do is complete an online form and attach your passport photo. Pay for our service and the US Government fee. After we process the application, we will send you a kit with all the required documents. Sign them and ship them as soon as possible. Our team can give you the details to track your shipment. Make sure to track your application with us.
It will take around 10 weeks to receive your new passport. If you pay an extra of USD 60, you can have your new passport in 4 to 6 weeks.
We can explain how to renew your passport card today.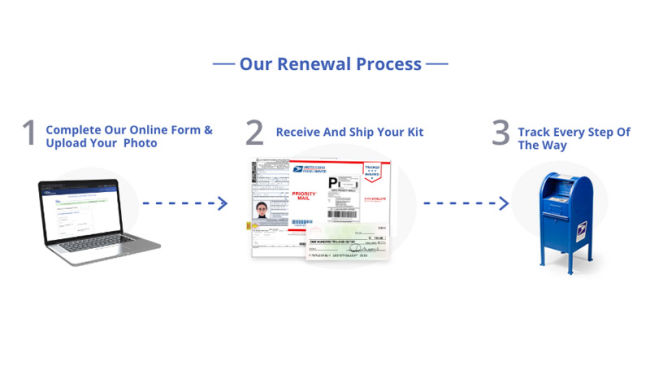 Frequently Asked Questions
Who is this service for?
US citizens with valid US passports can choose our service. Also, you need to comply with these guidelines:
Your passport is currently with you.
Your passport is in perfect condition.
You are older than 16 years old.
The issued date in your passport is within the last 15 years.
Your passport shows your current name.
You got your latest passport after or at 16 years old.
It's time to renew your passport. Continue checking how to renew your passport card.
Does iVisa.com need my current passport?
We don't request any documents during the process. You only need to wait for a kit with the following items:
A DS-82 Form. You will need to sign it.
A printed and stapled Passport Photo.
A bank check. It will show the amount of the US Government fee.
A USPS envelope with postage.
As soon as you receive the kit, check the form and sign it. After that, you need to take your passport and the package to the nearest post office.
Remember that we can discuss how to renew your passport card.
How much does it cost to get my passport renewed?
First, you need to pay a fee of USD 130 for the US Government service. Also, check what option first your needs:
Select Kit Shipping Time: Same Day Free Shipping (cut-off 2pm EST) for $72
Select Kit Shipping Time: 2 Day Free Shipping for $60
Select Kit Shipping Time: 4 Day Free Shipping for $40
Your new passport will arrive in 10 weeks. However, you can have it sooner if you pay USD 60. It will arrive in 4 to 6 weeks.
We know how to renew your passport card. Trust us!
iVisa.com Recommends
A US passport gives you the chance to travel to different destinations, like Switzerland. The alpine scenery and small villages drive the charm that attracts millions of tourists to Switzerland. The natural wonders are not limited to the Alps peaks, blue lakes, glaciers, and beautiful valleys. Head to the Matterhorn, the most iconic peak in Switzerland. Rising over 4,000 meters, the view from here will be unforgettable. Check the village of Zermatt at the foot of the peak and book at least a night at the resort established here. The experience will be spectacular. Besides, you need to visit Lake Geneva, Europe's largest Alpine lake. You can find some cultural spots nearby, like the Opera House and the Grand Theatre.
If you want to start with some city vibe, you can head to Zurich, Geneva, or Lausanne. You can find excellent museums, historic architecture and famous music festivals. In Bern, make sure to explore the medieval town near the river.
Check Ticino, where the Italian influence can be seen in every corner. Also, you won't find one language in every village. Different dialects combine Swiss with German and Romansch.