US Passports for children under 16 years old are valid for only five (5) years. Once they are expired, parents or guardians cannot renew their children's passport. So, Is Passport Renewal for a Child Under 16 possible? No, they will need to do the process as if it is the first time: minors (under 16) must go with their parents or guardians and apply in person for a passport using the DS-11 form.
However, if you are in need of a renewal, iVisa.com can help you. We offer an online renewal passport service for US citizens over 16 years old, holding a US passport, and living inside the US. Our service is an excellent option to reduce your deskwork dealing with these procedures and saving you time to invest in your children's passport process.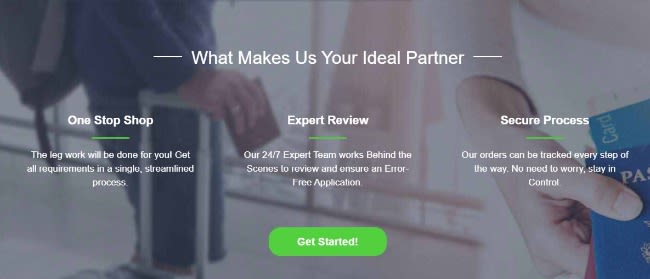 How is this online service working?
Our process is easily manageable. It does not demand time nor energy. The only things you need to do are:
Step 1: Complete this online form, upload your passport photo and pay for our service with any of the methods: Paypal, debit, or credit card)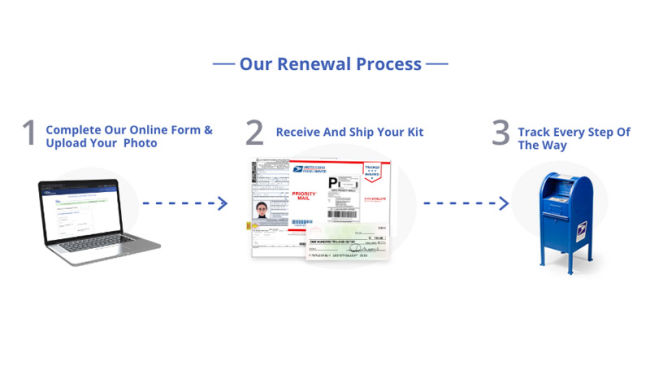 Step 2: Receive your passport kit with all you require for your renewal process and leave it at your convenient mailbox or post office.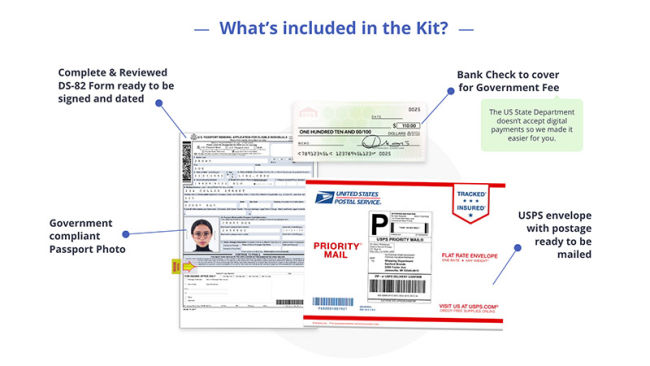 Step 3: Check updates of your process following our tracking system.

Now prepare for your passport arrival. We provide two dispatch times: the government expedited service (4 to 6 weeks) or the government standard service (10 to12 weeks).

We do not need your passport. our Passport Renewal Kit makes all the magic, you won't have to send us your passport. Your only duty is to sign, prepare and ship the Kit at your most proximal mailbox including your present-day passport inside.

Guarantee your passport complies with government guidelines. Our team of immigration professionals will check that your entire application is error-free according to official instructions.
Our passport renewal process takes around 6 weeks and more. Hence, if you are traveling in less than these number of weeks, we cannot offer you our support.
Frequently Asked Questions
Who is this service tailored for?
This renewal service is tailored for US Citizens, older than 16 residing in the US who still keep their US Passport. If you align with this, you will also need:
To have your current passport.
Your current passport must not be damaged.
Your passport was not issued more than 15 years ago.
Your name and your passport's name is the same
Remember that as for the question, Is Passport Renewal for a Child Under 16 possible? Unfortunately, they do not qualify for this service, but for your child older than 16 it is possible.
Begin your renewal process now
Is it a requirement to deliver my passport to iVisa.com?
No, you are not required to deliver your passport to iVisa.com. We will send you a passport kit comprising of:
A complete DS-82 Form
A Printed & stapled Passport Photo
A Bank Check to cover the Government fare
A USPS Envelope with Postage*
The remaining job you have to do is easy:
Sign your DS-82 form.
Pack everything inside the USPS envelope, including your current passport.
Take it to any mail or post office. Your renewal process will initiate as soon as government officials receive your kit.
Why does iVisa.com need my SSN?
We respect your information. For us, you are the only one who has rights over your data. Therefore, we will not share or trade it with third parties for financial gains. We require your SSN since the DS-82 form demands it. All the data shared with iVisa.com complies with the General Data Protection ("GDPR") and the California Consumer Privacy Act ("CCPA").
Am I able to know when my passport process is done?
Of course, our customer agents will send a code to track the status of your process. Anticipate that the US Government can take 8 - 10 weeks with their standard service and 4 - 6 weeks with their expedited service, counting from the date they get your request.
Apply now and get your passport renewal.
What to do if my passport request is declined?
In the extraordinary event, your passport request is declined, You will receive 100% refund of iVisa.com's service fee.
What happens If I make a mistake?
Our Customer Support Team can help you whenever you need it. You can reach them 24 hours a day during the 7 days of the week. They can answer any question about the process or related to Is Passport Renewal for a Child Under 16 possible?.
Get your passport renewal now.
When will I obtain my new passport?
The US Government's standard passport renewal request time usually takes from 8 to 10 weeks. and the Expedited Service takes from 4 to 6 weeks. If you want to access this last one, prepare to pay an additional $60 fare.
What if I need a passport renewal and I need to travel in less than 6 weeks?
If you need to travel in less than six weeks, iVisa.com's renewal passport service is not tailored for you. It will be better for you to go to a government-licensed center or agency. We can help you renewing your passport in at least 6 weeks.
What alternative do I have in case I am not eligible for online renewal?
Our recommended action for you to do, if you are not eligible, is to see what the US government website suggests for you to determine a corrective action plan.
Review: Is Passport Renewal for a Child Under 16 possible
What if I want to read more blogs?
Visit iVisa.com to read more about blogs and your query Is Passport Renewal for a Child Under 16 possible?
iVisa.com Recommends
Surf the waves in rural Panama! If you are a soul surfer or wish to start learning to do so, Panama's sunset coast, close to the Pacific Ocean, is a suitable choice for you. The west side of Península de Azuero, introduces small villages, family farms, and these previously mentioned huge beaches bordered by forest and palm trees. This area owns wide-open beaches that rarely you will have to share. Since most vacationists are locals, it is a perfect getaway from the crowded tourist scene within the country. The Azuero Peninsula is one of the best-known areas of Panama with paradisiacal beaches and islands and small towns in the interior surrounded by green hills and subtropical forests. In syntax, the Azuero peninsula is one of the essential things to see in Panama. In this peninsula are the provinces of Herrera, Los Santos, and a part of the province of Veraguas. The peninsula forms the widest sector of Panama. Must-to-go places are Chitré and Las Tablas, which are the largest towns and the best equipped in terms of services on the peninsula. Pedasí is known for its places of leisure and beaches, such as Playa Venao, well known in the surfing environment where people from all over the world come to practice this sport.