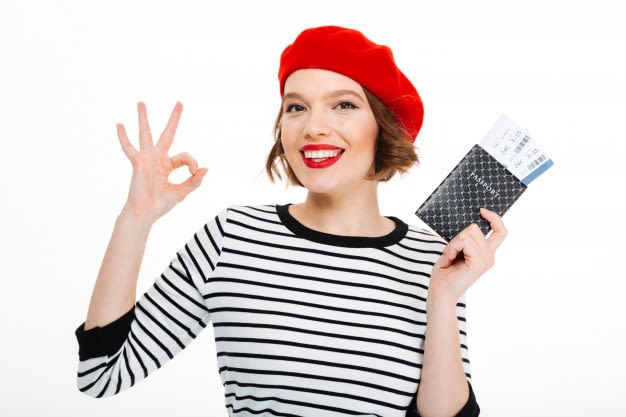 To travel for vacations, jobs, or family affairs, it is essential to have a valid passport because this is one of the most important requirements that we must have to make a trip abroad. On the other hand, many times when you realize that your passport has expired or there are few days left to expire, you automatically start looking for information on the government's page, but when doing this search, you realize that you must follow a long process. This can be stressful and boring.
Calm down, let me tell you that iVisa has created a very simple form so you can do it from anywhere you are with just having an internet connection and an electronic device. Are you realizing how easy it will be?
To continue obtaining more information, keep reading this blog, and you will know how to request it.
Frequently Asked Questions (FAQs)
What is a passport renewal?
A passport renewal is when this document is expired or even has a few days to expire. Then through the renewal of your passport, you can travel to any country without any problem.
Can I renew my passport online if it is expired?
Before starting the process of renewing your passport, it is important that you first check if you are eligible or not to be able to request this renewal online. These are the requirements:
Your passport has been issued within the last 15 years.

You were age 16 or older when it was issued.

It has no significant damage.

Still matches your legal name with your passport or in case you have changed your name, you must have the original legal documentation to prove it.
NOTICE: After you have read the above, see if you meet all the requirements to apply for this passport renewal online or not. Otherwise, you will have to follow the traditional process, which means that you will have to contact the embassy by email or telephone or even go to the embassy.
What documents do I need to have for the passport renewal?
First of all, keep in mind that making this type of process in a conventional way with the government takes a lot of time apart from putting together the long list of documents. For this reason, iVisa has launched this new application form to make this process much easier and also to be able to acquire each of the documents more quickly. Meet all the requirements that we will mention below:
Passport scan: it must show your personal information and it needs to have good quality.

A digital picture: be sure that your face is visible and avoid having any accessories on your face like glasses.

Email: do not forget to enter an email in which you have access.

You will need to use a payment method like credit/debit card or Paypal.
Next, we will show you each of the details about the procedure time, the price to pay, and the application form made by iVisa.
What are the processing times and prices for this online process?
To know the total amount you must pay for this application, you must first select any of the processes that we will show you below and from there you will know the total fee. iVisa has designed these three procedure times for you to choose according to your preference.
Standard processing – many people choose this process because it has a comfortable price, however the renewal of your passport will be ready in 5 Business Days. The total price of it is USD 76.00

Rush processing – all you need to wait is 3 Business Days to obtain your travel document and it will cost you a total of USD 106.00

Super Rush processing – this is the fastest process we have so that you will have the renewal of your passport in 2 Business Days and you should pay USD 141.00 in total.
What is the process to follow for the renewal of passport in Minneapolis?
The new online application form that iVisa has designed will really surprise you because it is not complicated. And remember that in case you have any questions while completing this, you can contact our agents at any time. This is what you should follow:
1.Fill out the formulary with your personal data like names, passport numbers, and so on and then choose the procedure speed that you prefer.
2.Review your application form and in case you need to update something, you can do it. Additionally, make the corresponding payment. We accept credit/debit cards or even a Paypal account.
3.In this part, you have to upload all the requirements and then you must wait according to the processing speed you chose to obtain the renewal of your passport.
Do not wait any longer and request the renewal of your passport on this page.
If I decide to renew my passport, will I obtain a new passport number?
In this case, you will see that when you obtain the renewal of your passport it will have a new number.
Is there a deadline to renew?
There is no set time to renew your passport, but you should always bear in mind that if you intend to travel abroad, you must ensure that your passport is valid throughout your stay in the other country. It is recommended that it be valid for at least 6 more months from when you arrive at the other destination.
Once I renew my passport, is it possible to use a valid visa with my previous passport?
Yes, definitely. But keep in mind that once you have your new passport, the old one will no longer be valid for international travel. In case you plan to travel and you have a valid visa linked to your old passport, it doesn't matter, you can use it; but be sure to take both documents: your new and old passport.
How long do I need to apply for this passport renewal?
To complete this application form, you only need between 10 to 15 minutes of your time.
Why should I choose iVisa to renew my passport in Minneapolis?
We are a company that has been in the market for several years, which is why we have always characterized by providing the best services to our voyagers, making the dream of traveling to different destinations come true. However, it is normal that you think that the information you provide us may be exposed, but let me tell you that we guarantee that your information is 100% protected since we have a system that takes care of that. Don't think twice iVisa is your best option.
How will be the process to request the renewal of my passport due to the COVID-19?
iVisa wants to make your life easier and for that has created this new platform to help you with the process of renewing your passport in Minneapolis virtually. So due to the health emergency that we are still experiencing, it is advisable not to leave the house if it is not necessary. It is vital that you know that if you want to request this renewal online, you must have a computer, laptop, or any other electronic device and internet access.
Carry out this type of passport renewal from your home, so you and your family will also protect yourself.
I need more information, where can I find it?
Don't hesitate to contact our customer service at any moment, they will be happy to help you with your doubts. Moreover, if you want to read additional information, you can enter this link.
It's now or never!! Acquire the passport renewal in Minneapolis with iVisa.