Getting your passport's name changed is possible now thanks to an automated process created by iVisa.com. The best part of this process is that it won't take you much time nor effort, as we'll instruct you in everything you have to do. This is an excellent option if you're looking for a Passport Name Change Marriage.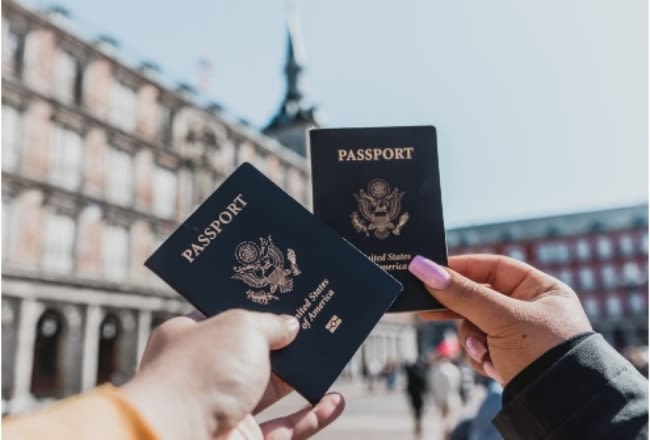 After getting married, you might look for a name change in all your documents, including your passport. We're ready to help you with that by giving you a fast-and-simple 3-step application process.
Read more information about the Passport Name Change Marriage in the article below.
We only offer this service for US citizens with valid US passports living in the United States by now, so be aware of that.
What is the process to change the name?
With our service, the only thing you have to do is to include an official document confirming your name change and passport. It can be a marriage certificate, or court order, a divorce document, etc. After you receive your passport kit in the mail, you'll get all the items you need to follow all the instructions carefully.
The process is split this way:
Step 1: Complete our online application form, upload a passport-sized photo. After that, pay for the fees.
Step 2: Receive your passport kit. This kit will have all the things you need to renew your passport, just include your name change document. After you complete the process, drop it off at the nearest mailbox or post office.
Step 3: You can now track every step of the process by email inbox and get your passport ready in 4-6 weeks or 10 weeks, depending on the processing time you choose.
We suggest you use our services only if your next trip is at least 6 weeks after you start the passport renewal process. We say this because the usual procedure can take 10 weeks from start to finish.
Learn more about the Passport Name Change Marriage in the information below.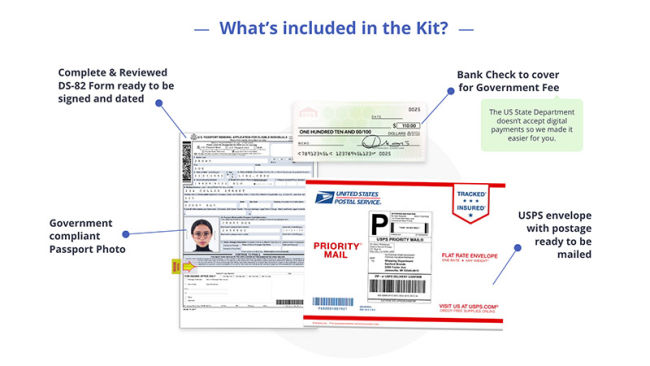 Frequently Asked Questions
What do I need to process the passport name change marriage?
The items will vary according to the following cases:
Case 1: In case your passport is over a year old, you only need:
A DS-82 form.
Your current and valid passport
A passport-sized photo
A name change document.
Depending on your age, you will need to include an adult or child fee.
Case 2: If the passport has been issued in less than one year, these are the items you need:
A DS-5504 form.
A recent passport photo
Your current passport
Document that states your name change.
There might be other required items, but don't stress out! We'll make sure you get the right documents so your passport renewal name change goes smoothly.
Get more information about the Passport Name Change Marriage below.
Who is eligible to apply for the Passport Renewal?
We can only offer this service for US citizens living in the United States with a valid US passport by now. Additionally, you have to meet these criteria:
Your current passport should be in your possession.
Your passport must be in a good state.
You must be older than 16 years old.
The issue date in your passport should be within the last 15 years.
Your current name appears on your current passport.
You got your current passport after or at 16 years old.
Remember that to process the name change you'll also require a document that shows your name change.
Obtain more information about your Passport Name Change Marriage here.
Do I have to send my current passport to iVisa.com?
You don't have to! Besides, you'll receive a kit with all the necessary things to process the name change:
A DS-82 Form ready to be signed
A printed and stapled passport photo.
A bank check with the US government fee.
A USPS envelope ready to be shipped. The only thing you have to do is to sign the form and go to the post office with your complete iVisa.com kit, name change document and passport.
How long does it take to obtain my new passport?
The US Government has two options for passport renewal. The standard process, which takes 10 weeks, and the expedited process, which takes 4 to 6 weeks. However, you have to pay an extra fee of USD 60 for the last one.
See more details about the Passport Name Change Marriage here.
How much does it cost to renew my passport?
The official fee is USD 130. Aside from that, iVisa.com charges an extra fee depending on how quickly you'd like to get the passport name changed:
Select Kit Shipping Time: Same Day Free Shipping (cut-off 2pm EST) for $72
Select Kit Shipping Time: 2 Day Free Shipping for $60
Select Kit Shipping Time: 4 Day Free Shipping for $40
Bear in mind that it'll take 10 weeks to obtain your new passport unless you pay USD 60 for the expedited service. This expedited service can take 4 to 6 weeks.
iVisa.com Recommends
Many obstacles you have experienced recently may have made you wary of traveling, including the coronavirus pandemic, of course. However, many countries are re-opening their doors little by little, meaning that there's hope and change to come, so you shouldn't lose the opportunity to plan your next trip.
You can visit many nations worldwide with an American Passport. The US might have amazing sites, but countries like Mexico, Argentina, and Peru also have wonderful things to offer, including amazing ruins like the ancient Mayan sites of Chichen Itza. There's also the famous Machu Picchu in Cusco, one of the New Seven Wonders of the Modern World.
But if you're more into beaches and a warm climate, then the Caribbean awaits. Countries like Costa Rica, Barbados, Bermuda, among others, are ready to make you feel carefree and happy.
Don't lose the chance to travel just because of an outdated passport. Get your Passport Name Change Marriage now and prepare for your adventure!