Changing your name in your passport is now easier than ever, and it won't require much effort on your side. To process your passport name change you'll have to complete an effortless online form. This form works as a Passport Name Change Request Letter, so it won't be necessary for you to go to a government office to complete the process.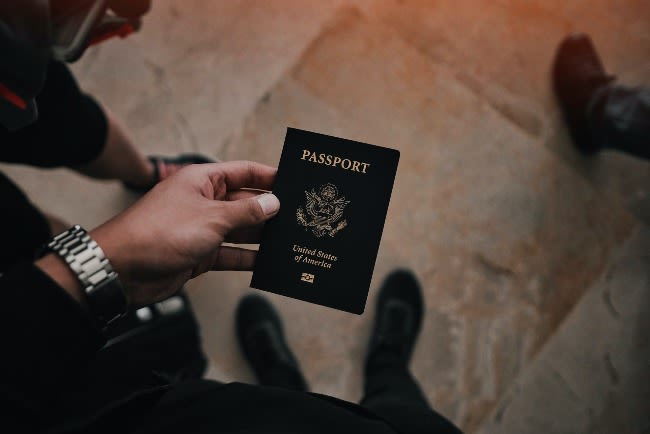 The other part of this process consists of a passport kit that we'll deliver to you via email after you fill in the form. Be aware that this process is easy to understand, and we also have a customer service team ready to help. Learn more about the Passport Name Change Request Letter and the process to renew your passport in the lines below.
How do I change my passport name?
You have to complete a 3-step process to renew your passport if your passport was issued more than one year ago.
You'll also have to get an official paper stating your name change. You can use a marriage certificate, a court order, or a divorce decree for that. You'll obtain a passport kit via email inbox to continue with this process. The steps are:
Step 1: Fill in the online form, upload and attach your photo to the form. The next thing you have to do is to pay the fees.
Step 2: Get the kit with all the items required to renew your passport. You'll have to drop this kit at the nearest post office. Remember to drop it with your current passport, and finally, include your name change document.
Step 3: Track every step and get your passport in 4-6 weeks or 10 weeks, according to the processing speed you choose.
Learn more information in the following lines. Don't forget that our passport renewal service is suggested only if your travel is 6 weeks later than when you start your passport renewal as the usual procedure takes 10 weeks.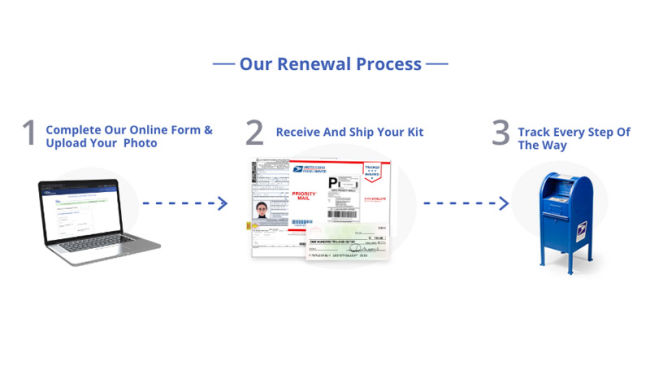 Frequently Asked Questions
What are the documents required for the passport name change?
The U.S. Government designed two cases, and each case has a different list of items required.
Case 1: If your passport has more than one year of validity:
A DS-82 form.
Your passport in use.
A passport-sized photo.
A name change document.
Also, depending on your age, you will need to pay for an adult or child fee.
Case 2: If your passport was issued in less than one year:
A DS-5504 form.
A passport-sized photo.
Your current passport.
Document that states your name change.
You could require more documents, but we'll always let you know about them. At iVisa.com, we're ready to assist you with the passport name change format by using our Passport Renewal service.
Who is eligible to apply for the Passport Renewal with iVisa.com?
This service is available only if you're a US citizen living in the United States with a valid US passport. These are other criteria you have to follow:
The passport is in your possession.
It is in a good state.
You're older than 16 years old.
The issue date in the passport is within the last 15 years.
Your name appears on the passport.
You got your current passport after or at 16 years old.
You'll also require a document that shows your name change. These documents can be a marriage certificate, a divorce decree, or a court order. In case you decide to renew your passport by using our services, be aware that we'll process your passport correctly and we'll proceed with the name change as well.
Do I have to send my current passport to iVisa.com?
You don't have to send your current passport to us! Be aware that you'll get a kit with all the items required to process your passport name change:
A DS-82 Form ready to be signed
A printed and stapled passport-sized photograph.
A bank check with the US government fee.
You'll also receive a USPS envelope ready to be shipped.
As for where to mail the passport name change, don't forget that you'll have to drop the passport kit, along with the passport and name change document at the nearest post office. At iVisa.com, we're ready to help you with this process!
Get more information related to the passport name change request letter on our website.
How much time does it take to process a passport name change?
You can choose one of two services for passport renewal. The options are the standard process, which takes 10 weeks, and the expedited process, which takes 4 to 6 weeks. Keep in mind that you will have to pay an extra cost of USD 60 for the last one.
How much does it cost to renew my passport?
The official fee is USD 130. But, be aware that you also have to pay iVisa.com's fee. This fee varies depending on the processing time you choose. These are your options:
Select Kit Shipping Time: Same Day Free Shipping (cut-off 2pm EST) for $72
Select Kit Shipping Time: 2 Day Free Shipping for $60
Select Kit Shipping Time: 4 Day Free Shipping for $40
This process can take up to 10 weeks, but in case you decide to pay an extra USD 60 for the expedited service, it'll only take you up to 6 weeks.
iVisa.com Recommends
If you're ready to travel to France, then pack your things and get ready because you're one click away from that! Don't let an outdated passport ruin your plans, as we can easily help you renew your passport. Besides, we offer you a simple online form that works as a Passport Name Change Request Letter. Aside from that, the rest of the process is easy! Get your passport ready so that you can visit places like Paris, Marsella, Nice, and many more.
Remember that France is known for having gorgeous buildings like the Notre-Dame de Paris, the Basilique du Sacré-Coeur, the Louvre Museum, and the main star of all: the Eiffel Tower. Plus, France is home to incredible resorts and dramatic landscapes like those on the island of Corsica, the Limestone cliffs in Étretat, the Bay of Biscay, and the Verdon Gorge (which is famous for kayaking).
Don't lose the chance of exploring all the beauty in France! Take advantage of our passport renewal services and get ready for your next trip!