Once you renew your passport with iVisa.com, you will need to update your Global Entry account. The process is simple, the same as our service. Go to the Trusted Travelers Program account, check the 'Update Documents' button, and insert the required details.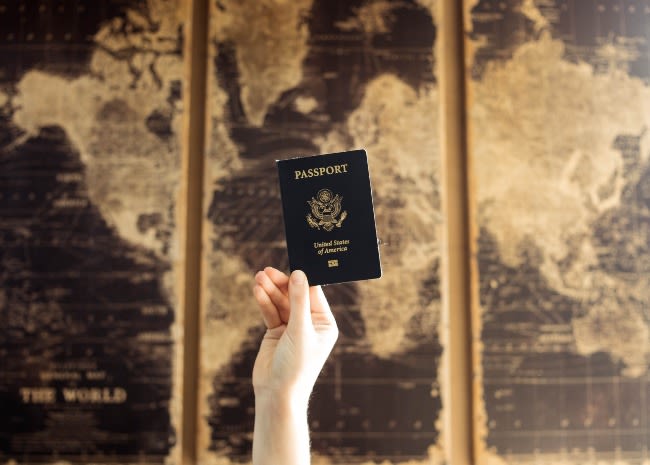 However, we must mention that the online process doesn't include the Global Entry sticker for your passport. This doesn't mean that your Global Entry account is invalid. Still, if you want the sticker to go to a Global Entry, Nexus, or a SENTRI enrollment center for one.
Our effortless service is available for US citizens living in the United States who have a US passport. Our team can help you with the passport renewal and global entry.
How does the Passport Renewal Service with iVisa.com work?
Applicants can obtain a new passport only by following these steps:
Go to the application page and fill out the online application. Attach your passport photo. Pay for the US Government fee and iVisa.com fee.
Receive a kit with the documents you need. Sign the forms and send the whole kit to the nearest mailbox.
Track your process with the information we will give you.
Expect to have your new passport in 10 weeks after sending it to US authorities. In case you want it in less time, pay an extra USD $60 and receive it in 4 to 6 weeks.
On the other hand, if your trip is in less than 6 weeks, our service is not available as we can't promise your new passport will arrive on time. Don't worry! We have all the details about the passport renewal and global entry.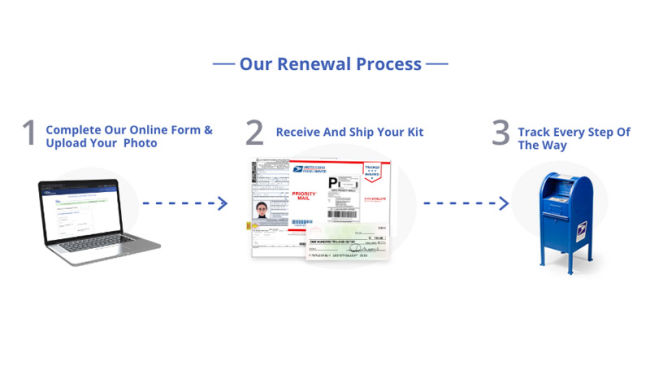 Frequently Asked Questions
Who is eligible to get a new passport with iVisa.com?
Only US citizens with a valid US passport can apply for a new passport with iVisa.com. Also, they must have these requirements:
They must have their current passport with them.
The passport should not show any tearing or damage.
You must be older than 16 years old.
The issue date of your travel document must be within the last 15 years.
Your current name must appear in your current passport.
Don't forget we can support you with the passport renewal and global entry.
What Will I Receive From iVisa.com?
Our applicants will receive a kit with the required documents. Find them next:
A DS-82 Form ready to sign.
A printed and stapled Passport Photo.
A bank check with the US government fee.
A USPS envelope to put all the documentation.
As soon as you receive the package, sign the form, take your current passport and go to the nearest post office. Now you just need to wait for your new passport. We can answer your questions about passport renewal and global entry.
What is the cost of the Passport Renewal service?
Applicants need to pay the US Government fee of USD $130. Besides, they must pay the iVisa.com fee that goes according to these alternatives:
Select Kit Shipping Time: Same Day Free Shipping (cut-off 2 pm EST) for $72.
Select Kit Shipping Time: 2 Day Free Shipping for $60.
Select Kit Shipping Time: 4 Day Free Shipping for $40.
Remember that after you send all your documentation, the US Government will take around 10 weeks to send you the new passport. They also give the option to acquire the expedited service for an extra USD $60. This service only takes 4 to 6 weeks. Keep checking the passport renewal and global entry.
iVisa.com Recommends
Start exploring the world with your new passport. Go to France and check the most famous places in the world. Visit Saint-Tropez, which is located in the French Riviera. Enjoy the most beautiful beaches in France and incredible nightlife. Still, we must warn you that your budget must be high to spend a few nights over there.
Go to Plage Port Grimaud or the Escalet Beach. Don't miss the trendy restaurants and bars that we are sure will make you live the French lifestyle. Continue with Mont Saint-Michel, where you can experience the gorgeous castles and historical landmarks.
Go to Marseille, and check the Basilique de Notre Dame de la Garde. We are sure that the impressive architecture will take your breath away. Besides, you can see the amazing street performers who are ready to show you all their art.
If you are in France, you can't leave without visiting Paris. Go to the Eiffel Tower, take some photos of the Arc of Triomphe, and explore the famous Champs de Élysées. Go to the Louvre Museum and see the famous Mona Lisa painting. We know that visiting France will be a unique adventure.