If you're planning a trip for a few weeks and you want to get your passport renewed, then you came to the right place. With a US passport, you might now be able to renew your passport at iVisa.com. However, it's important to mention that there's a Passport Renewal Expedited Fee that you should consider before using the service.
[button:Apply now](/passport-renewal/united-states)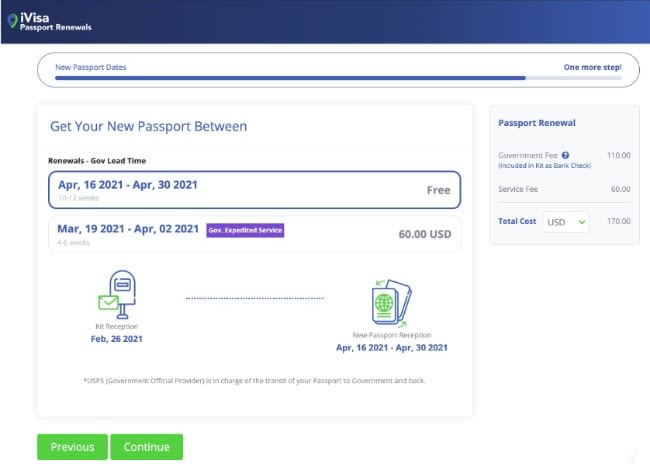 We emphasize that we have created this new service to make it easier for customers to carry out this process from wherever they are. This way, all of our clients can renew their passports from home. Learn more about the Passport Renewal Expedited Fee and our services in the questions below.
How does the Process Work?
You can renew your passport with us by following these steps:
Complete the questions on this online form and attach your passport photo. After that, proceed with the payment for the US Government fee and our service.
Receive the professional kit with everything required for the new passport, including a bank cheque with the US Government fee. Don't forget to sign the form and carry the documents to your mailbox.
Our representatives will review all the details carefully to ensure everything's alright before giving the information to the government.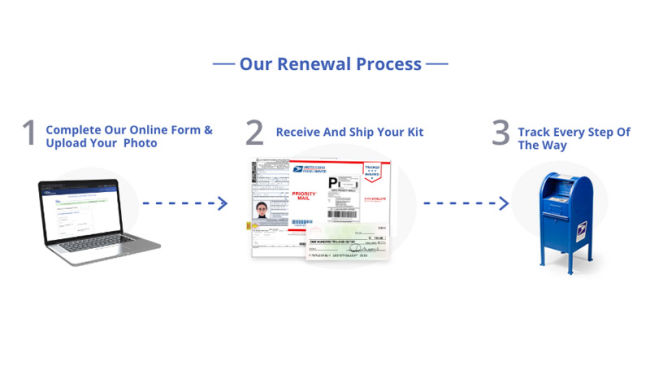 Am I Eligible for Passport Renewal with iVisa.com Services?
Few countries can use this service, and one of them is the US. You can always verify that information here. To renew your passport, you'll only have to get these documents:
A DS-82 Form should be signed.
A printed and stapled professional passport photo.
A bank cheque with the US government fee (you'll have to pay for it while completing the online form).
A USPS envelope.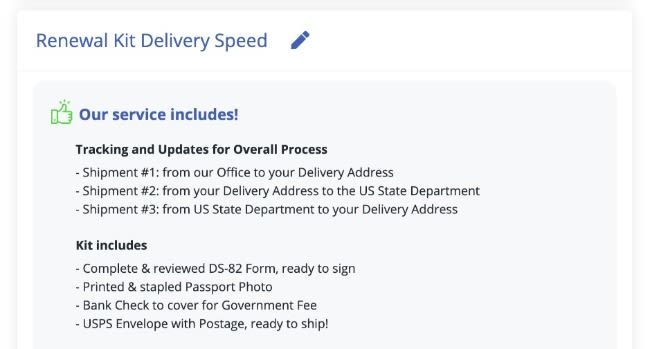 If your trip is for less than 6 weeks, we cannot offer you the service as your passport won't arrive on due time. The standard process takes at least 10 weeks.
Renew your passport on this link.
Keep reading below to get more information about the passport renewal expedited fee.
Frequently Asked Questions
Who is this service for?
This service is available only for US Citizens with a US passport by now. Please remember that to use this service, you'll have to meet these criteria:
You must own your current passport.
The passport must not be damaged.
You must be 16 years old or older.
Your passport's issue date must be within the last 15 years.
Your passport must be issued with your current full name.
Get your passport renewal here.
Check more information about the passport renewal expedited fee on this link.
Why should I feel comfortable sharing the SSN with iVisa.com?
All the private information you offer to iVisa.com is properly with the General Data Protection ("GDPR") and the California Consumer Privacy Act ("CCPA"). We believe that data ownership is a primary human right, and that's why we do not license or sell any of your private information to third parties.
The SSN you share with us is necessary only for the obligatory completion of your DS-82 Form, as it is a government duty to include it in the Passport Renewal request.
How will I know when my new passport is on its way?
Our customer service will always let you know when the government is processing your passport renewal request. The renewal can be ready up to 8 - 10 weeks with standard service and 4 - 6 weeks with the rush service.
Get your passport renewed on this link.
What should I do if my passport gets refused?
You're likely to have your passport approved, but in case it gets rejected, we'll give you a 100% refund of our iVisa.com fee.
Learn more about the passport renewal expedited fee here.
What should I do if I make a mistake while applying?
Our customer service center will be ready to help you at any time and with any doubt or issue you have, plus, they'll make sure that all the information you offer is correct.
How long does it take to get my new Passport?
The waiting will depend on the urgency you'll have, and this will influence the price of our service. Keep in mind that the costs we offer include the Government fee of USD 130. These are your alternatives:
Select Kit Shipping Time: Same Day Free Shipping (cut-off 2pm EST) for $72.
Select Kit Shipping Time: 2 Day Free Shipping for $60.
Select Kit Shipping Time: 4 Day Free Shipping for $40.
After you receive the kit, wait 10 weeks for your renewed passport. If you pay USD 60, you can have it ready between 4 to 6 weeks.
Get your renewed passport here.
iVisa.com recommends
Traveling is one of the most popular hobbies. However, to enjoy it properly is always necessary to count on a valid passport, with a valid due date so that there are no issues at the airport.
Remember that by having your renewed passport you'll be able to travel to many popular tourist spots in near and also far countries. Do you want to relax at a warm beach in the Caribbean? That's possible if you have your renewed passport. Would you rather enjoy a sunset in Santorini? Or maybe trekking in the well-known Andes mountain range? All of this is possible if you have the funds and your updated passport.
Some countries recommend having a minimum validity of 6 months, meaning that your passport shouldn't expire until at least 6 months. You don't have to stress about this topic if you take advantage of our online service.
Remember that you can learn more about the passport renewal expedited fee on this link.