If your trip is scheduled to happen in 2 weeks or less, you can renew your passport faster than it would usually take. However, you must pay a passport renewal expedited fee, and that is in the amount of $60.
Now, please keep in mind that if you have to take a trip in less than 2 weeks, you cannot renew your passport by mail. Expedited renewal by mail is possible, but it takes a little bit longer than if you were to apply in person for your renewal. So, you should go in-person to a passport agency in your area. You will have to make an appointment before you do so.
It is vital to emphasize that iVisa has created this new service to make it easier for customers in order that they can carry out this process with us from wherever they are. This process will be online and it is important that you have a payment method such as credit/ debit cards or a PayPal account. Moreover, iVisa has affordable fees that are within the reach of each of its customers.
We invite you to continue reading this informative article.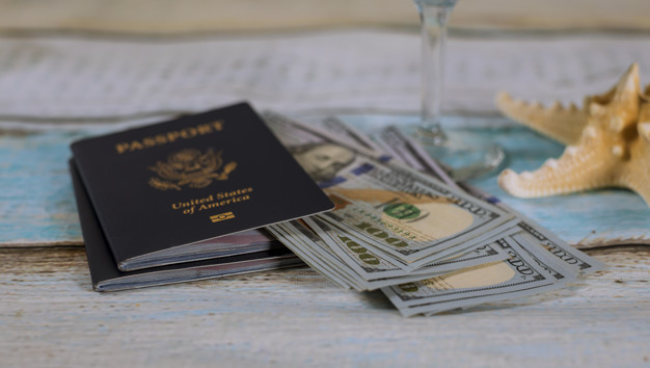 What documents are necessary when going to a passport agency?
When you go to a passport agency to renew your travel document, apart from the passport renewal expedite fee, you are required to submit the following documents:
The passport you want to renew – you have to make sure that it meets all the other eligibility criteria for a passport renewal. It was never lost or stolen, and it is undamaged. It was issued within the last 15 years, and you were at least 16 when that happened. And lastly, the document must be in your current name. If it's not and you can prove your name change with a legal document, you are good to go.
A DS-82 form – you can find this form on the US Department of State website. You must fill it in, but please pay attention to do it correctly. You have to sign and date it when the acceptance agent instructs you to.
One passport photo – the photo you have to submit must follow all the US passport photo guidelines. It must be a 2 by 2-inch picture with a white background. It should be taken in the last 6 months, and you cannot appear with glasses unless you have a signed letter from a doctor. For more passport photo requirements, please access the US Department of State website.
The document that proves your name change – for instance, if you changed your name as a result of marriage, you will need the marriage certificate. If you returned to your maiden name as a consequence of divorce, you need the divorce decree. And lastly, if you changed your name for whatever reason, you will need the court order that made a note of that.
Documentation that proves your international trip is happening in 2 weeks or less – this can be anything from flight tickets to hotel booking confirmations.
Please keep in mind that apart from the passport renewal expedite fee, you must pay for the passport itself too. The cost of a passport book is $110. The passport card is $30. If you want both, then you have to pay $140. At a passport agency, you can pay in cash.
The bottom line is that the passport renewal expedited fee must be paid when you request for your application to be rushed because your trip is happening in the next 2 weeks. It's in the amount of $60, on top of the regular fees.
How can I contact you if I have any questions?
It is normal that there are doubts or questions and that is why we have a group of customer service operators that will help you with any doubt that you have. They are available 24/7.
iVisa offers you a safe, reliable service with the best fees.