If you're a green card holder, you're on the way to have your US passport as soon as you get US citizenship. In other words, you can't have a US passport or renew it with a green card. You need to have US citizenship to have a US passport or a US passport card.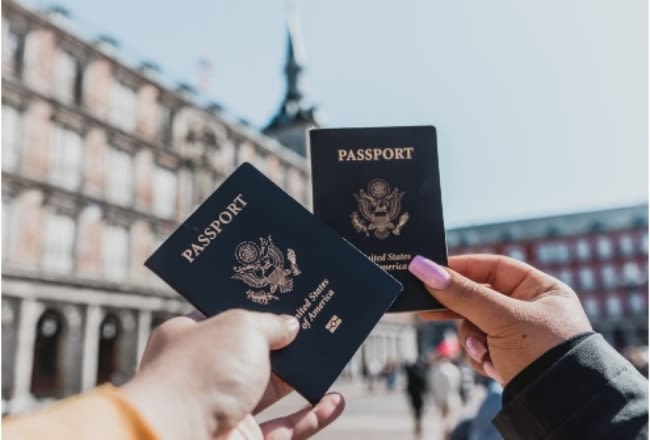 Don't worry! Because iVisa.com can help you with your passport renewal as soon as you have your US citizenship. Our service is affordable and error-free. Trust us and start traveling! Only US citizens living in the United States with valid US passports can access our service.
Continue reading about passport renewal for green card holders.
How does the process work?
Although as a green card holder, you can't have a US passport. We detail the steps for a passport renewal next:
Complete the application form and attach a photo. Make sure to pay for our service and the US Government fee.
Receive a kit with all the required documentation including a bank check with the US Government fee. Sign the form and drop it off at the nearest mailbox.
Track your application with the information we will provide.
Expect your new passport in about10 weeks. In case you need your passport in less time, you can opt for the expedited service of 4 to 6 weeks if you pay an extra fee of USD 60.
Keep checking more details about passport renewal for green card holder.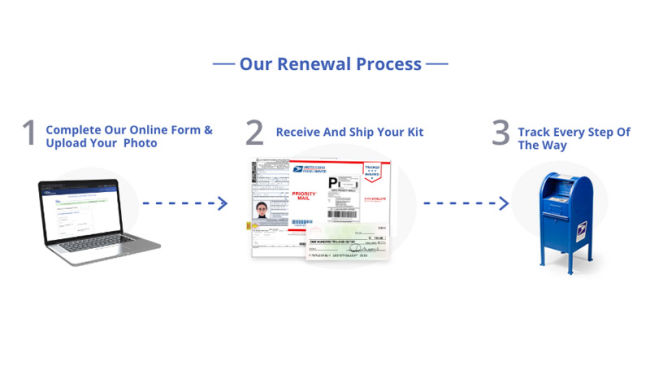 Frequently Asked Questions
Who is this service for?
Our passport renewal service is available for US citizens with valid US passports. Besides, you need to check these requirements:
You have your passport at the moment.
Your passport doesn't show any damage.
You're older than 16 years old.
The issued date in your passport is within the last 15 years.
Your passport has your current name.
You got your latest passport after or at 16 years old.
Your new passport is only a click away. Learn more about passport renewal for green card holder.
Does iVisa.com need my current passport?
No! Our team doesn't need your passport to help you with the procedure. We only need you to wait for a package with these documents:
A DS-82 Form that you need to sign.
A printed and stapled Passport Photo.
A bank check covering the US Government fee.
A USPS envelope with postage.
After you receive the kit, check the documents and sign the form. Take your current passport and the kit to the nearest post office. Now you only need to track the status of your application.
Let's explore more about passport renewal for green card holder.
How much does it cost to get my passport renewed?
The total cost includes the US Government fee of USD 130. You will need to add the iVisa.com service:
Select Kit Shipping Time: Same Day Free Shipping (cut-off 2pm EST) for $72
Select Kit Shipping Time: 2 Day Free Shipping for $60
Select Kit Shipping Time: 4 Day Free Shipping for $40
Remember that the standard service takes 10 weeks. If you're willing to pay an extra fee of USD 60, your travel document will arrive in 4 to 6 weeks.
We have all the details about the passport renewal for green card holder.
iVisa.com Recommends
The US passport allows you to visit several countries all over the world, like Poland. The country offers natural wonders that include mountains, valleys, and coastlines. On the other hand, Poland holds a fascinating history from medieval times to World War II. If you love architecture, we can tell you that Poland cities will be perfect for you.
Start with the unique 13th-century Wieliczka salt mine. In 1996, this salt mine stopped producing salt to become a tourist attraction. The fascinating interior shows four chapels, statues, and passages made with salt. Don't miss the Chapel of St. Kinga that holds a 12-meter-high chamber that has chandeliers and furniture. Explore the Erazm Baracz Chamber, where you will see a lake. Finalize the tour with a museum that explains how important this salt mine was for locals.
If you have a strong mindset, you could visit Auschwitz I and Auschwitz II-Birkenau concentration camps. Over here, you can remember one of the most difficult chapters in world history. You will see over 300 barracks, crematoriums, and belongings from the people that unfortunately died here during World War II.