US citizens who live in Las Vegas and want to renew their passports can do so using one of two methods. You either submit your application in person at a Passport Office, or you can mail your application. Be advised that to qualify for one or the other, you have to meet a few requirements.
Sometimes obtaining a passport can be a stressful process, especially obtaining a passport renewal. This is why we want to recommend you to start your application with iVisa, the process will be 100% online, simple, and effective.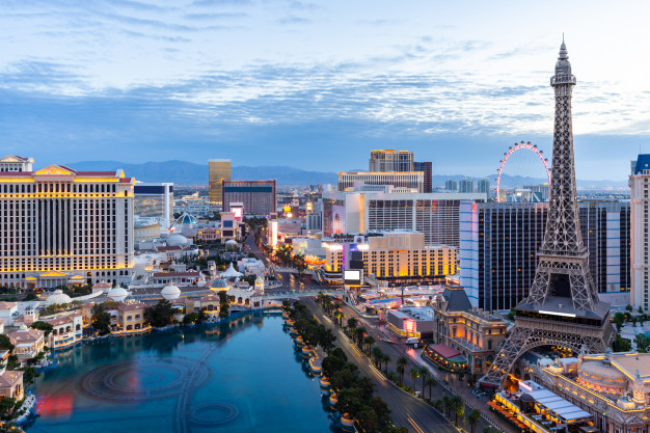 Passport renewal by mail
If you want to renew your passport by mail, you should know that you can use this method only if you are eligible. The eligibility criteria are as follows:
The passport you want to renew is still in your possession. It can be valid or past its validity period. It makes no difference.
Your passport is not damaged. Normal 'wear and tear' is accepted. However, if your travel document is missing pages, you spilled something on it, it is discolored or mutilated, it qualifies as damaged. Therefore, you cannot renew it by mail.
The passport was issued when you were at least 16 years old.
It hasn't passed more than 15 years since your passport was issued.
The name on the passport is the same as your current name. However, if you changed your name and have a document to support it, you can renew your passport by mail.
If you determine that all the eligibility criteria above are met, you can proceed to begin the application process.
Below, you are going to find a list of everything that you must enclose in the envelope you will mail:
Your current passport.
A DS-82 form – you can find it online on the Department of State website. You either fill it in using the form filler, or you can download and complete it by hand. Do not forget to sign and date it.
The document that attests to your name change – of course, if it applies in your case.
A passport-sized photo – the US passport photo measures 2 by 2 inches and has a white background. It must not be older than 6 months, and you cannot appear in it wearing glasses unless you have a signed letter from your doctor.
Passport renewal fee – when you apply for your passport renewal by mail, you have to make the payment using a check or a money order. The amount must be payable to the US Department of State. Do not send cash.
The passport and all the supporting documents must be mailed using the services of the United States Postal Service (USPS). If you use another courier, the envelope will be returned to you. The address on the envelope should be: National Passport Processing Center, Post Office Box 90155, Philadelphia, PA 19190-0155.
In case you notice that you do not qualify for any of the submission methods above, your only alternative is to go in person at a passport acceptance facility. There, you will be instructed to use a DS-11 form.
If you feel like you need more information about passport renewal in Las Vegas, you should access the Department of State website.
Apply for your passport renewal and obtain your brand new passport in the easiest way with iVisa!