US Citizens living in Mexico have no access to some features available for those living in the United States. However, the Passport and Citizenship Unit of the US Embassy in Mexico provides services in through its offices in Mexico City, Ciudad Juárez, Guadalajara, Hermosillo, Matamoros, Merida, Monterrey, Nogales, Nuevo Laredo, and Tijuana, to allow US Citizens to process their requests about passport renewal in Mexico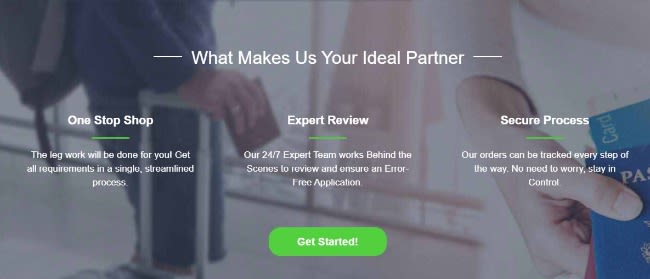 If you are a US Citizen living in the US, iVisa.com offers you an online service to renew your passport from home without worrying about crowded government offices or long hours at a waiting line. The only conditions you should meet are being at least 16 years old and having your passport in good conditions and in your possession.
Anyway, if you are a US Citizen living in Mexico, iVisa.com wants to show you the requirements and steps you should follow to renew your passport. Read this blog until the end.
How to apply passport renewal with iVisa.com?
Before showing you the requirements to apply for a passport renewal in Mexico, we want to give you a quick explanation about the online passport renewal service. The process is simple and easy to complete: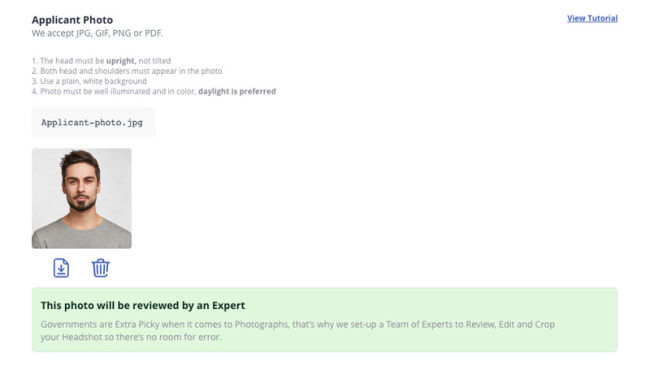 Complete the payment for the US Government fee and iVisa.com fee.
Get your passport renewal kit, sign the DS-82 form, put all the documents together with your current passport in the USPS envelope and take it to the closest mailbox or post office.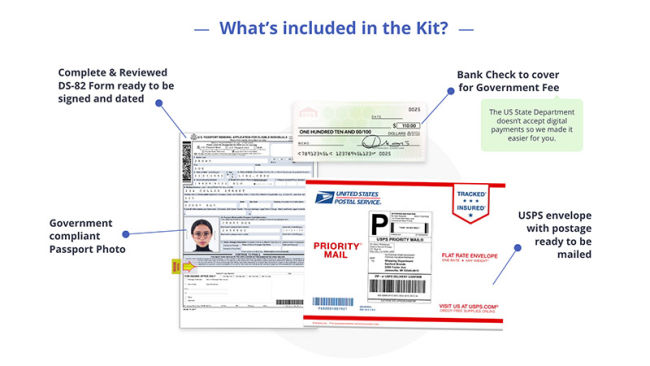 Track your process with our frequent updates
Receive your passport at your door.
Getting your new passport may take 8-10 weeks with the US Government standard service or 4-6 weeks with the US Government expedited service. You pay USD 130 for the first or an extra fee of US 60 for the second.
The options for the passport renewal kit are:
Select Kit Shipping Time: Same Day Free Shipping (cut-off 2pm EST) for $72
Select Kit Shipping Time: 2 Day Free Shipping for $60
Select Kit Shipping Time: 4 Day Free Shipping for $40
Your passport renewal kit contains:
A prefilled DS-82 form. Ready for signing.
A Passport Style Photo. (Government compliant, stapled to the DS-82 form).
A bank check to pay the US Government fee.
A US Postal Service envelope.
Remember you can start processing your application anytime from home by visiting iVisa.com
Frequently Asked Questions
Should I go to a US embassy office in Mexico to renew my passport?
Yes, there is no other way to renew your US passport if you are living in Mexico. Please be aware that there is no walk in service for US Citizens, whether children of senior age. An appointment is required. Schedule your appointment at the nearest office.
How do I know if I'm eligible for a renewal?
To apply for a passport renewal in Mexico, you should meet the following conditions:
Being able to submit your current passport together with the DS-82 form.
Checking your passport presents no damage beyond normal wear.
Your passport was issued when you were 16 years old or older
Your current passport was issued within the last 15 years
Your current passport displays your current name.
In the case of not complying with any of the above statements, you should apply through the DS-11 form for new passports.
What are the steps to apply?
To apply for a passport renewal in Mexico, do as follows:
Download, print and fill out the DS-82 form. Do not sign it until being in front of the consul at the US Embassy office.
Submit your current passport (You must meet the requirements mentioned above)
Certificate of name changing. (if applicable)
A US passport photo (2"x2" inches, whithe background, no glasses. Taken in the last six months).
Pay the US Government fee
What are the fees to renew my passport?
The fees for the passport renewal in Mexico are:
Passport book - USD 110
Passport card - USD 30
Passport book and card - USD 140
The payment methods available are cash (US Dollars and Mexican pesos) and credit card
Remember, you can apply for your passport renewal anytime from inside the US through the online service offered by iVisa.com.
Is iVisa.com safe?
We are one of the safest online services to process your travel documents. The experience acquired over the years has allowed us to develop a strong security system to protect your information while processing your application for the passport renewal. Visit our customer opinions section to discover what iVisa.com has done for thousands of travelers from around the world.
iVisa.com Recommends
The most recommended activity is a booked flight over the Nazca lines. One of the greatest archeological mysteries of modern history is found in the Nazca desert in Perú. The Nazca lines were created by the Nazca people in a period of time between the year 700 B.C and 200 A.D. According to the studies, these lines were created by removing the red rocks found all around that area and leaving exposed a rare white sand from below the surface. What surprises the most and still being inexplicable by the modern scientists is how big and perfectly straight the lines are. So big they are, that can only be observed from a plane at a high altitude.
The Nazca lines represent human figures, animals or geometric shapes. Dozens of theories have been created around the origin and purpose of these shapes. Some believe that, the shapes together represented an enormous celestial calendar. Others think that they were created to celebrate religious rituals in honor of an alien visit. However, no definitive conclusion has been achieved yet. Only after appreciating this amazing place you will remember how small we are and how few we know about the past of our planet.