When you apply for a passport renewal, a money order can be used, but so can other means of payment. It depends on your submission method. Below, we are going to talk about fees and how you can cover the payment.
The cost of a passport renewal depends on what you are requesting. If all you want is a passport book, you will be required to pay $110. If you want a book and a card, you will be charged $140.
Now, when you submit your passport and the supporting documents by mail, you will be asked to use a check (personal, certified, cashier's, traveler's) or money order payable to the US Department of State. You cannot send cash along with the documentation.
At iVisa, we have implemented a new service to renew your passport. The entire process is 100% virtual and you can do it from anywhere you are, but you must bear in mind that to pay for your application, you must have any of the 3 types of payment methods that iVisa has for you, such as credit, debit card or even PayPal.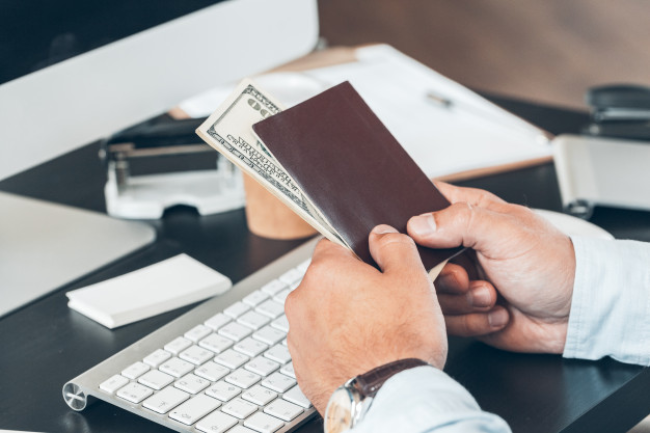 Now, if you qualify to apply for a passport renewal at a passport agency because your trip is scheduled in 14 days or less, you can pay using one of the following methods:
Cash – make sure to have the exact amount because you will not be given change
Credit cards – Visa, American Express, MasterCard, Discover
Debit cards – they must display the Visa or MasterCard logo
Checks - personal, certified, cashier's, traveler's payable to the US Department of State
Money orders – US Postal, international, currency exchanges payable to the US Department of State
Pre-paid credit card or a gift card that displays the Visa or MasterCard logo
What other documents are required for a passport renewal?
Apart from the passport renewal fee, you will have to submit the following documents:
Your most recent passport.
A DS-82 form – make sure to complete it correctly and accurately, and do not forget to sign and date it before you send it.
One passport photo – the picture must be 2 by 2 inches and cannot be older than 6 months. The background must be white, and you cannot appear wearing glasses. For more information about the US passport photo guidelines, please refer to the US Department of State website.
If applicable, the document that attests to your name change – this can be a marriage certificate, a divorce decree, or a name change court order.
Once you have all of the above, you must put them in an envelope. The envelope should be large enough so that you do not fold any of the documents above. In the US, you are obligated to use USPS to send in your passport renewal application. Otherwise, your envelope will be returned to you. When you apply from outside the US, make sure to use a trusted courier.
The bottom line is that a passport renewal can be covered with a money order, but there are other available payment methods. Of course, it depends on how you submit your application and where you apply from.
Renewing your passport is now much easier with iVisa!