We know you are ready to renew your passport, and what a better way than with iVisa.com. We offer a fast, error-free, affordable service that you can acquire through different payment methods.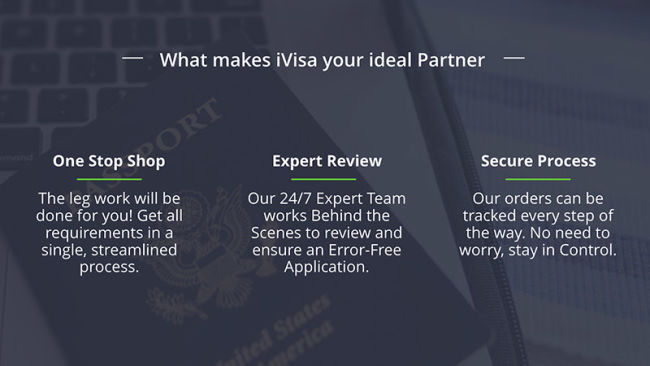 First, you will need to pay the US Government fee that is available by bank check (personal, certified, cashier's, traveler's) or money order payable to the US Department of State. After that, you need to pay the iVisa.com fee, which is possible with a Paypal account or credit/debit card. Our expert team will take care that your application is 100% compliant with US Government guidelines.
US citizens holding a US passport who are located in the United States can acquire our service. Ready for a new passport? Get the latest information about the passport renewal money order and other payment methods.
How does the Passport Renewal Service with iVisa.com work?
Applicants only need to follow three simple steps that we detail next:
Visit the application page and answer the questions in the online form. Attach your passport photo. Pay for both fees, the government one, and the iVisa.com fee.
Expect a kit all you need for your passport renewal process. Make sure to sign the paper forms and take the package to the nearest post office.
Monitor your application process with the information we will share.
Once you finish these three steps, expect to have your new passport in about 10 weeks. If you want the expedited service, pay an extra fee of USD 60 and have it in 4 to 6 weeks.
In case your trip starts in less than 6 weeks, we won't be able to help you as your passport won't get to you on time. Keep learning more about the passport renewal money order and other payment methods.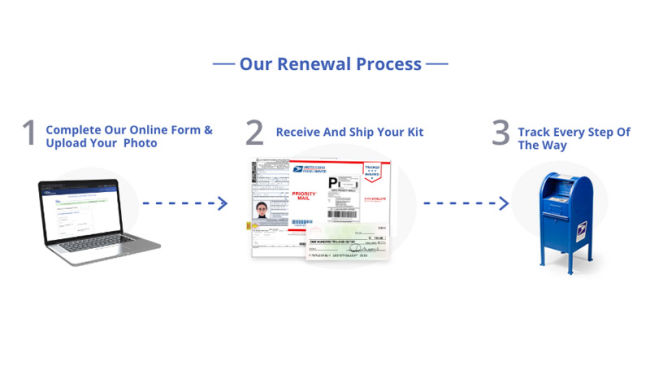 Frequently Asked Questions
Who can apply for the passport renewal service?
The service is available for US citizens with a valid US passport in the United States. Also, they must have the following characteristics:
Applicants should have their current passport physically with them.
The passport should not show any damage.
You can't be younger than 16 years old.
Your passport should show an issue date that must be within the last 15 years.
Your current name should appear in your current passport.
We are ready to help you with your passport renewal. Continue checking the passport renewal money order and other payment methods.
What will I receive from iVisa.com?
All applicants will receive a kit with these items:
A DS-82 Form ready for your signature.
A printed and stapled Passport Photo.
A bank check with the US government fee that you need to pay before finishing.
A USPS envelope that you only need to ship.
The process is simple. Check the documentation, put your signature in the forms, take the kit and your current passport to the closest mailbox. Our team can tell you more about the passport renewal money order and other payment methods.
What are the cost and payment methods available?
Applicants will need to pay USD 130 from the US Government fee. Additionally, they must choose an option to pay for the iVisa.com fee:
Select Kit Shipping Time: Same Day Free Shipping (cut-off 2 pm EST) for $72.
Select Kit Shipping Time: 2 Day Free Shipping for $60.
Select Kit Shipping Time: 4 Day Free Shipping for $40.
Remember that the US Government fee comes in a bank check that you must pay before sending the kit. iVisa.com gives you the alternative to pay with a credit/debit card or a Paypal account. We are ready to support you with the passport renewal money order and other payment methods.
iVisa.com Recommends
Now that you will have a new passport, it's time to start exploring the world. Why don't you begin with France? We are sure you will find plenty to do in France, and you can start with Bordeaux. Taste the most delicious French wines in this city. Visit the Place de Bourse, check the Grand Theater, or go to the Jardin Public. We are sure that you will enjoy not only the wine but the delicious local food.
Rocamadour is another incredible place in France that you can't miss. The Castle in Rocamadour plus the cobblestone street makes you feel like living centuries ago. Go on top of the castle and have the most amazing view of the whole city. Continue with Saint Emilion, where you can feel like living in a fairytale. Explore the Monolithic Church or have some wine at Château La Dominique. Stay in one of the small hotels in the historical center and have a fantastic French experience.
We know that your new passport will give you countless destinations to explore in Europe and the world.