The passport renewal processing time in India is currently set at around two weeks, although it depends on the courier delivery or collection pick up option you choose. Use the iVisa.com expert passport renewal service if you're based in the USA and want a fuss-free way to get your passport, without leaving the comfort of your living room.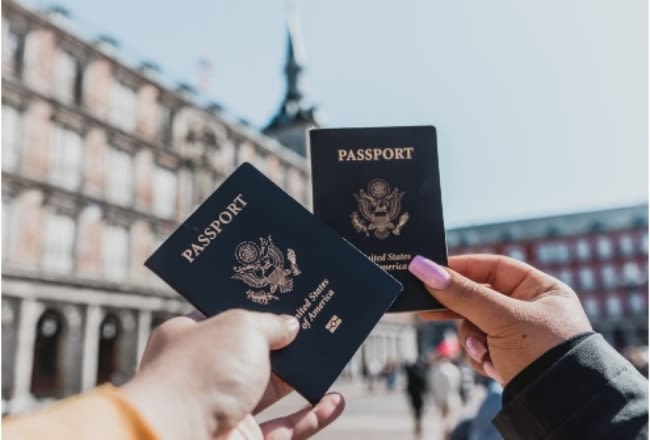 How do I renew my passport with iVisa.com?
It's never been so easy to renew your passport now that our expert team has put together a pack to be posted to you direct:
Complete the form on our website and upload your passport photo. Pay the Government fee and the iVisa.com service fee online.
Your postman will bring the kit we have prepared to your front door. We will send out a bank check for the U.S. Government fee, which you need to fill in as required by the Department of State. Once you sign the clearly labeled sections, just put everything you need in the envelope and take it to the nearest post box.
See how the renewal is coming along with the tracking instructions we give you.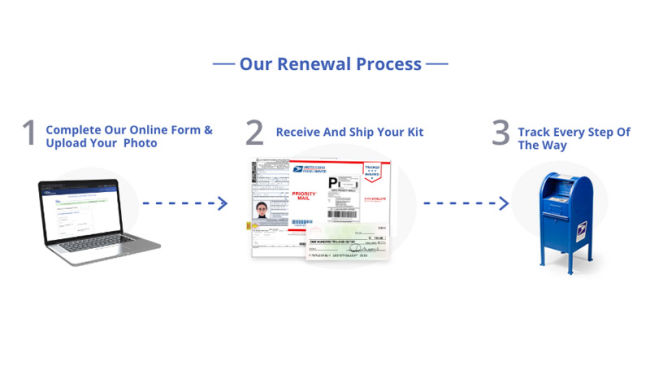 It's vital that you don't schedule a trip until after the six weeks required to process your passport application. The passport renewal processing time in India can vary, but is currently set at two weeks.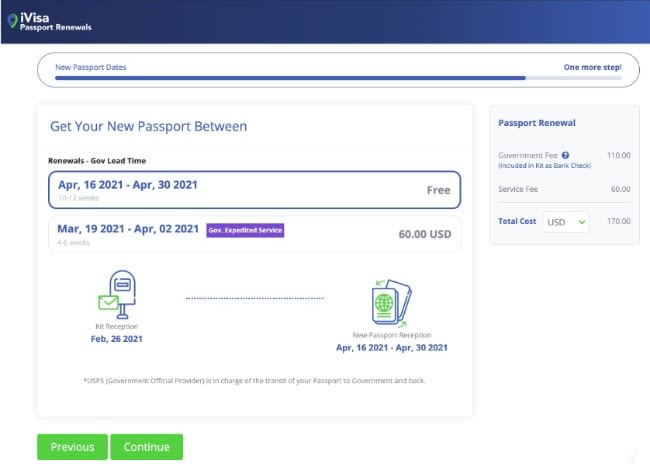 Frequently Asked Questions
Is the passport renewal service available for everyone?
The passport renewal service offered by iVisa.com is exclusively for citizens of the USA that are located in America at this time.Confirm that you fulfil these essential requirements as well:
You have an existing passport, though you won't send it to us.
The passport is in excellent condition.
You are 16 years old or older.
Your passport issue date is within the last 15 years.
Your existing passport should show your current name.
Your last passport was obtained after or at 16 years old.
The passport renewal processing time in India is currently two weeks.
Where do I send my existing passport?
The Department of State requires you to send your existing passport directly to them in order to process a passport renewal, so you will pop it in the addressed envelope we provide. Our kit includes:
A DS-82 Form for you to sign.
A passport photo, printed and stapled in accordance with requirements.
A bank check for the US government fee. Don't forget that you will pay the fee in advance of sending us your documentation.
A USPS envelope for you to slip into the post box.
Simply sign where instructed and send off your passport using the envelope in the kit. The passport renewal processing time is estimated to be two weeks in India, but we advise you to leave at least six weeks for processing in the USA.
What is the passport renewal processing time in India and the USA?
The passport renewal processing time in India is two weeks, however in the interests of being careful we recommend that you allow six to ten weeks for delivery in the USA.
What is the cost of renewing my passport with iVisa.com?
The US Government renewal passport fee is USD 130. In order to receive a passport renewal pack straight to your home address in the USA, you can choose the following delivery options:
Select Kit Shipping Time: Same Day Free Shipping (cut-off 2pm EST) for $72
Select Kit Shipping Time: 2 Day Free Shipping for $60
Select Kit Shipping Time: 4 Day Free Shipping for $40
Don't forget to allow 6 to 10 weeks for your passport renewal in the USA. Pay an additional USD 60, to process it in 4 to 6 weeks. The passport renewal processing time in India is currently set at two weeks.
iVisa.com Recommends
One of the best ways to learn more about India is to embark on a gastronomic tour, where you can try extra hot meals in the north of the country, while enjoying less spicy, lentil platters in the southern part. If you are thinking that the Indian restaurants in the USA or UK are representative of the curries and food commonly eaten in India you are mistaken. In fact, a lot of those curries have been adapted for western palates, which are not so accustomed to spicy meals or an abundance of chili peppers. In India, a wide mix of cultures and religions means that most meals are served to be suitable for vegetarians.
Chicken tikka masala might be popular at your local restaurant, but this dish is practically unknown to the average Indian farmer or grandmother. In a place as big as India, you can, of course, find food for all tastes. There are even regions and districts where pork is popular. Bacon isn't just reserved for breakfast in Goa or Kerala, as it's often served in generous slices for lunch or dinner. Eat your way around India and find out what you're missing!