Renewing your US passport is a process any US citizen with a passport in his/her possession will go through. Passport Renewal the Time Frame in Which is Ready has two options that the US government offers: the first one is the government standard service that takes from 10 to 12 weeks, and the government expedited service, the fastest, taking from 4 to 6 weeks. The last one charges you with a higher price. However, getting to this point will probably demand a visit to the passport offices in your city, wasting time in long lines and completing complex questionnaires. iVisa.com wants to help you to avoid this situation, so we offer an online passport renewal service that's so simple, you can do it from home.
Our renewal online process is the indicated choice for US Citizens residing in the US carrying a US Passport, who want access to an efficient service that will save them work and time.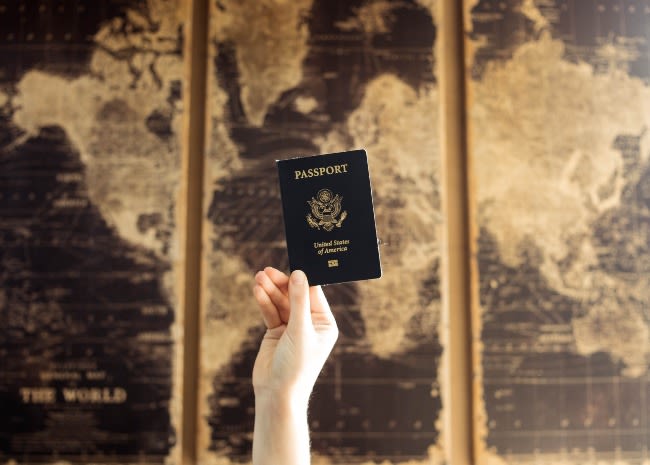 How does iVisa.com's online renewal process go?
Our process is focused on doing things easier and time-saving. It goes efficiently with the following three steps.
Step 1: Fill out this online form, upload your passport photo and choose how will you cover our service's costs: Paypal, debit, or credit card.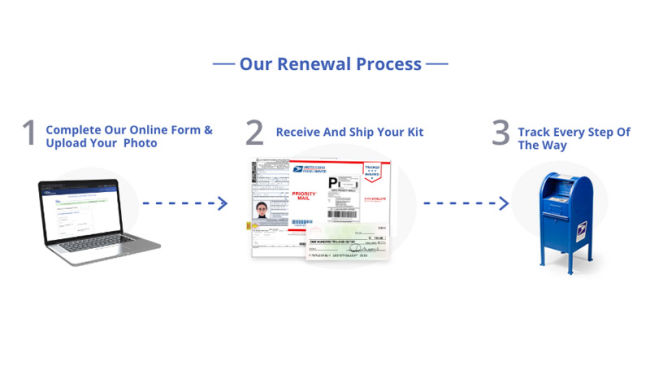 Step 2: Collect your Passport kit. It will have everything requested for your renewal procedure and drop it off at your central mailbox or post office.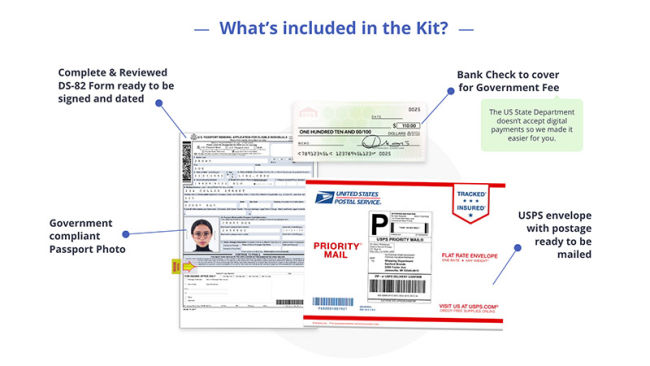 Step 3: Review the status of your process with our tracking system.

Get ready to get your passport. You will receive your passport depending on the dispatch times you opt: the government regular service (10 to12 weeks) or the government expedited service (4 to 6 weeks)

Do not mail us your passport. You will mail your passport directly to the government authorities along with everything in your Passport Kit.

Align with government compliance. Our team of specialists will ensure your passport photo and application will meet government guidelines
Do not forget that our process takes at least six weeks. If you have an upcoming journey in less than this time, we cannot help you.
Frequently Asked Questions
Who can apply to this product?
This product is meant for US Passport Holders living in the United States, who are also eligible with the following criteria:
Candidates must hold their passport with them.
Passport cannot be corrupted.
Candidates must be at least 16 years old.
The candidate's current passport must have been issued within the last 15 years.
Candidates' names must appear the same in his/her existing passport.
Does iVisa.com require me to hand over my passport to them?
No, you are not obligated to give us your passport. We will mail you a Passport Kit with:
A complete DS-82 Form.
A Printed & stapled Passport Photo.
A Bank Check to cover the Government fare.
A USPS Envelope with Postage.
Afterwards, you just need to:
Sign your DS-82 form (it is already completed).
Collect all in the interior of the USPS envelope, alongside your passport.
Drop it off at a mailbox or post office. Your renewal process will start once your envelope makes it to the passport office. Passport Renewal the Time Frame in Which is Ready will depend on your choices.
What is the cost for this process and what is the Passport Renewal the Time Frame in Which is Ready?
iVisa.com's service fee depends on the Passport Renewal the Time Frame in Which is Ready. There is a fixed price corresponding to the US Government fee of USD 130 plus:
Select Kit Shipping Time: Same Day Free Shipping (cut-off 2pm EST) for $72
Select Kit Shipping Time: 2 Day Free Shipping for $60
Select Kit Shipping Time: 4 Day Free Shipping for $40
Once you sign your form and pack everything including your current passport to the closest mailbox or post office, you will receive your passport in 10 weeks. However, there is a chance that by paying extra $60, you will get your passport in 4 to 6 weeks
Why is iVisa.com asking for my SSN?
iVisa.com is asking for your SSN because it is a requirement for the DS-82 completion. We recognize you as the only owner of your information. Consequently, we will not distribute or trade your data with third parties. Finally, all the information received for iVisa.com complies with the General Data Protection ("GDPR") and the California Consumer Privacy Act ("CCPA").
Will I know once my passport is heading to my place?
Yes, indeed. Our customer representatives will provide you with a code to check the status of your process. Take into account, it will depend on which of the government speed processing options you pick: the standard service from 8 to 10 weeks and the expedited service from 4 to 6 weeks, calculated from the date they receive your application.
Apply now and get your passport renewal.
What if I do not get my passport due to rejection of my application?
If you do not get your passport because your application was rejected, then iVisa.com will reimburse you with the 100% fee of our service.
What follows in case I make an error during the process and get to contact you?
In that case, we have a Customer Support Team prepared to assist you at any of the stages of the process, in any of the 24 hours of the day during any 7 days of the week. They are always available for you Get your passport renewal now.
I have an upcoming international journey in less than 6 weeks, what should I do?
In this specific case, iVisa.com's renewal passport service is not right for you. Our highly effective services take a bit more than 6 weeks. We will be glad to help whenever you are not in a rush.
What is the best option I have if I am not eligible for an online renewal?
The best option for you is to analyze what the US government website recommends for you. Then, you can proceed accordingly.
See Passport Renewal the Time Frame in Which is Ready
iVisa.com Recommends
Would you love a holiday on a Central American island? San Blas Islands are an Archipelago formed out of 365 islands or so. It is an authentic paradise in the Caribbean. All of their islands have white and fine sand, the sea around is warm, and coconut palms will welcome you with their lovely shade. The best part is the beaches will not be crowded, so you will be able to relax and chill. The Guna people, local indigenous dwellers have autonomy over political, economic, and tourism matters all over the Archipielago. However, you should not be afraid. They control everything very well and they will feed you, so you can taste the seafood-based local cuisine. Of all islands, we suggest you pay a visit to Isla Perro Chico, because it has a sunken ship. It is not a very big or very beautiful boat, but it is a relic less than 10 meters from the shore, so you can swim to it and visit it snorkeling. The island is also surrounded by coral and there is a very extensive reef that connects this island with its neighbor, Diablo Island.