Renewing a passport was never this easy! iVisa.com offers a fast, simple, and affordable online service to acquire a new passport. Our experts will monitor your process. Applicants can be sure they are complying with US Government guidelines.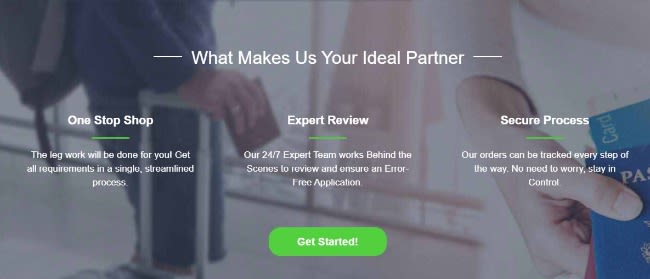 Our service is available for US citizens that hold a US passport and are currently residing in the United States. This is what you need to know about passport renewals online. Let us guide you through this journey!
How does the Passport Renewal Service with iVisa.com work?
Super simple! Applicants only need to go through these simple steps to start the passport renewal service:
Answer the questions in the application form and upload a passport photo. Pay for the government fee and the iVisa.com service.
Receive a kit with everything you need. We will send a bank check with the US Government fee. Once you pay the bank check, sign the paper forms, you must take the kit to the nearest mailbox.
Monitor your passport renewal process with the details we will share.
If your trip is starting in less than 6 weeks, we won't be able to receive our service. The process usually takes at least 10 weeks. Applicants can opt for an expedited service that costs an extra USD $60 for your new passport to arrive in 4 to 6 weeks. This is what you need to know about passport renewals online.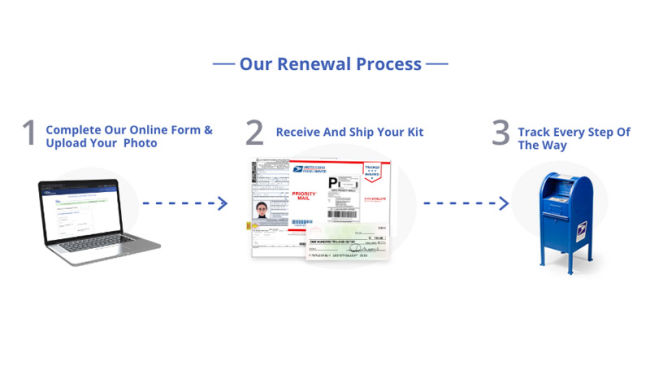 Frequently Asked Questions
Who is eligible to get the passport renewal service?
US citizens with a US Passport are eligible to acquire the passport renewal service with iVisa.com. Besides, they need to comply with these requirements:
You must have your current passport in your possession.
The passport must not have any damage.
You must be over 16 years old.
Your passport issued date must be within the last 15 years.
Your current name is seen in your current passport.
You should have obtained your last passport after or at 16 years old.
In case you have all these characteristics, you are ready to get a new passport with our online service. This is what you need to know about passport renewals online.
Do I need to send my current passport to iVisa.com?
No! Applicants don't need to send any documentation to iVisa.com, we will send you a package with all the documentation necessary for your new passport:
A DS-82 Form that has all your details and only needs your signature.
A printed and stapled Passport Photo.
A bank check showing the US government fee, which you must pay during the application process.
A USPS envelope with postage.
Make sure to sign the form, have your current passport and take the whole kit to the nearest post office. This is what you need to know about passport renewals online.
How will I know when my new Passport is on its way?
It's simple! We will send updates about the status of your application. Therefore, provide a valid email address so you can receive all the information to track your process. This is what you need to know about passport renewals online.
The new passport is only a few steps away!
How much does it cost to renew my passport?
Applicants will need to pay USD 130 for the US Government fee. On the other hand, iVisa.com will charge a fee according to the following options:
Select Kit Shipping Time: Same Day Free Shipping (cut-off 2 pm EST) for $72.
Select Kit Shipping Time: 2 Day Free Shipping for $60.
Select Kit Shipping Time: 4 Day Free Shipping for $40.
Remember that after you drop your kit off at the post office, you will need to wait around 10 weeks to receive your new passport. In case you want it faster, pay an additional fee of USD $60 and expect the process to take 4 to 6 weeks. This is what you need to know about passport renewals online.
iVisa.com Recommends
Now that you will have a new passport, it's time to think about where to go. Why don't you go first to the United Kingdom?
Explore the Isles of Scilly that have the perfect combination of tropical destinations with an English sensibility. Go to St. Mary Island and check the beautiful beaches, where you can see one of the most stunning sunsets in the whole country. Visit the Tresco Abbey Gardens and indulge in the colors and exquisite smells. Besides, visit St. Helen Island to see seals and seabirds.
Continue with Norwich in Norfolk. Check the medieval churches and the spectacular cathedral. Walk around the ancient streets, where the 12th-century buildings will transport you to centuries ago. Visit the pubs and enjoy the typical English lifestyle. Go to Adam and Eve that dates back to 1249.
If you are into art, visit during May when the biggest art festival happens here. The UK has so much to offer, and with a new passport, the opportunities are endless.