The US lost passport application is easy to complete with iVisa.com. Our expert team can assure a safe process and a one-stop procedure. In other words, you won't need to go to other platforms to complete the whole process. The US lost passport application entails two forms that you need to complete, the DS-64 and DS-11. We can help you with the rest of the process and the passport renewal service. We got you covered!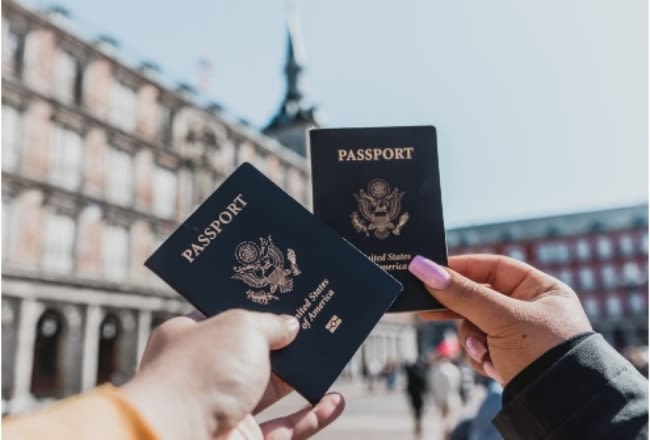 Remember that our service is only available for US citizens residing in the United States with valid US passports.
How does the process work?
In case you lost your US passport, you will need to follow these steps to have a new one:
Fill out Form-DS 64 and Form-DS 11 with personal information. Also, make sure to have citizenship evidence, your ID, and a passport photo.
Check how much you will pay and bring a bank check with the specific amount.
Go to an acceptance facility or a passport agency and bring all the documentation.
For the passport renewal service, you will need to complete an online form and attach your passport. After that, pay for our service and the US Government fee. You will receive a kit with the documents you need to sign and ship.
The standard service takes around 10 weeks. If you need to have your passport sooner, you can pay an extra fee ofUSD 60 and receive the new passport in4 to 6 weeks.
Keep checking all about the US lost passport application.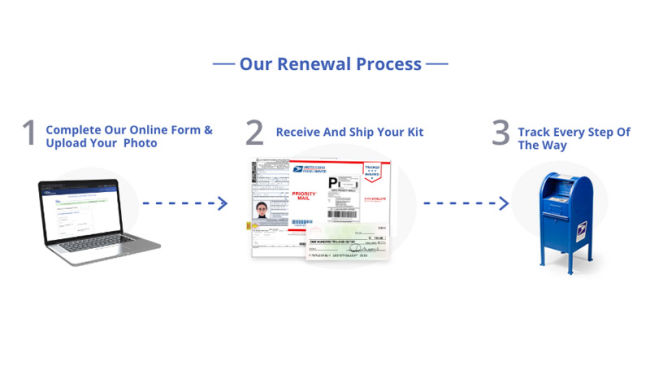 Frequently Asked Questions
Who is this service for?
US citizens with valid US passports can access iVisa.com services. Besides, you need to follow these guidelines:
Your passport is currently with you.
Your passport is in perfect condition.
You are older than 16 years old.
The issued date in your passport doesn't go over 15 years.
Your current name appears in your passport.
You obtained your latest passport after or at 16 years old.
We're ready to support you with the US lost passport application.
Does iVisa.com need my current passport?
No! We don't need any documentation from your side to continue with the process. Expect a kit with these items:
A DS-82 Form that you must sign.
A printed and stapled Passport Photo.
A bank check covering the US Government fee.
A USPS envelope with postage.
Receive the kit and check the documentation. Sign the form and take your passport alongside the kit to the nearest post office.
Let us tell you all about the US lost passport application.
How much does it cost to get my passport renewed?
First, you need to pay the US Government fee of USD 130. Besides, you need to choose from the following alternatives:
Select Kit Shipping Time: Same Day Free Shipping (cut-off 2pm EST) for $72
Select Kit Shipping Time: 2 Day Free Shipping for $60
Select Kit Shipping Time: 4 Day Free Shipping for $40
After sending your kit, you will receive your new passport in 10 weeks. You could opt for the expedited service if you're willing to pay an extra USD 60. Your passport will arrive in 4 to 6 weeks.
We have all the details about the US lost passport application.
iVisa.com Recommends
Nicaragua is one of those countries that have attractions for all tastes. The biodiversity filled with volcanoes, jungles, and lakes is perfect for your next holiday. You can choose to see crater lakes in dormant volcanoes or climb the steep mountains. Also, you can visit the natural reserves, where you will see jaguars, white-faced monkeys, and tons of bird species.
The beaches are spectacular. You can choose whether the Caribbean or Pacific Ocean coastline. Make your way to San Juan del Sur on the Emerald Coast. The city is located near the border with Costa Rica and is known for its colorful buildings. Explore Corn Island for a relaxing getaway.
Continue with Managua, Nicaragua's capital, Leon and Granada, where the colonial past is all over the cities. Another natural attraction is Lake Nicaragua that offers fabulous views of 365 small islands. These islands have been formed from the ashes of the Mombacho volcano. We recommend visiting Jicaro Island Lodge for a unique adventure. You can do some SUP or kayak around the island. Nicaragua is waiting for you.