If you want to travel as a family, you need to check whether your children have an updated passport. Although the US minor passport application is possible, the only available option is to do it in person. You will need to fill out the Form-DS 11 and take a few requirements. In case you want to renew your US passport and you're an adult, iVisa.com has all the tools to help you. We have an incredible team that will make sure your application is error-free. Also, you will find all you need in one place, the online form, photo requirements, among other details.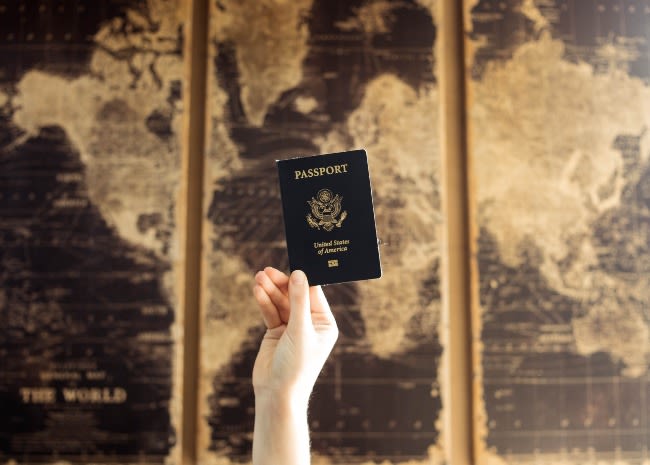 Our service is only accessible for US citizens that have a valid US passport. Also, you need to be in the United States to acquire the iVisa.com service. Continue checking more information about the US minor passport application.
How does the process work?
The process for the US minor passport application is simple. However, you will need to approach a US Government facility with your children to renew their passport. The steps are the following:
Fill out Form-DS 11 with the child's information. Also, gather US citizenship evidence, parental relationship documents, ID, and a photo that must meet a few requirements.
Check how much you will need to pay and bring a bank check with the amount.
Go to a passport acceptance facility with the minor and provide all the documentation.
Track your status and wait for your children's passports.
If you need the service for yourself, iVisa.com has the service for you. Enter our platform and complete a digital application. Make sure to attach the required photo and pay for the US Government and our fee. After that, expect a kit with the documents you need for the process. Check the forms and sign them. Take them all to the mailbox, and you're good to go! You can track your application with the information we will share with you.
If you need your new passport in less than 6 weeks, we won't be able to help you. The standard process takes around 10 weeks. Check more about the US minor passport application.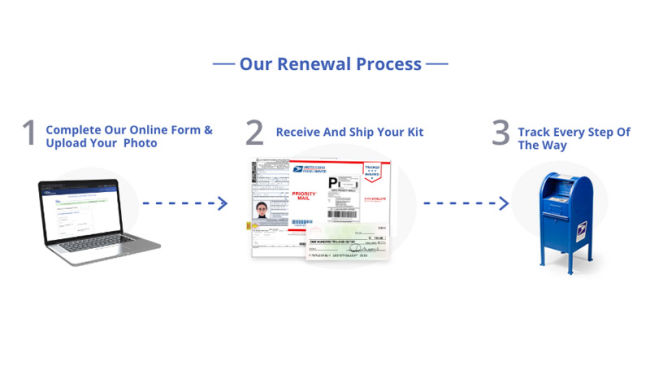 Frequently Asked Questions
Who is this service for?
If you want to renew your passport with us, you need to be a US citizen with a valid US passport. Make sure to fulfill these requirements, as well:
You have your current passport in your possession.
Your passport must be in a good state.
You must be 16 years or older.
Your passport's issued date can't be older than 15 years old.
Your current name should be shown on your passport.
Your passport must have been gotten after or at 16 years old.
Get a new passport today and keep learning more about the US minor passport application.
Does iVisa.com need my current passport?
No! We don't need any documentation from your side. You will receive a kit with these items:
A DS-82 Form ready for your signature.
A printed and stapled Passport Photo.
The US government fee in a bank check
A USPS envelope with postage.
Confirm that all the documents are correct and proceed to sign them. Take your passport and the kit to the post office. Now you only wait and read all about the US minor passport application.
How much does it cost to get a passport renewed?
You must pay USD 130 for the US Government fee. According to how quickly you want your kit, you can choose between the following:
Select Kit Shipping Time: Same Day Free Shipping (cut-off 2pm EST) for $72
Select Kit Shipping Time: 2 Day Free Shipping for $60
Select Kit Shipping Time: 4 Day Free Shipping for $40
After you ship the kit, you will wait around 10 weeks. You can opt for the expedited service that takes 4 to 6 weeks for an extra fee of USD 60.
It's time to renew your passport. Keep learning more details about the US minor passport application.
iVisa.com Recommends
Having a renewed passport opens the possibility to travel more. We recommend planning a trip to France. Explore one of the most fascinating countries in Europe. Head to the Eiffel Tower, a worldwide landmark. You can choose between getting to the top of the tower or having a picnic nearby to enjoy the view. Also, you can walk around the Parisian boulevards, like Champs Elysées. Over here, you can check the restaurants, where you can try some crepes or croissants.
On the other hand, don't miss the gorgeous beaches in the French Riviera. Indulge in the luxurious yachts and villas. If you want to find more about the ancient French monarchy, you need to spend a day at the Palace of Versailles. Visit the famous palace and get blown away by the unique rooms and decorations. However, the most impressive sights are the gardens. You can walk or take a bike to explore it all. The fountains and well-preserved bushes and flowers are fantastic. In case you want to have some fun with your children, you always have the chance to visit Disneyland Paris. This fairytale place will provide all the fun activities you need with Mickey Mouse by your side.