In case you're looking to get a US passport for your child, it's possible if you're a naturalized citizen as long as you have all the documentation to prove it. The procedure entails the Form-DS 11 and documents that you need to bring to an acceptance passport facility. For adults, the process is easy with iVisa.com as we offer a one-stop service.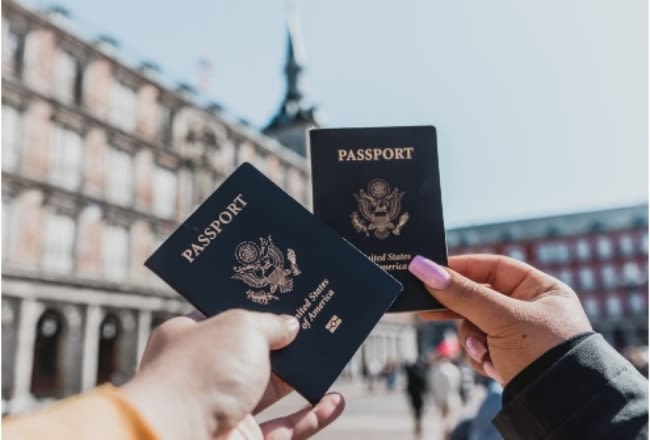 We provide our service to all US citizens located in the United States with valid US passports. Let us support you with the US passport for children of naturalized citizens.
How does the process work?
You will need to follow these steps to get a passport for your child in the United States:
Complete Form-DS 11 with the required details. Provide US citizenship evidence, parental relationship documentation, an identification document, and a photo. Bring all the documents that prove you're a naturalized citizen.
Have a bank check with the fee that the US Government requests.
Visit the acceptance passport facility with all the documents. You can track your process afterward.
iVisa.com has the right solution if you want to renew your passport. You need to fill out a digital form and attach a photo. After that, pay the US Government fee and our service. You will get a kit with the documents you need for the passport renewal process. Sign the application form and ship the kit to the specified US Government facility. Remember that you can track the status of your application with us.
The standard process takes 10 weeks and you have an expedited service that takes 6 weeks.
We're ready to explain the information about the US passport for child of naturalized citizen.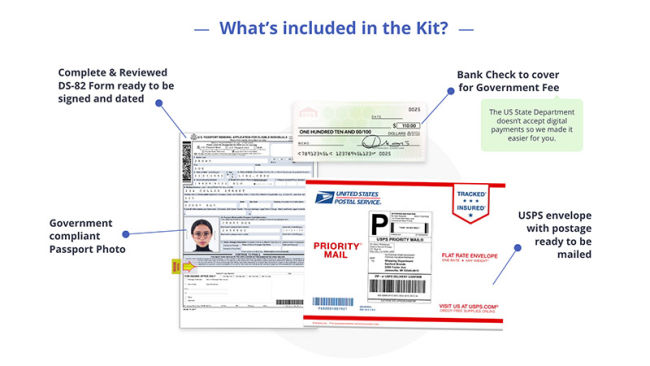 Frequently Asked Questions
Who is this service for?
Only US citizens with a valid US passport can acquire the passport renewal service with iVisa.com. Also, you need to comply with the following:
Your current passport is with you.
Your passport is in a good state.
You aren't younger than 16 years old.
The issue date in your passport isn't older than 15 years.
Your current name can be seen in your passport.
Your passport must have been acquired after or at 16 years old.
Get your new passport and start traveling. Continue checking the US passport for child of naturalized citizen.
Does iVisa.com need my current passport?
No! There is no need to send anything. Our team will send a kit with these documents:
A DS-82 Form ready for your signature.
A printed and stapled Passport Photo.
A bank check showing the US Government fee.
A USPS envelope with postage.
Make sure to sign the form and put your passport alongside the package. Take everything to the nearest mailbox. We can tell you all about the US passport for child of naturalized citizen.
How long does it take to get my new passport?
We can help you with the US passport for child of naturalized citizen.
How much does it cost to get my passport renewed?
You need to pay USD 130 for the US Government fee. Besides, you need to choose the service that fits your needs:
Select Kit Shipping Time: Same Day Free Shipping (cut-off 2pm EST) for $72
Select Kit Shipping Time: 2 Day Free Shipping for $60
Select Kit Shipping Time: 4 Day Free Shipping for $40
It usually takes 10 weeks for the standard process. If you want your passport sooner, you can pay an extra fee of USD 60 and receive it in 4 to 6 weeks.
Let us support you with the US passport for child of naturalized citizen.
iVisa.com Recommends
Visiting the United Kingdom allows you entry to four countries, England, Scotland, Wales, and Northern Ireland. The rich cultural heritage and the fascinating natural landscapes are just fantastic for any traveler.
From castles to country homes, from museums to modern art galleries. We're sure the UK won't disappoint you. Start with London, England's capital, where the British Museum and the Natural History Museum will blow your mind. The museums offer unique pieces from ancient civilizations from all over the world to dinosaurs. The best part is that there is no entry fee. Still, you can find big crowds during the high season.
During summer, you can visit Buckingham Palace and learn all about the most famous Royal family in Europe. Explore Stonehenge, a unique archaeological site. If you want to check some Scottish cities, we recommend visiting Edinburgh and Glasgow. We're sure you will have some fun checking the countryside, where you can explore Ness Lake. Maybe you can spot the famous Ness Monster. Continue checking more places all over the UK, such as Manchester, Liverpool, Leeds, among other cities.