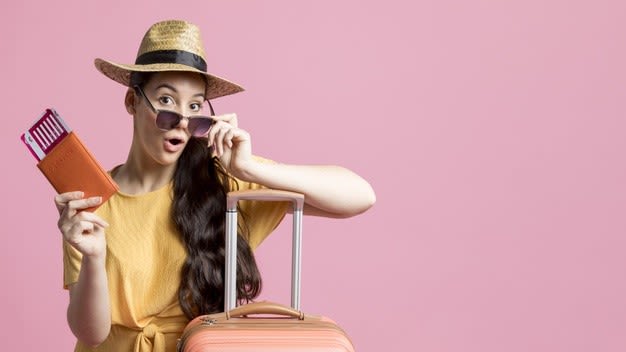 When we think of a country to travel on vacation, the first thing that comes to our mind is knowing more about that nation in terms of attractive places, typical food, culture, landscapes, among other things. However, we leave it to the latter to know if we have a passport, if it has a valid date, if it needs to be renewed or not. We know that the passport renewal process is very extensive, boring and takes a long time because you normally have to go to a certain office to carry out this process.
But calm down because to renew your passport it is now closer to you.
iVisa.com has launched a straightforward form where you can do it from the comfort of your home just by having a laptop or computer and internet access. And best of all, payment can be made virtually as well. It is very easy, right?
Go ahead and read more about this topic in this informative article.
Frequently Asked Questions (FAQs)
What is the importance of passport renewal?
The renewal of passport is essential because if you have this document with an expired date, you will not be able to go anywhere. In addition, it is important that you know that if the date of your passport does not cover the entire stay that you will be in another country, you will have problems and for these reasons you must renew your passport.
Can I renew my passport if it has lapsed?
Yes, you can renew it, but first you must read what we will show you below and if you meet each of the requirements, you can renew it online. This is what you should keep in mind:
Your passport was issued in the last 15 years.

Your travel document has no significant damage.

You were 16 years old or older when your passport was issued.

Your passport was issued in your current name. In case you have changed your names, you must present a legal document that affirms that.
To carry out this renewal online it's necessary that you comply with the aforementioned. Otherwise, you will have to renew your passport directly with the embassy.
What documents do I need to request a passport renewal?
Let me tell you that if you are thinking of requesting the renewal of your passport in the traditional way, it will really take you a long time to collect the documents and follow all the steps that the government has established. However, iVisa.com has created a fairly easy form and you will only need the following documents:
Passport scan: show the page that contains your information.

A digital photo: make sure the photo is clear and that you look directly into the camera.

Email address: you must give us a valid email because any information about the renewal of your passport will be by email.

Methods of payment: credit/debit card or Paypal.
We will explain detail to detail in the next part about prices, processing times and how to complete the form step by step established by iVisa.com.
May I know the procedure times?
iVisa.com offers you 3 processing times with their respective delivery days so that you can choose according to your needs.
Standard processing – 5 days to acquire your passport renewal.

Rush processing – all you need to wait is 3 days and your passport renewal will be done.

Super Rush processing – in only 2 days, you will obtain your travel document.
Can you tell me the prices of this online form?
Prices will vary according to the type of processing you choose. The faster you want to obtain the renewal of your passport, the greater the amount to be paid. Take into consideration that the service fee is included in each price. These are the costs:
Standard procedure – if you select this alternative, you must pay the amount of USD 86.00

Rush procedure – all you need to pay is the sum of USD 116.00

Super Rush procedure – it will ost you USD 151.00
How can I apply for my passport renewal?
This form that [iVisa.com] has will only take you 15 minutes to complete. If you have any problem with the form while completing it, do not hesitate to contact our customer service.
1.Firstly, you will have to complete the form with your personal data and put the procedure time that you want.
2.Secondly, you have toreread everything you have filled in that form and if you need to make any modifications you can do it. Also, make the corresponding payment for the application and you can use a credit or debit card or if you have a PayPal account, you can also use it.
3.Lastly, to conclude your online request, just upload all the documents.
Start your application with us now by entering this link.
Is there a deadline to renew?
No, there is not. However, we suggest that before traveling you check the expiration date of your passport and make sure that the date is valid for at least 6 more months from arrival at the other destination.
How long will it take to complete my passport renewal form?
You will fill out the form in 10 minutes or less. Please note that you must first meet all the requirements to complete this form.
How will the passport renewal process be due to the health emergency?
Due to the covid-19 pandemic, certain measures have had to be taken. And that is why iVisa.com has implemented a new platform so that you can request the renewal of your passport from the place where you are.
We also take care of your health and that is why we want to offer you this online service so that you do not have to go anywhere else exposing your health.
Is it safe to opt for the iVisa.com service to renew my passport?
iVisa.com is a company that provides all the necessary facilities to the client. We are very committed to our work, so every day we strive to improve our platforms and protect the information in our database through a system. We offer you all the security so that you can apply with us.
I still have questions to solve, what can I do in that case?
The first alternative is to enter this link and contact our representatives at any time and they will be very glad to help you. On the other hand, if you prefer to read more information, we recommend that you visit our website.
Apply with us now and get your passport renewed as soon as possible.