Planning a trip is very beautiful due to the very attractive places and cultural things. But, this becomes crazy when you realize that the date of your passport is about to expire or is already expired. This is how one enters the official website of the government of Trinidad and Tobago and searches for how to renew the passport. The process is really long and sometimes it makes you waste time. For this reason, iVisa.com thinking of many travelers, has implemented a new product to give all the necessary ease so that the process is simple, straightforward and virtual and that only takes approximately 10 minutes of your time and then iVisa.com will take care of the rest. . And best of all, you can request it from anywhere in the world, but it is essential that you have an electronic device and internet access. Easy right?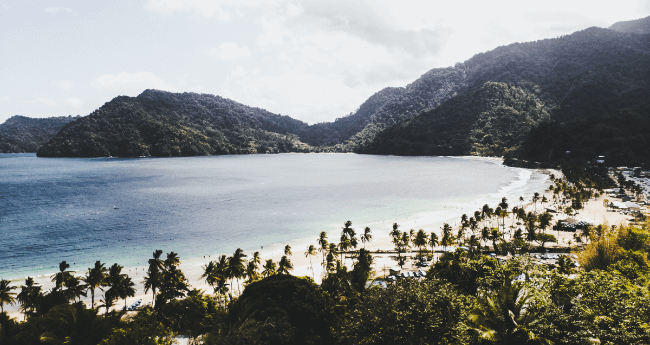 We invite you to continue reading this informative article so that you can know the entire process that you must follow in order to request the renewal of the Trinidad passport.
Frequently Asked Questions (FAQs)
What does passport renewal mean?
The renewal of a passport occurs when your passport has already expired or is about to expire. So it is vital to take this into account since you cannot travel to any foreign nation with an expired passport.
How can I know if I am eligible to apply virtually?
Before submitting an application it is vital that you first know whether or not you are eligible to apply for this Trinidad passport renewal via online. Read the following requirements:
You must have your passport in your possession.

Your travel document needs to be in good condition.

It's important that you know if it has been issued when you were 16 or older.

Your passport has been issued in the last 15 years.

Your travel document was issued in your current name. If you have changed your name, you need to present a document that supports it.
ALERT: If you do not meet each of the requirements mentioned above, you must do the traditional procedure, that is, approach the embassy or contact them by phone or email.
What are the documents that I need for the Trinidad passport renewal?
To renew a Trinidad passport you will need your Passport Scan, Digital Photo, Email Address, and Method of Payment. Here are the the document details:
Passport scan: it must show your personal information and it must be very clear.

A digital photo: just ensure your whole face is visible and avoid wearing glasses.

Email address: It is important that you provide us a valid e-mail address because all information that we have about your Trinidad passport renewal, we will let you know by email.

Methods of payment: credit or debit card or even Paypal.
In the next section, we'll let you know more about the procedure iVisa.com times, the application form and prices.
May I know the procedure times and costs for this application?
To know the total amount to pay, you must first choose the processing time that you prefer. In iVisa.com, we have 3 types of processing in order that you have 3 alternatives to choose from.
Standard processing – you have to wait 5 days to get your passport renewal. The cost of it will be USD $91.99 in total.

Rush processing – in only 3 days, you will obtain your travel document. The total amount to pay is USD $132.99

Super Rush processing – if you need your passport to be renewed as soon as possible, you can opt for this alternative and your passport will be delivered in 36 hours. The price will be USD $181.99 in total.
Can I know procedure to apply for my passport renewal?
iVisa.com has an easy application form that will take you only 15 minutes. In case you have doubts while you are completing you can contact our operators at any time. These are the steps:
1.Complete the form with your general data like names, passport number and so on. In addition, select the procedure time depending on your needs.
2.Proofread all the information and make any modifications if you want. Also, you must pay for your application. You can use a credit/debit card or a Paypal account.
3.To finish your online form, just upload the documents and then we will do the rest.
Make your passport renewal here.
Once I have decided to renew my passport, will I acquire a new passport number?
This time, when you receive your new passport you will notice that you have a new number that is different from the old one.
Is there a time frame to renew?
Unfortunately, there is no official deadline to renew a passport, but you must take into account that if you plan to travel, you must make sure that your passport is valid for at least 6 months since many foreign countries request this as a requirement.
How long does it take to make an application for this passport renewal Trinidad?
All you need is 10 to 15 minutes of your valuable time. Bear in mind that before completing the form you must gather all the documents that we mentioned above.
Is it ok to choose iVisa.com's services for passport renewal?
iVisa.com, thinking of thousands of travelers, is always implementing new products and improving platforms so that it is much easier for customers. The information you provide will never be filtered because we have a system that protects the entire database. We have made the dream of many travelers come true.
What would be the process for my passport renewal due to Covid-19?
iVisa.com has launched this new Trinidad passport renewal product that has a very easy process and is 100% online, so we will need you to fill in your details in the form that you will find on the iVisa.com page, in addition to attaching the requirements that we mentioned in the top and then we'll handle it all. Keep in mind that this process will be virtual and you can do it from the comfort of your home, office or any other place, you just need to have an electronic device and an internet connection.
Your health is important to us and what better way to carry out this type of renovation without leaving home, thus avoiding the spread of Covid-19.
In case I have questions about this topic, where can I get more info?
You have the chance to contact our super agents on this page and they will be happy to assist you. They are available 24/7. Furthermore, if you prefer to read more information, you can do it by clicking here.
Don't miss the chance to get your Trinidad passport renewal with iVisa.com.