Renewing your passport has become so simple with iVisa.com. We have a safe and affordable service to acquire your new passport. Although we would like to renew your passport in one day, that isn't possible as our processing time depends on the US government. In case you need your passport as soon as possible, you can pay an extra USD 60 to get it in 4-6 weeks. Our experts will take care of the whole process, so you know you are complying with all the US government guidelines.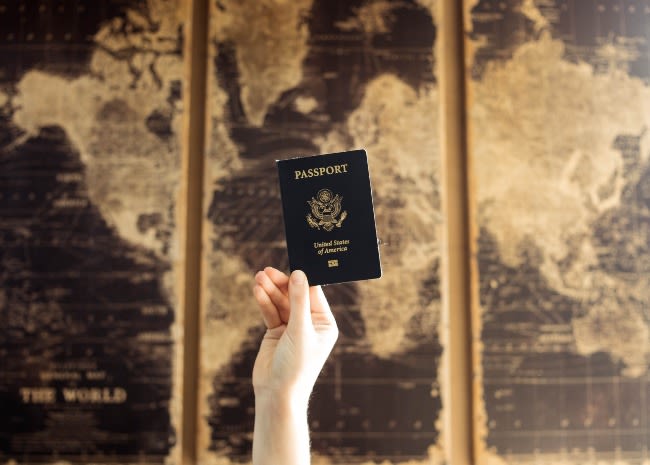 Only US citizens who have a US passport and are located in the United States are eligible for our passport renewal service. Remember that we can help you with your question: Can I get my passport renewal in one day?
How does the Passport Renewal Service with iVisa.com work?
Complete these three steps from the comfort of your home as there is no need to enter a government building to get your new passport:
Complete the application and attach your passport photo. Pay for the government fee and iVisa.com service fee.
Expect a package with everything you need. We will send a bank check for the U.S. Government fee, which you need to pay before you finish the application with us. After signing the kit, find the closest mailbox and send the kit.
Track the process using the information we provide you.
If your trip is in less than 6 weeks, we can't support you with the passport renewal service as the travel document won't arrive on time. Check the FAQs to find more details about your question: Can I get my passport renewal in one day?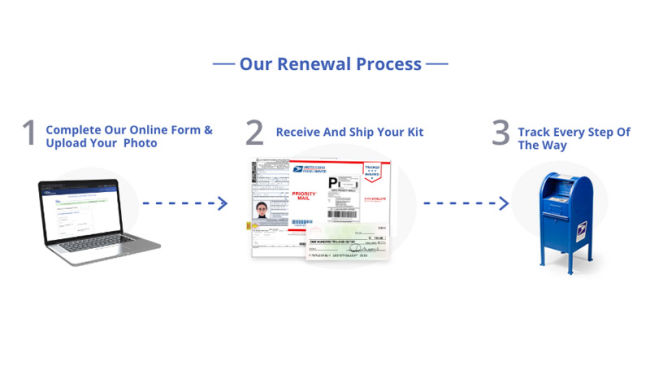 Frequently Asked Questions
Who can apply for the passport renewal service?
To be eligible for this service, you must be a US citizen with a valid US Passport. Also, you must meet these requirements:
You must have your current passport with you.
The passport must be in excellent condition.
You must be over 16 years old.
Your passport issued date must be within the last 15 years.
Your current passport should show your current name.
Last passport obtained after or at 16 years old.
Our team is ready to answer your question: Can I get my passport renewal in one day? Let our team help you!
Does iVisa.com need my current passport?
No! We don't need your passport to start the process. However, you must have it with you to complete the procedure. Expect a kit with these items:
A DS-82 Form that you will need to sign.
A printed and stapled Passport Photo.
A bank check with the US government fee, which you have to pay when filling out your application.
A USPS envelope with postage. Ready to send to the postal office!
Sign all the documentation, take your current passport and send the whole package to the nearest mailbox. We know how to answer your questions: Can I get my passport renewal in one day?
How long does it take to acquire my new Passport?
If you're wondering, "Can I get my passport renewal in one day?" the answer is no. The US Government's standard passport renewal process takes 10 weeks. However, there is an Expedited Service in which you can pay USD 60 and have your passport in 4-6 weeks.
Whatever processing speed you choose, iVisa.com is ready to help you with a simple and secure process to renew your document and completely satisfy the government regulations.
How much do I need to pay to renew my passport?
Our standard fee is USD 130. Also, you can decide when to have your passport renewal kit according to these prices:
Select Kit Shipping Time: Same Day Free Shipping (cut-off 2pm EST) for $72.
Select Kit Shipping Time: 2 Day Free Shipping for $60.
Select Kit Shipping Time: 4 Day Free Shipping for $40.
Don't worry! We have the answer to your question: Can I get my passport renewal in one day?
iVisa.com Recommends
Once you have your new passport, the opportunities to travel are endless. Start with Canada and explore incredible natural wonders. Go to Jasper National Park, where you can hike the Maligne Canyon and have the most impressive views. If you are into water sports, do some rafting down the Athabasca River, where we are sure you will have a blast. Don't miss Spirit Island, another favorite spot to spend a peaceful day in nature. Enjoy the beautiful wildlife sightseeing, as you can find over 53 species of mammals, including black bears, sheep, and cougars. Continue with Banff National Park, which is the perfect spot to do some skiing and hiking. In case you have a big budget, reserve a night in one of the luxury hotels that offer unique spa treatments. Visit the Columbia Icefield or Moraine Lake, which are extraordinary due to the incredible scenery. Canada is just one of a massive set of countries you can visit with your new passport. Don't wait any longer to get your passport renewal with iVisa.com. We are ready to help you!