Imagine that you discover your passport is about to expire while preparing for international travel. What is the easiest way to renew a U.S. passport? Do U.S. citizens need to visit a national passport processing center? Actually, you can start the renewal process from the comfort of your home.
By using the iVisa passport renewal service, you only need to complete a simple form, pay for the iVisa processing fee and government renewal with a bank check, and ship the required documentation in the provided envelope!
The authorities will process your new passport and, if all correctly submitted, send it to your home address. We will guide you through every step of your passport renewal for a hassle-free experience.
This article will provide all the information you need to process your passport renewal for the United States and be ready for the next international trip!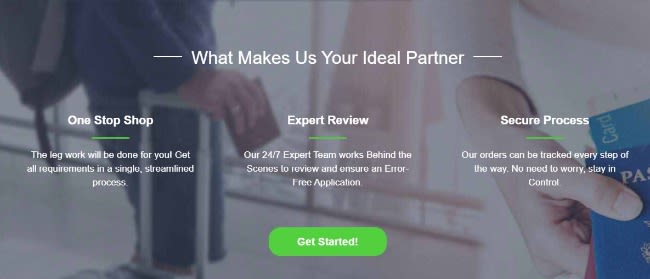 Passport renewal: Who can use this service?
United States citizens can choose the iVisa passport service for easy renewal. You only need to meet the following eligibility criteria:
You are currently in possession of your most recent passport.

Your passport is in perfect condition.

You are 16 years old or older.

Your passport was issued within the last 15 years.

Your passport shows your current name.

Your latest passport was issued after you turned 16 years old.
Be aware that this is a renewal process, and not meant for first-time applicants for a passport. If you meet the above conditions, you can renew your United States passport with iVisa.
A U.S. passport card renewal can be done through iVisa in certain cases. Please contact our expert customer service team to find out how we can assist in your individual case.
Requirements for the online United States passport renewal
You need some supporting documents to apply for your passport renewal online. The advantage of applying with our passport services is that you will receive detailed instructions to fill in the form correctly, you'll have access to 24/7 support, and you'll receive a complete passport renewal kit.
The passport renewal kit contains:
DS-82 form - You'll complete all information online, counting on our experts' guidance. Once done, you will receive the filled out form via mail to sign and submit the application.

Passport photo - You must upload a government-compliant passport photo. Once approved by our team, you'll receive a printed version.

A bank check to cover the U.S. government passport renewal fee.

A U.S. Postal Service envelope to submit the complete application kit to the government.
You do not have to send iVisa your current passport.
How to renew your passport online
It's easy to renew your passport by counting on iVisa services. Applicants simply fill out the online form, receive all documents via mail, and then deliver the complete application kit to the post office. Here are the steps:
Step 1: Fill out the online DS-82 form with your information, such as your full name, address, and birthdate.

Step 2: Upload a recent passport photo of yourself. It must show your full face, front view (high-resolution image recommended). You can use the convenient digital iVisa Photo Service if you don't have one.

Step 3: Do the payment of the U.S. government and iVisa processing fees.

Step 4: Receive your passport renewal kit at home, follow the instructions, and take your package to the nearest post office.

Step 5: Track your renewal application status with our frequent updates.

Step 6: Get your new passport and explore the world!
Please note: This process is not for first-time passports.
What if I make a mistake in the passport application?
You must contact our support agents if you need to correct a mistake in your application. They are available 24/7 to answer your questions. Also, our experts always review the application, so if something is missing, they will notify you right away.
Processing time of U.S. passport renewals
The current processing times are as follows:
U.S. government standard service: Takes 8 to 10 weeks to receive your new passport.

U.S. government expedited service: Takes 4 to 6 weeks, for an additional fee, to receive your new passport.
If you need to travel urgently, choose the U.S. expedited processing service. The extra fee is USD 60.
Always apply in advance and not wait for the expiration date to renew your passport.
Is it possible to do a passport renewal in 24 hours?
Getting a passport renewal in less than the processing times stated above is not possible with iVisa. Check out the US Department of State website to find the fastest direct processing times for urgent travel needs.
How much does the U.S. passport renewal service cost?
The standard U.S. Department of State service fee is USD 130. For USD 60 extra you can use the expedited option. This does not include the iVisa processing fee yet. Find the iVisa fees below, depending how fast you want to receive your renewal kit:
Receive the renewal kit in 4 days, free shipping, for USD 40.

Receive the renewal kit in 6 days, free shipping, for USD 60.

Receive the renewal kit on the same day, free shipping, for USD 72.
How will I know when my new passport is on its way?
Our team will share the status of your passport renewal along the way. Make sure to check your email notifications to stay updated.
Passport renewal for Minors Under the Age of 16
Unfortunately, minors under the age of 16 can't renew their U.S. passport online with iVisa services. They must apply in person with the support of their parents or guardians using Form DS-11. You cannot renew your child's passport using form DS-82.
Remember, passports for children under the age of 16 are only valid for five years.
Where can I learn more?
If you have any questions about the U.S. passport renewal service through iVisa, don't hesitate to contact our customer support team at any time via online chat or email at [email protected]. They are available 24/7 and will be happy to help!