Renewing your passport is a different procedure than applying for a new passport. If you are looking to renew your passport, we got some good news! You can do it through an online process that iVisa.com offers. Getting a new passport demands an in-person process in a US Government facility. Don't worry! For your passport renewal service, you don't need to leave your home. You only need an Internet connection.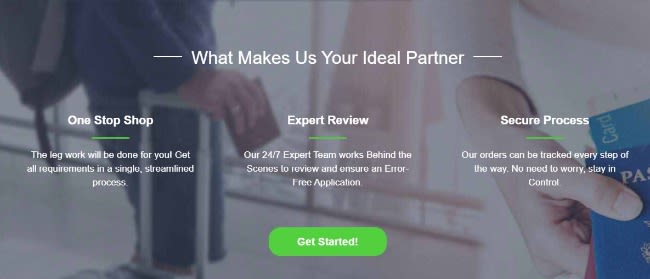 Only US citizens with US passports currently residing in the United States can apply for your passport renewal process. Continue learning about the passport renewal vs. new passport applications.
How is the Passport Renewal Service with iVisa.com?
The passport renewal process is simple. Follow these steps:
Complete the required details in the application form and upload your passport photo.
Make the US Government fee payment and pay for the iVisa.com service.
We will send a kit with the mandatory documentation, including a bank check showing the US Government fee. Sign the form and take the kit to the post office.
Track your passport renewal process with our latest information.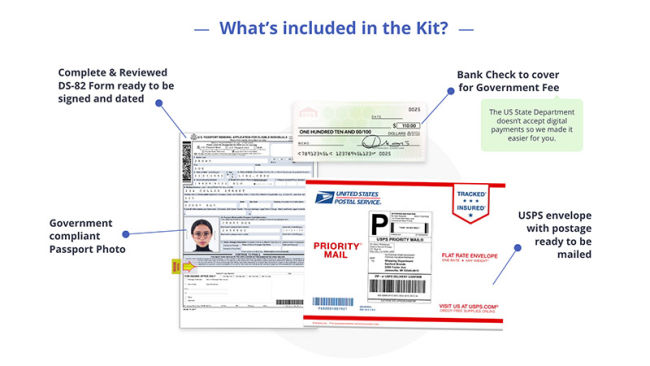 If your trip is scheduled for less than 6 weeks, you won't be eligible for our service as your passport won't arrive on time. The standard process takes 10 weeks.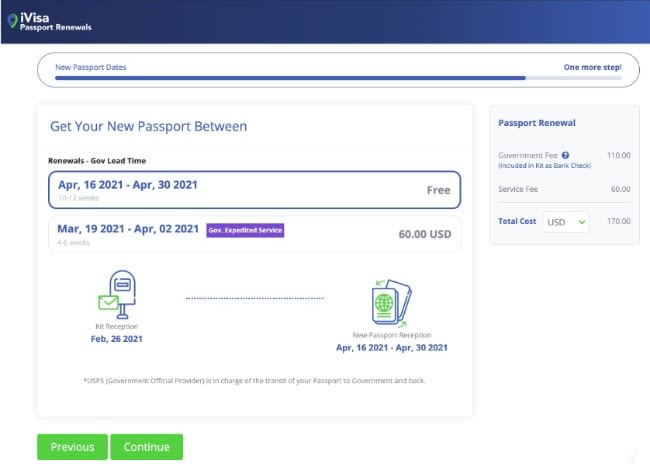 We can help you with the passport renewal vs. new passport applications.
Frequently Asked Questions
Who is eligible to get the passport renewal service?
US citizens with US passports can access our service. Besides, you will need to comply with these guidelines:
Your current passport must be with you when applying.
Your passport should not show any damage.
You are over 16 years old.
The issued date in your passport must not go over 15 years.
Your current passport shows your current name.
Your passport must have been obtained after or at 16 years old.
It's time to renew your passport! Find out about the passport renewal vs. new passport applications.
What will I receive from iVisa.com?
Expect a package with all the items you need for the process:
A DS-82 Form ready for your signature.
A printed and stapled passport photo.
A bank check with the US government fee, which you will pay within our platform.
A USPS envelope with postage that you must ship.
You will need to sign the form and carry the kit with your current passport to the nearest mailbox. That's all you need to do! Keep checking the passport renewal vs. new passport applications.
How long does it take to obtain my new passport?
The time frame depends on US Government services:
Standard process - 10 weeks
Expedited process - 4 to 6 weeks for an extra fee of USD 60.
We are ready to explain the passport renewal vs. new passport applications.
How much does it cost to renew my passport?
Pay the US Government fee of USD 130. Also, pay for the iVisa.com see according to the following alternatives:
Select Kit Shipping Time: Same Day Free Shipping (cut-off 2pm EST) for $72
Select Kit Shipping Time: 2 Day Free Shipping for $60
Select Kit Shipping Time: 4 Day Free Shipping for $40
After this, expect your new passport in 10 weeks. However, if you pay USD 60, you can have it in 4 to 6 weeks.
Let us help you with the passport renewal vs. new passport applications.
iVisa.com Recommends
Having a new passport means you can start traveling the world now. Start with Peru. This marvelous country has everything you want. Visit Cusco and check the capital of the Incas. Go to the Main Square and explore the colonial Cathedral and the fountain in the middle, which represents one of the most famous Incas, Pacachutec. Take a tour and explore Saqsayhuamán, Pisaq, and Ollantaytambo. The monuments will show you how the Incas lived centuries ago. Go to Maras and explore the spectacular landscape. This place produces the famous Maras Salt, which is collected in an artisan way. The communities around this place have worked on this place for generations.
Also, explore Moray, where the Incas used to try different land levels for agriculture. On the other hand, you must try one of the 3,000 varieties of potatoes you can find in Peru. We are sure all the food you try will be delicious. If you feel adventurous, try some guinea pigs. The meat is lean and tasty. Don't leave Peru without visiting Machu Picchu, the most famous archaeological site in South America. Apply for our passport renewal service.