Please note that as of June 2022 the CDC no longer requires travelers to present a negative COVID-19 test or documentation of recovery from COVID pre arrival to the US
U.S. Visitor Visas are divided into two categories: The B-1 Business Visa and the B-2 Visitor Visa. Each of them has different purposes, but keep in mind that you can now apply for both at the same time (B-1/B-2 Visitor Visa). In this article, we will detail the most important facts about the B-1 Business Visa.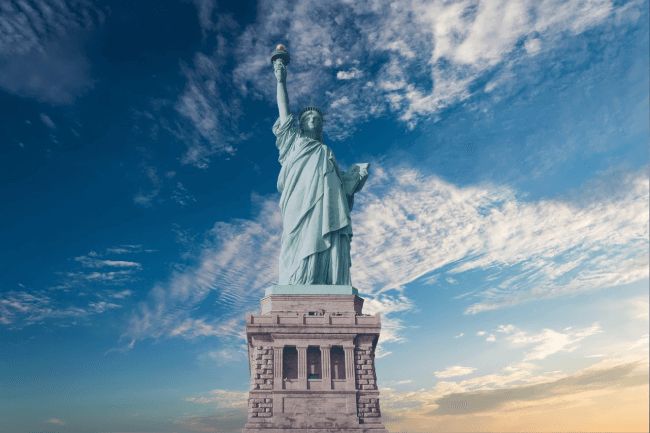 What is the B-1 Business Visa?
The B1 visa is a non-immigrant U.S Visitor Visa that allows its holders to enter the United States for business purposes. It is usually available for citizens to negotiate contracts, consultants with business associates in the U.S., citizens attending conferences, and so on.
In this guide, we will explain to you all the details regarding the B-1 Business Visa, including the requirements, the filling costs, and who is eligible for it.
Who is eligible for the B-1 Business Visa?
The US B-1 Visa eligibility guidelines are not as severe as other visas, but you must meet them to qualify. These are the requirements that you must meet to be eligible for the B1 visa:
Your visit to the United States is business-related.
You can self-fund your stay in the United States.
You intend to return to your home country as soon as your visa expires.
All About the B-1 Business Visa
How much does it cost to apply for the B-1 Business Visa?
The filing fee costs USD160, but take into account that this does not include other costs like gathering documents or having professional passport-style photos ready. For your convenience, you can use iVisa.com's photo service to get superb passport photos easily.
How long does it take to process my B-1 Business Visa?
We cannot give you an exact processing time for the B-1 Business Visa because it depends on the embassy from which you are applying and other aspects as well. However, we can say that this process usually takes from 4 to 6 weeks on average if you have all the documents required and the embassy issues the visas fast enough.
Can I apply for the B-1 Business Visa online?
Part of the process to obtain the B-1 Visa can be done online, but we insist on only part of it. To obtain the B1 Visa, you still have to attend an interview at the nearest U.S. Embassy or Consulate.
Filling in the Non-Immigrant Application Form (Form DS-160) is possible online as you can do it through the USCIS website.
We also remind you that very soon, iVisa.com will put at your disposal this form and other extra services to help you process your visa more efficiently. This way, you would only have to focus on the interview and not the bureaucratic part of the process.
How do I submit my B-1 Visa?
The B-1 Business Visa is another popular document requested in the U.S., so it has few steps to obtain it:
Step One: Complete the online Non-Immigrant application form (Form DS-160) and print the confirmation page (you will need it for the interview).
Step Two: Upload your digital photo and other items needed.
Step Three: Pay for the fees and verify the information you offered.
Step Four: Schedule and attend the interview at the nearest U.S Consulate or Embassy. Do not forget to offer a receipt for the fees and also the confirmation page for DS-160.
Fingerprint scans are taken during the interview, but in some cases, the authorities can omit this step. As soon as you finish the interview, the consular office will decide if your visa is approved, denied or if you need extra official processing.
Required Documents
Before applying for the B-1 Business Visa, you must gather a few documents first. These are:
Your passport- it must be valid for six months past the date of return.
A professional and passport-style photograph.
Documentation of your previous trips to the U.S (if necessary).
Proof of funds to cover the cost of your visit.
Proof of binding ties to your home country.
Other documents may be required depending on your case, including social media accounts, letters from authorities stating that you do not have prior convictions, and so on, but that depends on a case-by-case basis.
Tips for Filling out the B-1 Business Visa
Getting a B-1 Business Visa is not difficult, but it can be a bit stressful if you don't consider some recommendations first. Here we bring you some so that you can manage your time better and be well-prepared for the interview:
You must provide all of the required items at the interview, otherwise, your application could be denied.
Sign with black ink.
Do not forget to answer the questions with honesty, failure to do this could end up not only with a denied visa but also with a refused entry to the country for many years.
Do not forget to show proof of sufficient funds to cover your expenses in the U.S.
How does apply with iVisa.com work?
Applying with iVisa.com is very safe because this is a professional visa provider that has been working on this topic for years. Moreover, we always offer professional guidance to our clients, even if we do not offer the visa yet (just like this case, as we do not offer the B-1 Business Visa). Our services include:
Online forms with manageable language. All of our online forms make complex government language easy to understand.
Team of experts ready to review your documents. We'll review your entire application to make sure your application is error-free.
100% government compliant photos. Use our photo service to get exactly the right photo, all from the comfort of your home. Just take a selfie and our experts will ensure it meets the correct requirements for your visa type.
Professional guidance every step of the way. Our 24/7 customer service team is always available to help you on your application journey.
Do not forget that we do not provide an online process to get the B2 Visa yet, but we might do it in the future.
Frequently Asked Questions
How long can I stay in the U.S. with the B1 Visa?
Similar to other visas, the B1 Visa allows you to stay in the U.S. for up to 180 days per entry.
How many entries do I get with a U.S. B1 Visa?
This visa can be valid for up to 10 years, so you can visit the U.S. many times once you get it. However, the visits are limited to business only. If you prefer something for both business and tourism, then remember you can apply for the B1/B2 Visa.
Is it safe to use iVisa.com to apply for the B-1 Business Visa?
We do not offer the B-1 Visa yet, but we recommend you to stay alert to our website as we might help you get this document in the future. Also, we remind you that our services are reliable thanks to our automated system. Besides, we have an excellent team ready to help you process your documents easier.
I have more unresolved questions, where can I find more info?
Getting a U.S. visa can be complicated, especially when traveling to the U.S. or getting a green card, which is why at iVisa.com we are ready to help you solve your doubts about it. Soon enough will be able to help you get the B1 Visa more easily, but by now, feel free to contact our customer service center for more help about this document or other travel documents you are planning to get.