According to the visa policy of the United States, there are approximately 180 visa classifications. As you can imagine, people travel to the US for many reasons, which is why such classification is necessary.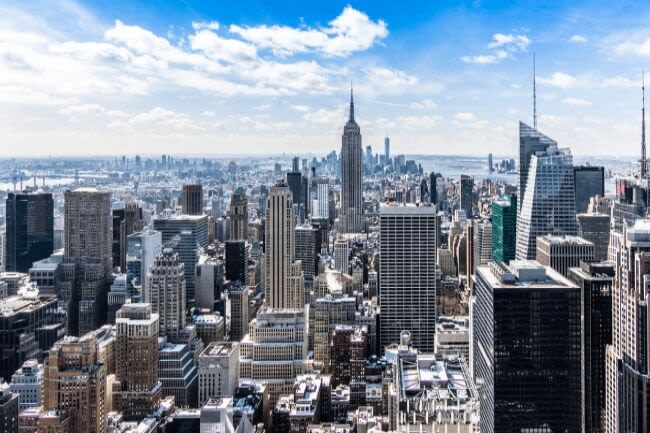 That's also why you may have heard about the B1 and the B2 visa. They have a lot of similarities, but they're used for different purposes. However, don't worry too much about this topic, as at iVisa.com we're ready to help.
In the following article, you'll find information about each one and how to apply for the right visa. This might be quite useful to get ready for your upcoming trip to the US, so read the information below to learn more about the B1 vs. B2 visa.
Frequently Asked Questions
What is a B1 visa and a B2 visa?
The United States B1 and B2 Visas are official documents that give you the right to enter the United States.
Both B1 and B2 visas fall under the same B category. They're both non-immigrant visas, so they are not the same as a resident card.
Another similarity in both visas is that they have a related application process. The application form for these documents includes a visit to the American embassy as a mandatory step. This is necessary to complete a personal interview.
The principal difference between these visas is that they're issued for different purposes. The B1 visa covers business purposes, while the B2 visa is used only for tourism.
In which cases do I have to apply for a US B1 visa?
One important difference between the B1 and the B2 visa is the eligibility standard. You can travel with a B1 in the following circumstances:
You want to negotiate a contract with a US company.
You want to participate in meetings with US business associates.
You want to settle an estate.
You want to participate in or visit conferences related to education, your profession, or your business.
Keep that in mind while applying for your document.
In which cases do I have to apply for a US B2 visa?
The B2 visa can be used if you travel to the United States for the next reasons:
Spend your vacation in the US.
Take a tour of the country.
Visit friends or relatives.
You want to attend social events.
You want to get medical treatment.
Take part in events or contests related to sports or music, but without receiving payment for it.
Take courses but not for the long-term.
You can read more information about the B1 vs. B2 visa here.
What is the validity of both visas?
Both types of visas have the same validity of 10 years after issued, but that decision is changeable and falls into the duties of the consular manager that holds the interview.
By having a US B1 or US B2 Visa, you can enter the United States for the same period: a maximum of 180 days Per Entry. Keep in mind that both types of visas allow Multiple Entry.
Learn more about this process on this link.
What do I need to get a B1 or B2 visa?
You'll need some items and documents to get your US visa. This list might change depending on the type of visa and your purposes, but to help you with this matter, we've written below the most important things:
Valid passport: this document must be valid for at least six months beyond your period of stay in the United States.
Digital photograph: you can take it yourself following certain requirements. For that, you can use our passport photograph service.
Travel itinerary: this is necessary only if you have already made travel arrangements.
Dates of your last five visits or trips to the United States: this is mandatory only if you have previously traveled there. You may also be asked for your international travel history for the past five years.
Other Information: depending on the intended purpose of travel, you'll be asked to provide additional information when completing the online application. One thing you might need is a business letter or reference when applying for the B2 Visa.
To check more info about this topic and the B1 vs. B2 visa, click here.
What are the processing times and prices for these documents?
We cannot give you an exact price for these documents because they're available only at the embassy. At iVisa.com we're doing the best to help you with this process by offering you an online application to schedule your interview the easiest way possible. However, this is not available now.
What we can tell you is that once it's ready, you'll be able to choose one of the following processing times to get your interview scheduled as soon as you want:
Standard processing: you'll be able to get ready for your interview soon, but not the fastest way possible. This is great if you're not in a rush and you prefer to wait as long as required.
Rush processing: this option makes the process a bit faster, so you can get ready for the interview in a shorter period.
Super rush processing: if you want to visit the US as soon as possible, this is your way to go as it gets you ready quite fast.
Remember that this process would still depend on the US authorities. You can learn more about it here.
How can I apply for a US visa?
You can only get a US visa by going to a US Embassy. However, we're working hard to help you with this topic so you can apply online for the interview. In that case, you'd still have to visit the embassy, but only to complete the interview and get your visa ready.
Our online processes are very simple, they have only 3 steps:
The first step is based on basic information. In this part, you have to give your general details and also choose the processing time.
The second step is based on review and payment. You have to check the info and make sure that there are no mistakes before proceeding with the payment.
The last step is based on document upload. It's at this point when you'd have to upload your passport scan.
Is it safe to use iVisa.com?
You can completely trust our service because, in addition to working with high-security standards, we also have a 100% professional team.
Check more about iVisa.com here.
Where do I get more information about the B1 vs. B2 visa?
If you want to know more about the matter, do not hesitate to contact iVisa.com's customer support. We can be reached via online chat by clicking here. Alternatively, you can find other tips about traveling to the US on this link.