Please note that as of June 2022 the CDC no longer requires travelers to present a negative COVID-19 test or documentation of recovery from COVID pre arrival to the US
You might have heard an immigrant saying that he or she "won the U.S. Visa Lottery" to enter this country. This shouldn't be strange as it means that this person was selected by the U.S. Department of State to get the Green Card by winning the U.S. Visa Lottery.
This lottery is also known as the Diversity Visa Program, and it was created to increase the diversity of immigrants into the United States. It's quite easy to find application forms to join the lottery, especially because they're available on the U.S. Official websites.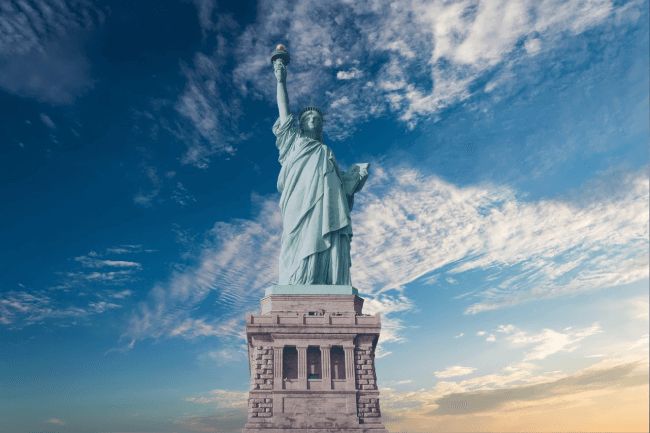 However, these websites tend to be crowded and they might be complicated with applicants because they receive thousands and thousands of them. In fact, it happens because the process per se is free, so as you can guess, many people go to these websites to "win the lottery".
But, for your convenience, you can easily avoid these crowded servers by using iVisa.com. We created an online application form that allows you to apply for this lottery and also get ready for the interview so you can receive your visa and enter the U.S.
If you want to learn more about the service we offer and also how to get the U.S. Visa Lottery for Cuba, keep reading the info below.
Frequently Asked Questions
What is a U.S. Diversity Visa?
Every year, the Government of the U.S. launch the Diversity Visa Program, which allows at least 50,000 randomly selected immigrants to enter the U.S. by receiving a permanent residency (mostly known as "Green Card"). So, the U.S. Diversity Visa is a document that you win to enter the U.S. by joining the Diversity Visa Program.
It's important to mention that this program selects people randomly, that's why it's popularly known as "lottery". By joining the program on iVisa.com or any other official website, you get a chance of entering the U.S., but the government makes the final decision.
By using our application form we can help you a lot with the process so you can get your Diversity Visa easier than the usual process. However, we insist that the final decision is always made by the U.S. Government, not by us.
You should also know that you can use the DV Lottery Registration until November 10th.
Which citizens are eligible for the DV Lottery?
If you're a Cuban then you're lucky, as most of the time, the Visa Lottery for Cuba is available. However, in some years Cuba isn't part of the countries selected because this nation has already sent thousands of immigrants before. But, in the last few years, this country has made the list.
Nevertheless, we also recommend you to use iVisa.com to verify if you're eligible for the lottery or not.
In simpler words, we can say that if you're from a country that has sent less than 50,000 immigrants to the US in the last 5 years, then you'll probably be eligible. Some countries like Canada, China, India, Mexico, and the U.K. don't make the list because the number of immigrants from these countries moving to the US has been high over the last few years.
What do I need to join the Visa Lottery for Cuba on iVisa.com?
You can apply for the Diversity Visa officially, which means that you can use the official U.S. website to enter the lottery. Nevertheless, it can take you a lot of time and you must be careful with the requirements, as a minimal mistake could cancel your application.
But, by using our online form you don't have to worry about that as we help you with this process. You only need a few things to apply with us:
Valid passport: this passport should have at least 6 months of validity from the date you plan to visit the US.
Digital photo: a passport-sized photo is very important, but don't worry if you don't know how to get it. You can use iVisa.com Passport Photos to get your passport photo.
Dates of previous trips to the US: this is necessary only if you've been to the U.S. before.
Valid email address: because you'll receive the confirmation email, the preparation guide, and other important details via email inbox.
Valid payment methods: you also need a credit/debit card or your Paypal to pay for iVisa.com's fees.
What is the price of the Visa Lottery for Cuba?
We want to remind you that the Visa Lottery on the official websites is totally free, you don't have to pay for it on these websites because the U.S. Department of State takes control of the process. However, that's why this official process tends to be stressful, as you have to find the requirements by yourself and wait for the website availability.
On iVisa.com we make that part easier by giving you fast and secure assistance. But, that's why our service has a price.
The good thing is that the prices vary depending on how fast you want to receive your document or results. These are your options:
Standard Processing Time: which is the most basic and it allows you to wait a few days (

2 days

) by paying the least expensive price (

USD 33.49

).
Rush Processing Time: which is faster (

24 hours

), but also more expensive (

USD 65.99

).
Super Rush Processing Time: which is the fastest processing time (

4 hours

), so it has the most expensive price too (

USD 106.99

).
How do I apply on iVisa.com?
The process that we created on iVisa.com is quite simple, you only have to do the following:
First, complete the questionnaire with your personal details and select your processing time.
Second, verify the information and pay for iVisa.com's fees.
Third, attach the documents required if necessary and send the online form.
You have to wait for your confirmation email after that. The instructions required at the embassy will be delivered through this confirmation email.
If selected, you'll have to attend an interview at the embassy.
How safe is using iVisa.com?
We have updated software that won't put your personal details in danger, which is why we can guarantee that our service is totally safe. You can read our reviews if you don't feel sure about our service.
Where can I find more information about this process?
If you still have doubts about the U.S. Visa Lottery for Cuba and other travel documents, then click on iVisa.com. If you have doubts while applying, then feel free to reach out to our customer service via chat online. They're available at any time.