Please note that as of June 2022 the CDC no longer requires travelers to present a negative COVID-19 test or documentation of recovery from COVID pre arrival to the US
Most nationalities need a visa to enter the United States. We have all the details about the B1/B2 Visa, which is available for tourism, business, or medical reasons. Also, we can confirm that iVisa, has all the tools to process your application.
Although an invitation letter isn't an essential document for your B1/B2 visa process, it could help you gain a few points with consular officers. Remember that anybody can apply for the B1/B2 Visa. Depending on your nationality, the process could finish online or offline. Apply now with iVisa and travel to the United States soon.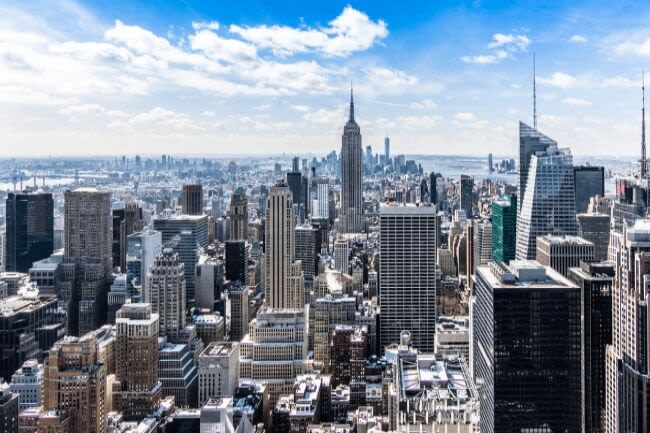 Frequently Asked Questions
WHAT IS A UNITED STATES B1/B2 VISA?
The B1/B2 Visa is a mandatory document you need for a smooth entry to the United States. It's a combination of the business visa and the tourists visa, so it gives you a lot of benefits like the ones shown below.
HOW LONG CAN I STAY IN THE UNITED STATES WITH A US B1/B2 VISA?
Any traveler carrying a B1/B2 visa can visit the United States for a maximum of 180 days Per Entry since it is a Multiple Entry visa. All visits must be related to business, tourism, or medical activities. You can't seek paid employment with this visa.
HOW LONG IS THE US B1/B2 VISA VALID?
The B1/B2 Visa is valid for 10 years after issued.
HOW DO I KNOW IF I AM ELIGIBLE FOR THE UNITED STATES B1/B2 VISA? It's easy! Head to the iVisa page and enter your nationality. Our partner's page will confirm which visa is suitable for you.
WHAT IS THE INVITATION LETTER REQUIREMENT FOR THE VISA?
The invitation letter confirms your stay in the US will be hosted by a US family or friend. It's also called an Affidavit of Support. You don't need the letter for the application. Still, some applicants bring it.
It's time to answer your question: Does the B2 Visa require an Invitation Letter?
HOW DO YOU SEND AN INVITATION LETTER FOR A VISA?
You can send it to the US embassy or consulate. It should include the date and the host's full name, birth date, address, telephone number, occupation, status and the applicant's full name and birth date.
WHAT ARE THE REQUIREMENTS OF THE INVITATION LETTER?
The Invitation Letter will be valid only if the host meets these requirements:
Is a US citizen or resident.

Is a friend, relative, or boyfriend/girlfriend.

Has a registered place of residence.

Has enough room to accommodate the applicant.
IS THE INVITATION LETTER THE SAME AS A LETTER OF GUARANTEE FOR A US VISA? No! Remember that the Invitation Letter doesn't guarantee the approval of your US visa, and it's not mandatory during your interview. You will be evaluated based on your application answers.
We can solve your question: Does the B2 Visa require an Invitation Letter?
WHAT OTHER REQUIREMENTS MUST AN APPLICANT MEET TO GET A B2 US VISA? Although you don't need an Invitation Letter, it could help you during the process. Also, you should have the following items:
A filled-in application form. Complete the DS 160. At iVisa we have a simplified version of this form that you can fill in only 10 minutes. You can find it here.

Valid passport - It should be valid for a minimum of 6 months beyond your departure from the United States.

An email address - You will receive important information about your visa via email.

A digital photo** - They must follow passport photo guidelines.

A receipt confirming the visa fee.
The supporting documents you should have are:
Travel itinerary - Hotel reservations, inner flights, etc.
Previous US visas - If you have traveled there in the past.
Sponsorship documents - if applicable
Depending on your application, you may need to have other documentation. Remember we can help you with your question: Does the B2 Visa require an Invitation Letter?
WHAT ARE THE PROCESSING TIMES AND PRICES?
The processing time depends on the US Government, and it usually lasts between two to six weeks. Sometimes, if you do it alone it could take years.
iVisa will assure your application is error-free, so there aren't any delays. We can guarantee that our service helps you to get your visa faster than the standard time.
iVisa offers you a variety of prices according to your time and budget. In addition, we include the USD $160.00 MRV fee and we provide you with a visa expert to help you through the whole process to achieve success!
You can check our prices here.
HOW CAN I APPLY FOR A US B1/B2 VISA?
All you need to do is follow these steps with the iVisa team!
Answer the questions in the application form. Complete the data about your email address, passport number, and birth date.

Review your application for any errors.

Pay for the service according to the processing packages available with credit/debit card or PayPal.

Receive all the details about the B1/B2 Visa process and the following steps.
If you have any doubts during the application process, don't worry! We have our agents available 24/7 and we provide you with the guidance of a visa expert.
Our team can help you with the question: Does the B2 Visa require an Invitation Letter?
WHAT HAPPENS AFTER I HAVE APPLIED?
Expect an electronic communication from iVisa and follow the guidelines for your next steps. You may need to attend an interview at the US embassy or consulate.
IS IT SAFE TO USE IVISA TO GET MY B1/B2 VISA?
Of course! iVisa. is the best alternative for any electronic visa requirement. We value your privacy, that's why we have a solid security system to protect your personal information. If you want to know more you can check out our customers' reviews.
We're ready to help you with the B1/B2 Visa process and answer your question: Does the B2 Visa require an Invitation Letter?
I HAVE MORE UNRESOLVED QUESTIONS. WHERE CAN I FIND MORE INFO?
Contact our agents.They're available 24 hours a day and will answer any of your doubts!