Please note that as of June 2022 the CDC no longer requires travelers to present a negative COVID-19 test or documentation of recovery from COVID pre arrival to the US
The United States of America is known as a cultural melting pot thanks to the millions of residents from different countries around the world. A variety of dishes are eaten at different times of the year in tradition or thanks to their enormous popularity. The majority of the most popular food commonly eaten comes from another country, and was brought to the United States by one of the many immigrants who have arrived there since the country was founded. Pizza is a great example, of a popular American dish that originally came from Italy.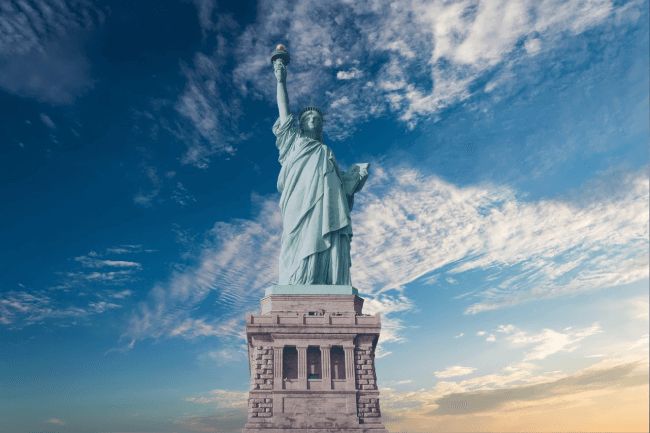 Hamburgers, considered the most patriotic fast-food snack, weren't created in the USA but actually came from the German city of Hamburg. German sausages were reinvented in the creation of the hot dog, which is one of the most widely sold snacks during American baseball and football games. American's pride themselves on being welcoming to visitors and new arrivals, and in the spirit of maintaining this environment, every year 50, 000 immigrants are invited to legally enter the United States of America, where they will receive permission, known as a green card, to live and work there. This lottery has existed in one form or another since 1995, and every year thousands of people apply for the chance to begin a new life in America.
The team at iVisa.com is delighted to let you know that now you can apply for the DV lottery using our user-friendly website. If you want to find out more about applying through iVisa.com then check out our answers to many frequently asked questions including where to find out more about your DV lottery check status.
Frequently Asked Questions
How does the Diversity Visa lottery work?
Applicants from around the world can apply for a visa in this annual lottery. You must submit a form and provide photographs and detailed personal information in order to be able to enter the draw. If you're successful, you will win one of the 55,000 green cards for you and your family to make the big move in 2022. You can find all this information and more by checking out iVisa.com for more details about how to apply and DV lottery check status.
When can I have to apply for the Diversity Visa?
Applications for the 2021 program ended in October last year. If you're interested in applying for the 2022 program, you need to act fast because the application process opened on 7th October and will close on 10th November. It will be possible to check the status of your DV lottery application from 8th May 2021. Speak to a visa expert about your application and how to apply from the comfort of your own home.
How will I know if I've won a Diversity Visa?
One of the key reasons that more than 55 000 people are selected to win the 55 000 visas is because a large number of people chosen will choose not to go, or they may have already obtained another visa. Some winners mightn't even know they've won because they forget to check the frequently updated list of winners. The US government won't contact you about the Diversity Visa. It's your job to review the DV lottery, check status, and progress to the next step once you're accepted. If you're wondering what the next steps are, find all the answers you need on iVisa.com
Is iVisa.com a reliable provider of Diversity Visa applications?
Getting your application filled out on iVisa.com is a great way to make sure that you're following all the instructions carefully. Our expert team of visa processing pros are whiz kids when it comes to applying for all kinds of visa documents, so you can trust them with your chance of winning the DV lottery. Your personal data is in good hands, and we'll look after it like it's our own.
Where can I find out more about the DV lottery check status?
As our well-informed team can tell you, the Diversity Visa lottery doesn't stop with the application form. In fact, that's just the start because you have to wait until May to check the list for your name. Sounds confusing? It can be! That's why we recommend you have a chat with one of the team if you have any more questions. There's always someone available on the chat function so drop us a message today.