Please note that as of June 2022 the CDC no longer requires travelers to present a negative COVID-19 test or documentation of recovery from COVID pre arrival to the US
You might have heard about the famous "Green Card" lottery, which is also known as the Diversity Visa Program. This popular visa program allows about 50,000 immigrants to win a green card, an important document to many immigrants in the U.S. because it permits you to have legal and permanent residency there.
You can apply for this program on any U.S. government website, but these pages tend to be time-wasting and crowded because they offer free applications. It might be convenient to use these sites to save money, but it's not the smart choice if you want something fast and easy.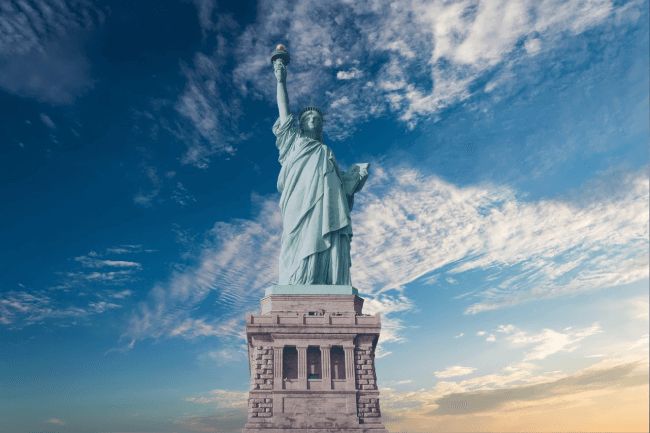 Therefore, we invite you to use iVisa.com if you want to get ready for the application without any stress and by simply following a few DV Lottery instructions. The best part of our service is that we offer not only an easy application form but also a preparation guide to get ready for the interview at the local embassy.
Our application form can be completed in just a few minutes, without having to worry about complicated steps.
Learn more about our service by reading the FAQs below.
Frequently Asked Questions / FAQs
What is the Diversity Visa?
The Diversity Visa is a document that's obtained randomly after applying for the Diversity Visa Program. This program was created by the United States Department of State more than two decades ago to diversify the nationality of immigrants in the United States. For this reason, this process allows 50,000 foreigners the possibility of obtaining a green card (permanent residence document in the United States when you are a foreigner).
You can apply for this document on official websites, or you can use our application form to receive your Diversity Visa faster and a lot easier than the normal method. However, we remind you that the final decision is made by the U.S. Government and not by us.
You can enter the DV Lottery Registration until November 10th.
Where can I check if I'm eligible for the Diversity Visa?
Not everyone can apply for the Diversity Visa because it has some restrictions. The first restriction is that citizens from countries like Canada, China, India, Mexico, and the U.K can't apply for it because these countries had exceeded the limit of 50,000 immigrants in the United States in the last years.
But, aside from that, you don't need many things to be elected. You can check if you're eligible or not by entering iVisa.com.
What documents do I need to get my Diversity Visa on iVisa.com?
One of the first things you have to do by following our DV Lottery instructions is to find some basic requirements. These requirements are important to successfully apply for the Diversity Visa on iVisa.com.
These requirements aren't difficult to find:
A valid passport: this is the most important document to travel, so it shouldn't be a surprise to have it so you can apply for the DV.
Digital photo: you also have to offer a professional passport-size photo. If you have trouble with this part, you can use iVisa.com Passport Photos.
The dates of your visits to the U.S.: this is mandatory only if you've traveled to the U.S. before.
Valid email address: where you'll receive the documents and other useful emails.
Valid payment methods: keep in mind that iVisa.com's service isn't free, so you'll need a credit/debit card or a Paypal.
What is the price of the Visa Lottery?
Don't forget that the Visa Lottery on the official website is free, but that's why these websites tend to be crowded and time-consuming.
On the contrary, by using iVisa.com, you don't need to stress out because our work is to take care of the tiresome part. We ask you to pay a small fee for that, so you can get your confirmation email and a preparation guide for the embassy interview as fast as possible.
We provide a complete service that includes a special preparation guide and other useful tips for you to get ready to visit the U.S., even if you're not selected. That's why we have not one, but three processing options:
Standard Processing Option: this option is the slowest (

2 days

) but also the least expensive (

USD 38.99

).
Rush Processing Option: by choosing this processing time you get a faster resolution (

24 hours

), but you have to pay a bit more (

USD 44.99

).
Super Rush Processing Option: this is the most expensive processing time (

USD 94.99

) because it's the fastest (

4 hours

).
How can I apply for this document?
Take into account that using the online form that iVisa.com created is quite easy because it won't take you more than 15 minutes. You only have to finish this 3-step method:
Firstly, write down your essential details on the initial questionnaire and choose your processing option depending on how fast you need your document.
Secondly, verify the information you wrote and get ready for payment using your preferred payment method.
Thirdly, upload the documents needed and click on 'submit' to complete the process.
Don't forget to stay alert to your email to receive the admission receipt and get ready for the following instructions.
Keep in mind that if you're selected, you'll have to attend an interview at the nearest U.S. embassy, which is why we offer a preparation guide as part of our service.
How safe is it to use iVisa.com's service?
Something that we always take seriously is the security of our service, which is why we have at our disposal a reliable and top-notch system that won't risk any information you offer. Our database is extremely guarded and observed so that nothing is put in danger. You can feel safe as you complete the DV Lottery instructions.
For that reason, we have thousands of positive reviews that you can check at any time if you're unsure about our service.
Where can I find more information about this process?
To check the rest of the DV Lottery instructions, we invite you to visit iVisa.com. You can also reach out to iVisa.com's customer service if you want to receive personal attention or guidance.