Please note that as of June 2022 the CDC no longer requires travelers to present a negative COVID-19 test or documentation of recovery from COVID pre arrival to the US
When the date of the Diversity Visa Lottery in the United States approaches, many questions appear, including many from those wanting to learn what the DV Lottery Statistics are.
That's why we remind you that there's no exact way to know the statistics of this lottery, as it varies year after year, especially because it's a random process. There's no magic trick to knowing who will be selected, which is why it's commonly known as "Visa Lottery".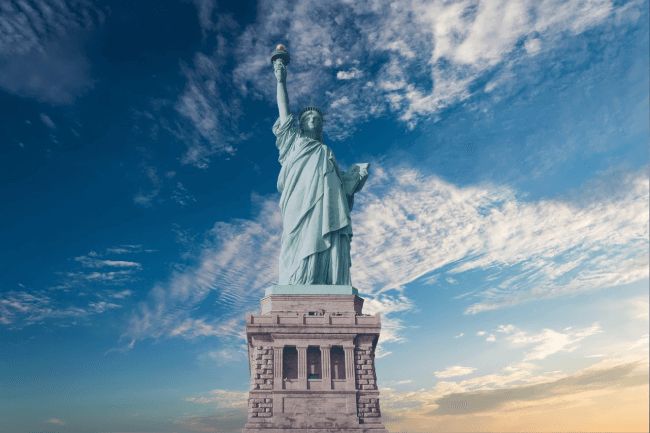 Even so, what we can guarantee is that you don't have to stress with official websites because at iVisa.com we have created an online application that allows you to prepare for your entry to the United States quickly and easily.
The only thing to keep in mind is that the final decision is made by the United States government. We take care of advising you and offering you a faster and easier alternative to applying for the Diversity Visa.
Find out more about this process by reading the information below.
Frequently Asked Questions / FAQs
What's the Diversity Visa program about?
The U.S. Department of State launched the Diversity Program in the early 90s and after then, this process has allowed at least 50,000 newcomers to travel to the U.S. each year by getting a permanent document or "Green Card". We can say that the U.S. Diversity Visa is an official document that allows you to enter the U.S. by enrolling in the Diversity Visa Program that's available each year.
The most remarkable thing about this process is that it picks people randomly. That's why we always explain that if you use iVisa.com or another official website, you simply receive the chance of entering the U.S., but not the automated entry, as the final decision is always made by the U.S. Government, not by third-party companies.
Nevertheless, we invite you to use our application form to receive your Diversity Visa faster and simpler than the usual process.
You can apply for this document until November 10th.
How can I check if I'm eligible for the DV Lottery?
At least 50,000 immigrants can have the chance of entering the US with this program, which is why the eligible applicants are those who haven't sent many immigrants to the U.S. in the last years. That's why some countries like Mexico, China, Canada, India, and the U.K don't appear on the list as they already exceed 50,000 immigrants in recent years.
You can check if you're eligible for the Diversity Visa by using iVisa.com. By using our website you can also check some interesting DV Lottery Statistics.
What documents do I need to apply for my Diversity Visa?
You can apply for your Diversity Visa on iVisa.com to save much time and also effort. You deserve to carry out a process that's not complicated and that facilitates your entry to the United States. That's why we offer you, in addition to an easy online application, a preparation guide for the interview at the embassy, ​​as well as informative emails about this process.
Don't forget that you can also use official websites, but keep in mind that their requirements might be difficult and also time-wasting.
You need the following to apply with iVisa.com:
A valid passport: this is the most important requirement. You might need to have it valid for at least 6 months counting from the arrival date in the U.S.
Digital photo: you need a valid professional photo for this application. If you're not sure of how to get a proper photo, then we recommend you use iVisa.com Passport Photos.
The dates of your past visits to the U.S.: this is mandatory only if you've been to the U.S. before.
Valid email address: this is important to get your notification emails and the confirmation receipt.
Valid payment methods: iVisa.com's service isn't free, which is why you'll need a credit/debit card or a Paypal account for payments.
What are the processing times and prices?
Take into account that the Visa Lottery on official websites is free, but that's why these websites can be crowded every time.
That doesn't happen on iVisa.com as we have available servers every time. But, that's why we ask you to pay a small fee in exchange because we work with the tedious part of the process and we also offer you a preparation guide to get your interview at the U.S. Embassy without stress.
For your convenience, you can choose any of the following options to pay for the service depending on the urgency you have:
Standard Procedure Option: with this processing time (

2 days

), you pay the least expensive price (

USD 38.99

).
Rush Procedure Option: you have to pay a bit more (

USD 44.99

) with this option because you get your document faster (

24 hours

).
Super Rush Procedure Option: this option is the fastest of the three (

4 hours

) and also the most expensive (

USD 94.99

).
How can I apply on iVisa.com?
Something that characterizes our service is its simplicity, for that reason, it is very easy to apply with our online form.
To complete this process, you just have to follow these steps:
First, you have to offer your basic details on the first questionnaire and pick your favorite processing time.
Second, you have to verify the information you gave and pay for iVisa.com's fee.
Third, you must attach the requirements needed and click on 'submit' to end the process.
The last thing you have to do is to stay alert to your email so you can get the confirmation letter and also the following directions. If you're chosen, you'll have to complete an interview at the nearest embassy.
Why do I have to pay a fee if the lottery is free?
The DV Lottery is free only on official websites managed by United States Department of State. You shouldn't have to pay for anything by using the official service.
However, on iVisa.com, we charge a modest fee because we speed up the process and we also help you to get ready for an interview at the embassy, even if you don't get selected.
How safe is using iVisa.com's service?
Our service is quite safeguarded because we have at our disposal modern and high-quality software that doesn't endanger any of your details. We can guarantee that our database is well defended and controlled so that nothing can be leaked.
That's why we've received thousands of positive reviews for several years.
Where can I get more information about this process?
If you want to read other details related to the DV Lottery Statistics, visit iVisa.com, where you'll find more FAQs and interesting articles. To receive personal attention, we recommend you contact our customer service.