Please note that as of June 2022 the CDC no longer requires travelers to present a negative COVID-19 test or documentation of recovery from COVID pre arrival to the US
A foreign citizen who wants to travel to the U.S. must first get a visa, either a visa for temporary stay, an immigrant visa for permanent residence, or a nonimmigrant visa. For students, the F Visa (Academic Student Visa) tends to be the best option. Learn more about this document in the article below.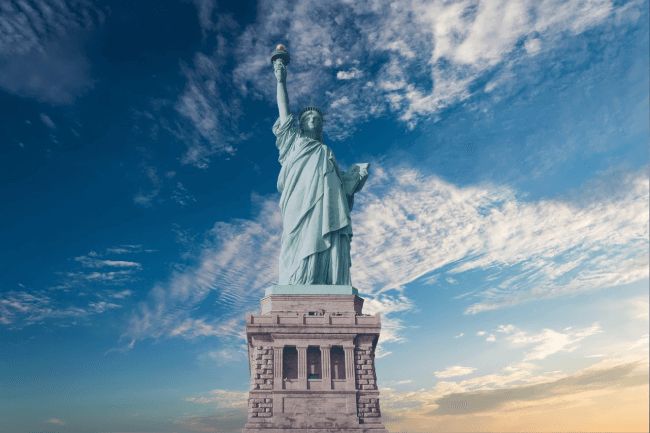 What is the F Visa (Academic Student Visa) Visa?
The F Visa is a type of non-immigrant student visa that permits foreign citizens to travel to the U.S. for education purposes (academic studies and/or language training programs).
This visa allows a student to live in the U.S for a defined period while studying at a school, seminary, college, or conservatory.
Many courses and places are available to study in the U.S. with an F-1 Visa, but the applicant for this visa must follow certain rules. The first one is that the applicant must be traveling to the U.S. with the intent to temporarily study, therefore, he or she cannot seek paid work. The F-1 Visa is not an immigrant visa.
In the following lines, we will explain the other details related to the F Visa, including the cost, the processing time, and the requirements.
Who is eligible to get the F Visa (Academic Student Visa)?
Only those who are accepted into a course of study at a SEVP-approved school can apply for the F Visa. In general, the requirements to apply for an F-1 visa are:
Be accepted into a course of study at a SEVP-approved school in the U.S. Be aware that SEVP-approved schools can be high schools, universities, private elementary schools, etc.
Be enrolled as a full-time student at the institution chosen.
Be fluent in English or be enrolled in courses leading to English proficiency.
Have proof of financial support to study in the U.S.
Have ties to the home country so that the applicant can return after finishing studying in the U.S.
Live outside the U.S. when applying.
All About the F Visa (Academic Student Visa)
How much does it cost to apply for an F Visa?
The fees are an important part of the process as it is necessary to complete it successfully. Keep in mind that you must register with SEVIS to obtain the F Visa. SEVIS is a database called Student and Exchange Visitor Information System.
After you register with SEVIS, you will have to pay the I-901 fee, which is currently USD350 for most citizens.
Be aware that after you receive the Form I-20 and register with SEVIS, you may then apply for your visa at a U.S. Embassy. However, before your interview, you will have to pay USD160 for the application fee, and depending on your nationality, you may need to pay an issuance fee too. This visa issuance fee is due after your interview in case your visa is approved.
How long does it take to process an F Visa (Academic Student Visa)?
Like with any other US visa, the processing time depends on the type of visa, but also on other aspects like getting the documentation ready. It can take 3 to 5 weeks for an F Visa (Academic Student Visa) to get processed, but generally speaking, it is a fast process in comparison to other visas.
Can I apply for an F Visa online?
Yes, most of the process to obtain an F Visa is completely online. Therefore, you may need only an electronic device, sufficient funds, and Internet access to get the process started. However, don't forget that you will also need to attend an Interview to finish the F Visa application.
The registration with SEVIS and the initial application process is completely online, but remember to have the minimum documentation required on hand.
How can I apply for an F Visa (Academic Student Visa)?
These are the steps you have to follow to obtain the F Visa and study in the U.S.:
Step 1: You have to be accepted into an educational program by a SEVP-approved school.
Step 2: Fill in the I-20 form that the SEVP-approved school sends to you. This form has to be kept safe because you will need it for the visa interview at the U.S. embassy or consulate.
Step 3: Register for SEVIS and pay the fee (USD350).
Step 4: Complete the online non-immigrant visa application, which has a cost of USD160 (this is the DS-160 Form). In this part, you will also have to upload a passport-style photo of yourself as well as other documents.
Step 5: Schedule an appointment for the visa interview. Remember that it must be done at a U.S. Embassy or Consulate.
Step 6: Wait for the final decision so that you can get the F Visa and be ready to study in the U.S.!
Required Documents
As for the required documentation, it will vary depending on the steps for the process. For the initial application process you will only need:
Online Non-immigrant Visa Application (DS-160 Form)
A valid passport photo
However, once you are ready to attend the interview, you will need the following:
A valid passport (it must not be unexpired, and it must remain valid for at least six months beyond the intended date of entry into the U.S.)
The Form DS-160 confirmation page.
Application fee payment receipt.
A valid photo.
The Form I-20 issued by your academic institution.
Be aware that other documentation may be required depending on your case, for example, diplomas, degrees, etc.
Tips for Filling out the F Visa (Academic Student Visa)
In comparison to other visas, the F Visa is an easier process, but you should still remember the following tips:
Make sure to give accurate answers during the interview because you will be under oath.
You must have enough financial support to study in the U.S., so be aware of having proof of that.
Review all the information you give, especially in the forms, so that you can avoid mistakes.
Don't forget that the photo must follow certain guidelines. At iVisa.com we have a service that can be helpful for that, so you can check it [here] if you want to make sure you have the right photo.
How does applying with iVisa.com work?
iVisa.com is a third-party company that's been offering visas and other travel papers for years, which is why it is ready to help you get your visas in the easiest way possible. Once we launch a process to get the F Visa (Academic Student Visa) smoother, you will be ready to enjoy the following:
Online forms with understandable language. Our application forms turn complex government language into something easier to understand.
Experts ready to check your documents. We'll check your entire application to ensure your application is error-free.
100% government compliant photos. Getting the right photo is important, especially in visa processes. You can use our photo service to get exactly the right photo for your documentation processes, all from the comfort of your home. Just take a selfie and our experts will ensure it meets the correct requirements for your visa type.
Complete guidance every step of the way. Our 24/7 customer service team is always prepared to help you on your application journey.
Frequently Asked Questions
Can I work while having an F Visa?
Students with an F Visa cannot work off-campus during the first academic year. However, they may accept on-campus employment (certain conditions apply).
Will I be able to stay in the U.S. after I complete my studies?
You may do that only by following certain conditions as there are some visas available for F-1 Visa holders after finishing studying in the U.S. We recommend you to do this research carefully if you decide to stay in the U.S. once you finish your studies there.
Is it safe to use iVisa.com to apply for an F Visa (Academic Student Visa)?
After we launch the electronic process to help you with the F Visa, you can feel very safe because we always provide reliable services. We do not put any information in danger. Besides, we always help our customers with any doubt they have through our customer service center.
I have more questions about this visa, where can I find more info?
Applying for an F Visa (Academic Student Visa) is not too difficult, but it can be a bit stressful, which is why we are ready to help you with this matter by offering you valuable information and appropriate guidance 24/7. Plus, we may offer a faster service to process this renewal very soon.
We remind you that you can always read more information about our services at iVisa.com's page or you can also contact our customer service center, which is available at any time to help you with any doubts you have!