Please note that as of June 2022 the CDC no longer requires travelers to present a negative COVID-19 test or documentation of recovery from COVID pre arrival to the US
The US government has opened the Green Card Lottery! As the name says, this is an opportunity to get a green card and enjoy permanent residency in the United States. For citizens of Brazil who have dreamt of an immigration plan to the United States, this is a unique opportunity. Luckily, you can start the Diversity Visa Lottery process with iVisa.com.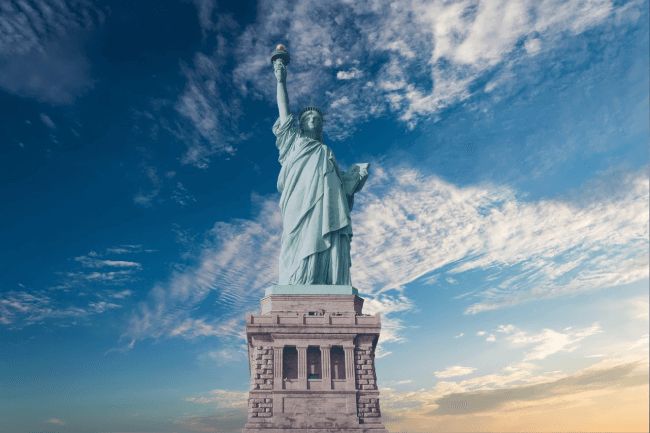 Your green card is possible with iVisa.com. Try a fast, simple, and reliable service.
Keep reading about the Green Card Lottery Brazil below.
Frequently Asked Questions
What is the Green Card Lottery?
The Green Card Lottery or Diversity Visa Lottery is an immigration program that welcomes 50,000 immigrants to the United States every year. The purpose is to diversify the immigration programs and give opportunities to nationalities that don't usually send immigrants to the United States.
You can begin the Diversity Visa Lottery process with iVisa.com.
I'm a citizen of Brazil. Can I apply for the Green Card Lottery?
Yes! Brazil is among the eligible countries for the Green Card Lottery. If you or spouse were born in Brazil, then you can start the application for the Diversity Visa Lottery.
Is the Green Card Lottery available all year?
No, it isn't! The Green Card Lottery Brazil is a specific immigration program that only opens for a few days during the year. Currently, you can only apply until November 10th, 2020. After the deadline, the US State Department won't receive any more applications.
Citizens of Brazil must start the Diversity Visa Lottery as soon as possible.
What information is required?
The first steps of the Green Card Lottery Brazil only require an application form that you must complete with personal information. The US government will request a high school diploma or work experience for at least two years. Also, follow our instructions about the photo requirements for the application. Check those details here.
Make sure to have the next requirements as well:
A passport that should have a minimum validity of 6 months.
A valid email address.
Payment methods, pay for our professional service with a Paypal account, or use a credit/debit card.
What are the processing times and fees?
Citizens of Brazil can choose between the following alternatives:
Standard processing service, you can have the entry form for a

USD 29.99

fee and a

2 days

wait.
Rush processing service pay

USD 57.99

and wait

24 hours

for your Diversity Visa Lottery.
Super Rush processing service, pay

USD 109.99

, and wait just

4 hours

.
Reach out to our customer service agents for more details.
What is the process?
Complete the entry form with personal details and select a processing time.
Check your details and proceed to pay with a credit/debit card or a Paypal account.
Attach any supporting documents.
After these three steps, the American dream is even closer! Start the Green Card Lottery Brazil process now!
What will I receive from iVisa.com?
After completing the entry form, the iVisa.com team will send your information to US authorities so you can get a confirmation number. For this reason, expect an email from iVisa.com with this number. You will be able to check your application status with the confirmation number.
iVisa.com will only help you with these significant steps. As well, iVisa.com will attach a preparation guide for the next stages of the process.
In May of next year, the US authorities will choose the immigrants for the Diversity Visa Lottery. Citizens of Brazil that receive this visa will have up to 6 months to travel to the US to start their permanent residency process.
Can I trust iVisa.com?
Of course! iVisa.com has the right expertise to work on your Green Card Lottery Brazil. Countless immigrants all over the world have trusted iVisa.com with plenty of travel requirements.
Read more about what our previous customers have to say about iVisa.com in the opinions section.
I have some doubts. Who should I contact?
Get in touch with our customer service agents who are available 24/7. They can help you with the Green Card Lottery Brazil.
Explore the application page, where we have displayed more information about the Diversity Visa Lottery and the steps to get a green card.
The desired green card is possible today! Don't think any longer and start your Diversity Visa Lottery application! A new life in the United States is waiting for you.