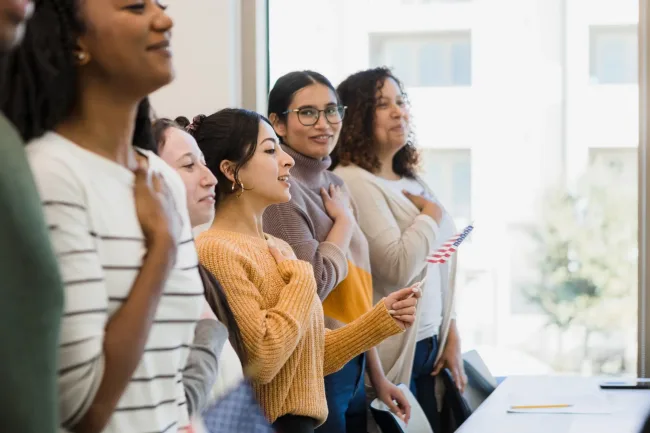 This article will explain more about the Green Card Lottery: Entry dates and deadline. Have you noticed that every year, the US Department of State launches a program that allows more than 50,000 foreign nationals to obtain a green card to live in the United States legally?
This is also called the Diversity Visa Program. iVisa offers a simplified Green Card Lottery Entry Form and guidance on what to do next.
Keep reading to find out more or apply now!
Everything you need to know about the Green Card Lottery (Diversity Visa)
The Diversity Visa process is also known as the Green Card Lottery, and it's something that has become a popular way to get a green card for the United States. iVisa will help you to fill out the application form and give tips and instructions for a successful interview at the US consulate.
See the following sections for more information on the Green Card Lottery: frequently asked questions and entry dates.
Will entering the Green Card Lottery affect my eligibility for an immigrant visa?
Technically, entering into the green card lottery is equivalent to filing an immigrant petition. If your name is selected in the lottery, you may have trouble renewing your nonimmigrant status.
However, if you are selected, you will get permanent residency anyway.. Just entering will not impact your current status.
Enter the Green Card Lottery now
How much does it cost to enter the Green Card Lottery program?
There is no fee charged to submit an electronic entry to the Green Card Lottery. However, if you are selected and apply for this Diversity Visa, you must pay all required visa fees of about USD 330 at the time of visa application.
What is the deadline to apply for the Diversity Visa?
The 2023 Green Card Lottery program year (also called DV2025) dates are as follows:
Submission - Applicants apply for this year's lottery, the DV2025 program until November 8, 2023.

Lottery - March 2024: The DV2025 Lottery Draw is conducted by using a random computerized lottery draw.

Result - The DV2025 lottery results are made public on May 8, 2024, and applicants can check online if they were selected.

Process - Winners apply for their Green Card and pay the fee.

Entry - Applicants who won the Green Card Lottery and successfully received the visa, may enter the United States of America at any time in the year 2025 as permanent residents (hence the name DV2025).
What are the costs and processing times for the Green Card Lottery application via iVisa?
Qualified entries are randomly selected by computer and have an equal chance to win. Each year millions of applications are disqualified for failure to follow the submission requirements. It is to keep in mind that DV is free, but the application can be confusing.
That's why iVisa offers a simple, fast, and secure application process and charges a small fee for the processing services. Our experts will review your application carefully and make sure it's error-free. The costs for Standard Processing of two days are USD 36.99 (excluding the government fee).
How to apply for the Green Card Lottery entry via iVisa?
You'll only have to follow these simple steps:
First, complete the application form here, and enter your details.

Second, review your details and pay for the iVisa processing fee with a debit or credit card.

Third, attach the required documents required and submit. After that, you'll have to wait for the confirmation email according to the processing time you selected. In this email, you'll get instructions about the next step. Also, be aware that you need to attend the interview as informed.
What are the requirements to register for the Green Card Lottery?
The documents and info needed to complete the application with iVisa are as follows:
Valid passport: it must have at least 6 months of validity from the date you plan to enter the US.

Digital photo: Use the iVisa Digital Passport Photo Service if you need one quickly.

Dates of previous trips to the US: If applicable.

Valid email address: To receive the notification email, as well as the preparation guide and instructions to attend your interview.

Valid payment method: A credit/debit card or PayPal, to pay the iVisa processing fee.
Is iVisa secure to apply for the Green Card Lottery?
Our team is available 24/7 to provide you with secure and safe services. We care about your privacy. A professional team and advanced software keep your data safe. You may also take a look at our reviews.
I need more information, who do I contact about the Green Card Lottery entry?
For more information on the Green Card Lottery: Entry dates and deadlines, contact our customer support team, via online chat or email at [email protected].