Please note that as of June 2022 the CDC no longer requires travelers to present a negative COVID-19 test or documentation of recovery from COVID pre arrival to the US
The countdown has begun! If you've been waiting for the Diversity Visa application process to enter then get your coat, because it's been open since 7 October. You now have 2 weeks to successfully complete the form before the deadline on 10 November. You might be wondering what all the fuss is about and whether you should bother filling out the form.
The green card lottery is an annual draw where 55 000 visas are issued to eligible applicants willing to move to the United States of America. This lottery has existed since 1995 and was introduced to provide a greater variety of immigration. American culture is popularly described as a melting pot thanks to its humble beginnings when pilgrims arrived from all over the world to make it their home.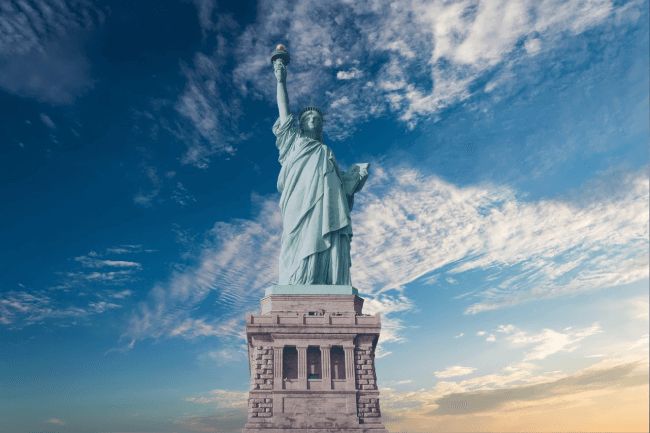 You can see evidence of the melting pot culture in all aspects of American life, including a love of good coffee and pizza, imported with the 5.5 million strong Italian community that migrated to the USA in the years between 1820 and 2004. If you've ever visited New York, you might notice a lot of Irish pubs where Guinness is served liberally to drinks. That's thanks to the 4.5 million Irish immigrants who flocked to the 'new world' after suffering hunger during the Irish famine. Spanish doesn't go amiss in America either, as the Hispanic and Latin American community has grown bigger every year as a result of mass immigration from neighboring regions like Mexico and further south in the Americas.
To prevent anyone community from gaining a monopoly in American society, the DV lottery, was introduced. By applying for a green card through the lottery, winners benefit from the opportunity to enter, work and live in the United States. Click here to discover more about the green card lottery and how to apply through iVisa.com.
Frequently Asked Questions
How can I apply for the green card lottery?
You can apply for the Diversity Visa if you are from an eligible country. Once you've established your eligibility, you must fill in the application form and provide details such as:
Names of all of your direct family members, including separated partners and stepchildren.
Educational details and work experience.
Information about your health and income.
If you apply with iVisa.com you're sure to stand a good chance of winning a green card, as the expert team can guide you through the process and make sure that you don't miss out by falling short of the deadline.
Are there important dates to remember in the process?
There are a couple of important dates to remember when it comes to applying for the green card lottery. The first key date is the deadline to submit your application. The application portal will close on 10 November, so if you haven't been able to find time yet then get a move on. Once your application has been submitted successfully, you can forget about it for a few months. On the 8th of May the first list of winner's names will be published. If your name isn't on the winning list, don't worry. You should continue to check regularly because the list is updated frequently and more names are added every day.
Start your application today whilst the draw is open.
Can I apply using a paper application?
We love online applications because they take the stress out of traveling. You'll be pleased to know that the entire Diversity Visa lottery is carried out digitally. That means you can fill out the form from the comfort of your own home, and all you'll need to have is an electronic device with an internet connection. If you're concerned about using a computer or whether online applications are safe to complete then make the most of our top-of-the-range service and speak to one of the team through the chat function. Just bear in mind that paper applications will not be accepted.
Which countries are not eligible for the green card lottery?
To apply for the green card lottery, first make sure that nationals from your country are eligible. Citizens from the following countries are not eligible to apply: Bangladesh, Brazil, Canada, China (mainland born), Colombia, Dominican Republic, El Salvador, Guatemala, Haiti, India, Jamaica, Mexico, Nigeria, Pakistan, Philippines, South Korea, United Kingdom (except Northern Ireland) and its dependent territories, and Vietnam.
Can I trust the team at iVisa.com with my green card lottery application?
If you want to be in with a strong chance to win a diversity visa in the green card lottery then you should start your process now on iVisa.com. Why? Because everyone in the iVisa.com team is a visa expert. When it comes to travel documentation, the best way to achieve success is through practice. If you're feeling nervous about the one-shot a year you have to enter the green card lottery then the iVisa.com team can provide you with a full package of support. You can check anything with them before clicking submit. Digital applications have had a makeover with iVisa.com and you'll quickly notice how easy they are to complete in our simplistic web format.
Where can I learn more about the green card lottery and how to apply?
Applying online with iVisa.com has never been easier, thanks to a valuable blend of customer service found through the chat function, Diversity Visa product knowledge, and access to user-friendly formats with step-by-step guides and clear advice about providing photos and document evidence to support your travel application. Even if you're not going to apply for the green card lottery, you'll find a great supply of tools and information for whenever you decide to travel to next.