Please note that as of June 2022 the CDC no longer requires travelers to present a negative COVID-19 test or documentation of recovery from COVID pre arrival to the US
The Statue of Liberty is an iconic monument located on Liberty Island in New York. This 93-meter tall statue was gifted to the Americans by the citizens of France in October 1886. Its location means that new arrivals entering the USA by boat from the Atlantic ocean are greeted on arrival by lady liberty. Historically, it held a torch that would guide ships to the harbour. Another iconic monument that represents the United States includes the Mount Rushmore national monument of the country's founding members including Theodore Roosevelt, Thomas Jefferson, Abraham Lincoln, and George Washington. This giant sculpture was carved into a granite mountain in October 1927 and receives millions of visitors, from the USA and abroad, every year. The White House is another iconic destination that all travelers should visit. The official home of the President of the United States of America, this stunning property was built in Washington DC in 1793 and has housed a grand total of 43 presidents.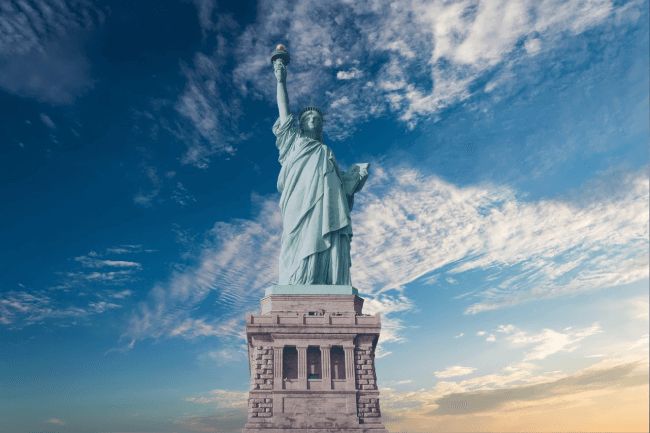 Whether you're hoping to win the green card lottery, or are planning a vacation to the United States in the coming months, all of these monuments are fascinating tourist destinations that are well worth a visit. Read through our informative question and answer section to find out more about the Diversity Visa lottery, who is eligible to apply, how to submit an entry, and where to find green card lottery results.
iVisa.com has all the latest updates about deadlines, application rules and you can also find the application process in a simplified format thanks to the design wizards on the team.
Frequently Asked Questions
Can anyone apply for the DV lottery?
Citizens from any of the eligible countries can apply for the Diversity Visa lottery. Some countries have already sent a high number of their nationals to the United States of America, and if more than 50,000 people have entered from your country in the past five years then you are not eligible to apply. The updated list of ineligible countries is as follows: Bangladesh, Brazil, Canada, China (mainland born), Colombia, Dominican Republic, El Salvador, Guatemala, Haiti, India, Jamaica, Mexico, Nigeria, Pakistan, Philippines, South Korea, United Kingdom (except Northern Ireland), and its dependent territories, and Vietnam.
What's the latest I can apply?
The green card lottery isn't open all year round. Every year, there's a limited time frame within which you can submit your application. This year, the application process opened on October 7. The draw will close on November 10, so although you still have a couple of weeks left, we recommend that you don't delay as the rules are strict. Once your application has been submitted by the deadline, you can forget about it until 8 May when the list of winner's names will be published. You can start now using the straightforward application form on iVisa.com's website. For help or explanations of terminology used, reach out to one of our friendly team members.
What if my name isn't on the green card lottery results list?
Once you submit your application, you'll be provided with a personal application reference number. Write it down and keep it safe, because that number is what you'll use to check if you've been successful in the DV lottery draw. Although the initial results are published on May 8, you must remember to keep checking the green card lottery results on a regular basis. Why? As you can imagine, some winners may decide they no longer wish to make a move to another country. Other winners may be deemed ineligible after an interview at the embassy, or if they don't have the funds for an expensive relocation. Therefore, more names will be added to the results list as potential winners drop out of the process. Chat to a team member if you're still not sure how the green card lottery results system works.
I have two passports, can I apply twice?
You must only apply for the DV lottery once. Even if you have two or more passports, you cannot submit more than one application. If more than one application in your name is discovered, they will all become invalid and your chance to win a green card will disappear. Be aware that rules are strictly followed in this way as the authorities have clamped down firmly on instances of fraud.
Can I trust iVisa.com to proceed with my application?
The friendly team of visa experts at iVisa.com is a force to be reckoned with when it comes to travel documents and applications. If you're wondering whether you can trust iVisa.com to submit your important green card lottery entry then you need to look no further than our high Trustpilot rating and our genuine customer reviews. As a company, we've been helping travelers from all walks of life with all of their visa needs for years and know what it takes to submit the perfect application.
Where can I learn more about green card lottery results?
Whether you're planning a vacation, need to visit a faraway destination with work or you simply want to give the Diversity Visa lottery a shot, iVisa.com is the best place to start. We take the complication out of traveling thanks to years of experience, informed colleagues, and a friendly attitude. We love to travel and want to make it easier for you too.
Visas are our specialty so your green lottery entry is in safe hands. Visit the webpage and check out helpful blogs and detailed explanations. If you need a chat, reach out to one of the guys using the chat page.